Music
Concert review: Blue Rodeo and Basia Bulat at Artpark
by
/ Jun. 23, 2016 12am EST
Could there be a better way to welcome summer than with a live outdoor concert by Blue Rodeo? The Canadian country-rock superstars are no strangers to this area—it's a short ride from their home in Toronto, so they can get here even if they're not otherwise on tour. They've played at least 40 gigs here in the last 30 years. The last time they played Artpark, in 2014, it was a truncated affair, clocking in at less than 80 minutes. Whatever put them off their game at that show wasn't in evidence last night, as they entertained what almost qualifies as a hometown audience for a hair under two hours.
The band remains fueled by the Lennon-McCartney vibe between group founders Jim Cuddy and Greg Keelor. Cuddy, the Canadian who could best pull off performing in a Nudie suit, contributes classic hook-filled country songs that he sings in a high pure voice. Keelor, of late looking like an off-season Santa Claus, contributes a psychedelic edge and gravelly voice. (For the record, all songs are credited to Cuddy/Keelor.)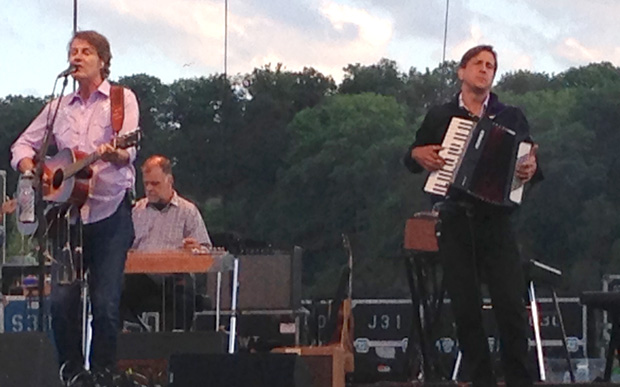 Fears that the band might have to give up live shows because of Keelor's hearing problems have been set aside with the full assimilation of guitarist Colin Cripps. While Keelor's inventive and loud solos will be missed, Cripps is worthy of the showcase spot. His work on "Disappear" brought to mind that other well-known Canadian skronker, Neil Young. Generally a rhythm player, Cuddy also contributed a few strong solos, sparring with Cripps on the audience favorite "Diamond Mine."
Still, MVP of the night had to be keyboardist Mike Boguski, who knocked off one killer solo after another for "Diamond Mine," ""Five Days in May," "One More Night" and "Cynthia." Former Wilco sideman Bob Egan made you wonder why every band doesn't have a steel guitarist, especially one who is able to fill in on other stringed instruments on occasion. Nearly hidden on the side of a stage arranged to favor Keeler's hearing problems, bassist Bazil Donovan and especially drummer Glenn Milchem were pure rock and roll.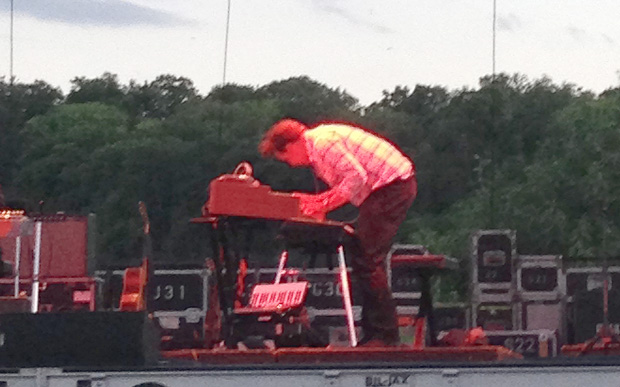 Blue Rodeo have roots in punk as well as in county, and if the "C" word puts you off, think of them as following the path laid down by bands like the Byrds and the Band. But why call them anything at all? The thousands of fans singing along with "Rose Coloured Glasses," "Til I Am Myself Again," "Lost Together," and the show-ending "Hasn't Hit Me Hit" (on which the audience takes the lead vocal while the band plays along) didn't care. They were just having a good time.
Opening the show was another Toronto native, singer/songwriter Basia Bulat. Sitting at what appeared to be a harmonium in sunglasses that gave her a bit of an Elton John flavor, she led her four-piece band through a winning set of solid pop-rock songs. With a voice resembling a less strident Natalie Merchant with the occasional Dolly Parton-ish trill, her best moment was the concluding "It Can't Be You," sung solo as she accompanied herself on the charango, a 10-stringed Andean instrument. It was a performance to send chills down your spine; here's hoping she'll get a local club booking in the near future.