Local
Squeaky Wheel Studio Program to Link Students with Careers
by
/ Jun. 22, 2016 1am EST
This month a group of about 20 West Side youths have begun showing up to the Grant Street Neighborhood Center to start working on an arts project unlike any the city—or any city in the country, for that matter—has seen before.
This is West Side Studios—the love child of Squeaky Wheel, PUSH Buffalo, and Ujima Theatre—where twice a week for two years students will participate in a program that will pay a stipend and develop professional opportunities in the field of film and media production in its third year. 
On a recent warm Monday, the pilot crew of West Side Studios was divided into two groups. One group was given a brainstorming exercise in recording on paper qualities that they feel the external world focuses on versus the qualities of their reality. A young Middle Eastern man had written "Radical Islamist" while his East African classmate had "I speak English perfectly."
The other group was busy trying to film an expressive group selfie, requiring no small amount of collaboration and coordination by that group's leader, Health Sciences Charter School senior Raymarri Hughs. Hughs coached the group, along with Ujima Theatre teaching artist Daniel Henderson, into a tight bunch to capture the photo on his cell phone while then bringing the phone's image into the sideview camera focus while the group vacated the area before moving his phone to reveal the white screen alone at the end.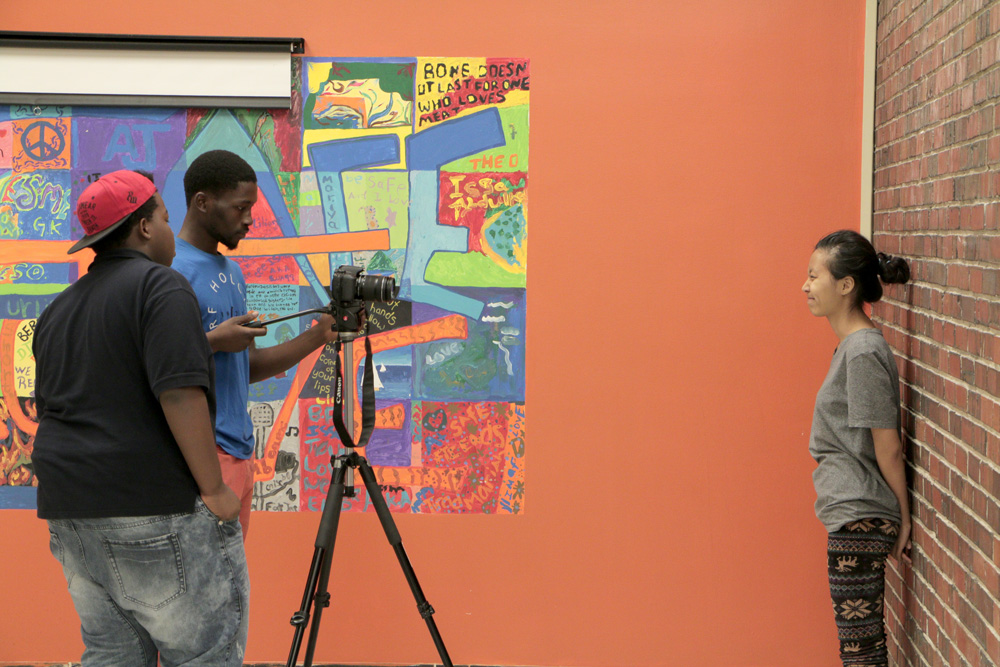 Hughs and his mother emigrated from Jamaica, where he made his first movie: a stop-motion video with a piece of yellow Play-doh filmed using a Nintendo DS. Since then, he's been a hawk for resources. "I have a knack for taking what I think about and putting it into a physical setting with whatever tools I have laying around," he said, admitting he can spend hours getting lost in a thrift store.
But he's not just learning the basics of media productions, he's also helping mentor more inexperienced students like 13-year old Desire Tubbins. Precocious and wide-eyed, she seems to repeat positive things she's heard from other adults, at one point telling Hughs matter-of-factly, "You have leadership skills."
And about the program: "I like to learn everything. [The program] is not just kids who wanna do film. You get to learn stuff that will lead to career opportunities."
Parroting or not, Tubbins' sentiment was exactly what created the impetus for Squeaky Wheel's then-director director Jax Deluca to write the grant and enter it to the New York State Regional Economic Development Council. With major studio productions like Marshall and Ninja Turtles before it, Kline sees West Side Studios as primed to build professional advancement connections with local and national film production companies and local colleges like Daemen College, Villa Maria College, and SUNY Buffalo State.
As education director, Kline was well aware of the empowerment that Squeaky Wheel's programming had to offer, but he wanted something more tangible to offer, a skill, a career. A natural fit was under his nose: the housing and economic justice organization PUSH Buffalo.
It's a holistic and ambitious program. "These kids will eventually be getting stipends and with that comes a lot of different responsibilities and this is where workforce development actually comes in with wraparound services: setting up a bank account, being responsible, building in legitimate job skills on top of learning expression and creativity," Kline shared with us recently.
"We're using the practicality of the systems that PUSH has already developed successfully in programs they've done and then taking what Squeaky Wheel does with empowerment, voice, and education through media literacy, wrapping these things together, that makes it makes a powerful tool."
And the Ujima Theatre Company will provide curriculum and "bring the practice of theater arts to media production to better prepare the kids to express and communicate ideas," Kline explained.  
In a statement, PUSH director of programs Rahwa Ghirmatzion wrote that the organization was "excited to integrate arts, social justice and technology based skills into our programming at the Grant Street Neighborhood Center." PUSH staff has played an instrumental role in recruiting kids from the neighborhood and its schools who have the desire and personality to succeed inthe program.
Kline is modest enough to still express genuine surprise that the grant got funded, and ambitious enough to imagine how this will unfold. "As much as we are an arts organzation, the main crux of what we do is access and community-based work," he said. "The media straddles the line between professional, the practical, and the fine arts itself, for us to add these other components and lift up this practice as a 21st century career, it really allows us time and space to properly develop programs that we don't usually have the time and space to do."
For Hughs, who is headed toward engineering coursework at UB in the fall, he doesn't see such a thick line between building a bridge or making a film, once he takes stock of the tools and resources available for the job, and he's at vanguard of a brave new world. According to Kline, no other community-based media program he knows of marries the components of arts and job skills like West Side Studios. "I hope that it gains a reputation that people want to integrate other places, there's really not a program like this out there."
---
 WEST SIDE STUDIOS 
 squeaky.org/education/west-side-studios 
 email: westsidestudios@squeaky.org 
 for more into or to sign-up