Visual Arts
by
/ Jun. 21, 2016 5pm EST
Much talk of late—particularly in light of the announcement of Malia Obama's further education plans—about gap years before going on to college or other formal studies. The artists on view in the current Anderson Gallery show did their gap years in uniform in Europe and the Pacific during World War II. And when they got back, attended the Art Students League of New York, largely on the tab of the GI Bill. Collectively over the next few decades, they constituted the core of what became known as the New York School, not as an educational institution but an art historical designation. 
Most of the work is distinctly abstract—in accord with the abstract expressionist dogma of the time—with hints of heresy in older and newer directions. A Donald Judd painting from the mid-1950s is kind of artwork on a cusp. Judd's earlier painting was representational. The work on show, entitled Welfare Island, consists of blocky solid forms in a restrained abstract expressionist mode, but presaging the post-expressionist machined geometrical sculptures in industrial materials—metals and plastics—for which he would become well-known. A Robert Rauschenberg painting of wash on a line—from 1949—is an experiment in the Cubist manner. But he seems uncomfortable in the narrow Cubist confines. Seems to want and need to branch out—physically and intellectually and emotionally—with work that would include painting, collage, and sculpture, partly representational and partly imaginary fantastical. For which he would become well-known.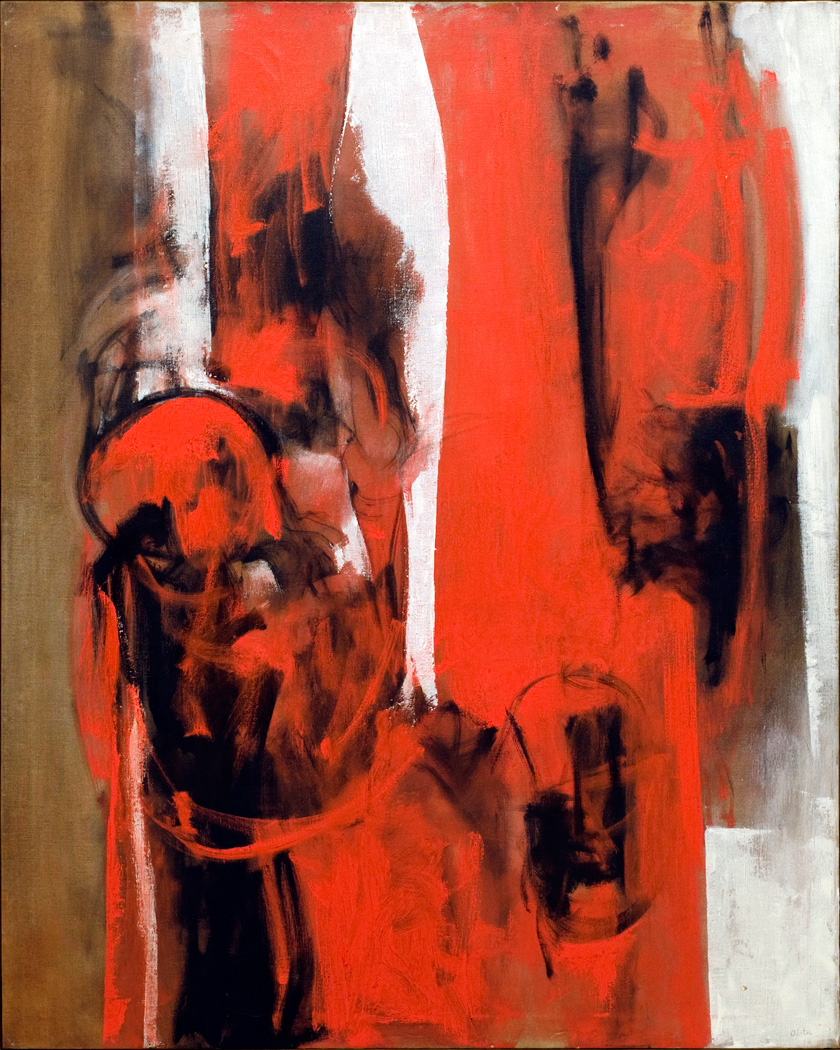 Red, White, and Black by Charles Alston
The only notably representational painter among the artists is Everett Raymond Kinstler—his single work on show is a full-length portrait of artist Paul Jenkins, one of the principal ASL abstractionists—who painted portraits of celebrities the likes of Katharine Hepburn and Tony Bennett, and a string of US presidents from Richard Nixon to George W. Bush, as well as some presidential hopefuls destined never to attain that office, including Rudy Giuliani and Donald Trump.
Paul Jenkins's work on show includes four paintings on four walls in an area specially reconstructed as his artist's project Chapel of Meditation. The paintings are from the early 1970s, and the project is reminiscent—and somewhat imitative—of the Mark Rothko chapel in Houston, Texas, under construction about the same time. But not without integrity and validity as a whole larger than the equally valid and integral individual painting parts. The paintings are lighter in tone and motif—more expressive than simply abstract expressive—than the somber numinous Rothko chapel paintings. Entrance Portal consists of two taller than wide panels, a wash-effect floral petal form on one side, nondescript abstraction on the other; Himalayan suggests environmental forces and effects, river systems, flow dynamics; Chapel White, in two taller than wide segments again, suggests snowy immaculate avian wings; while Chapel Shell Sound is a centrifugal impulse misty abstraction.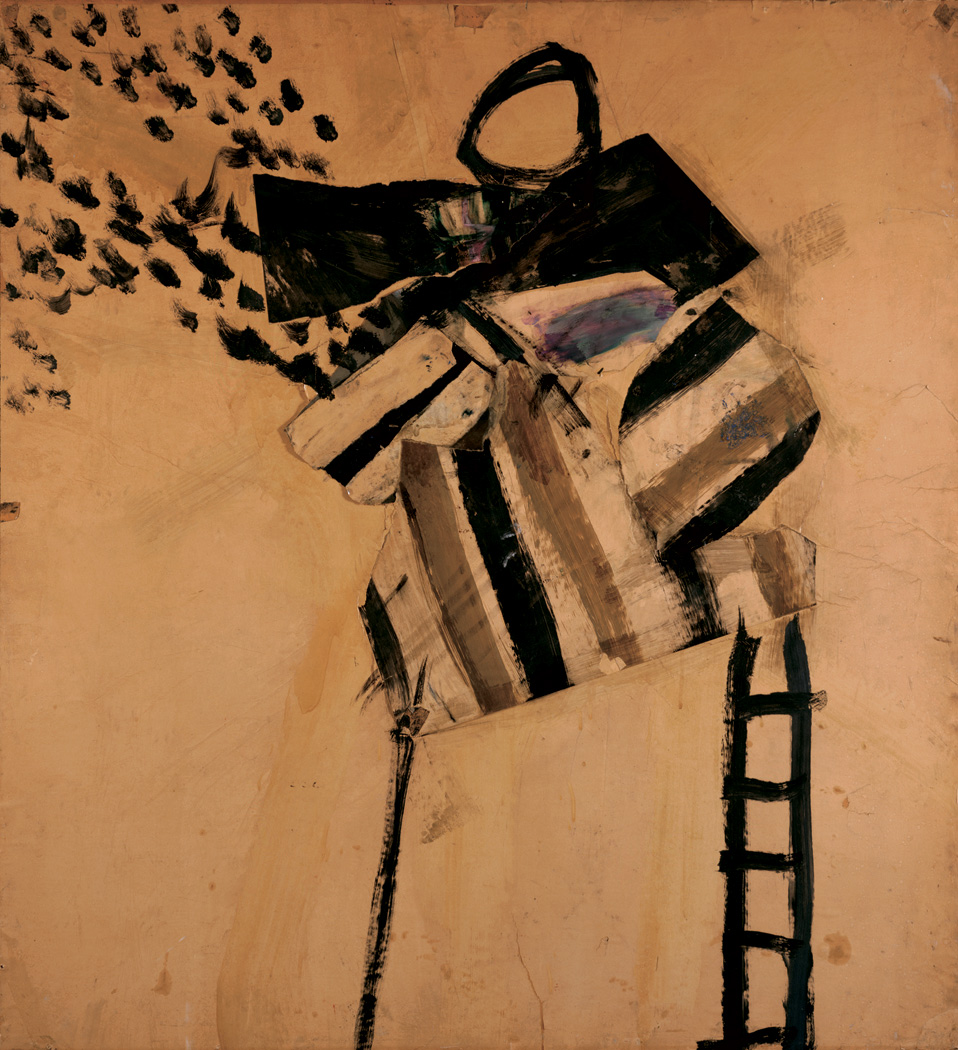 Hoboken Collage by Alfred Leslie
Other Jenkins works on show include chaos abstractions Egyptian Basilisk and Phenomena of Air Striae. Think news photos and footage you've seen in recent weeks of Midwest regions tornadoes. The tornadoes themselves and their aftermaths.
Among other ASL artists and paintings on show: African American artist Charles Ashton's Red, White, and Black evocation of the turmoil and violence surrounding the 1960s Civil Rights movement; Michael Goldberg's brush and trowel application oil on canvas and collage elements The Bed; John Hultberg's Panorama array of artistic styles and sorts from traditional representational to various types of abstraction, including an all-black painting; several Al Held dense impasto works; Knox Martin's Homage to Jan de Heen, a kind of still life with elements that won't stay put, in a whirlwind of flowers and feathers in red, white, blue, and green, and a lobster, and some blueberries; Stanley Boxer's Figure in an Interior, dark figure against dark background, a little reminiscent of the Albright-Knox Gauguin masterpiece The Spirit of the Dead Watching. 
Other works by Frank O'Cain, Peter Golfinopoulos, Alfred Leslie, Anthony Palumbo, Bill Scharf. 
The ASL artists show continues through August 7.
---
 ON THE FRONT LINES
 UB Anderson Gallery 
 1 Martha Jackson Place, Buffalo 
 829-3754 / ubartgalleries.org