Commentary
WNY Gentry: A Magazine for No One
by
/ Jun. 16, 2017 8am EST
Also by the editorial team at Buffalo Magazine is our newest publication, WNY Gentry. Grab a copy for dad this weekend at Tops or Wegmans. pic.twitter.com/bwIdzIwOG0

— Buffalo Magazine (@BuffMagDotCom) June 15, 2017
Good news for Buffalo's jet set who have been bemoaning that no area publication really represents their lifestyle, because that day is finally over! 
On Thursday, the arm of the Buffalo News that publishes Buffalo Magazine announced a new aspirational publication for an audience that just doesn't exist: Western New York Gentry, "the only local publication geared exclusively to men." Almost instantly, the announcement was met with incredulous consternation on social media from all corners, including Erie County Executive Mark Poloncarz, who commented on Facebook, "Talk about being tone deaf with all that is happening in our region and country."
Marketing team: "how can we be tone deaf, mildly patronizing and eliminate all diversity in one cover?"

Buffalo Magazine: "hold my beer." https://t.co/aQEKkCiahM

— Nate Benson (@natebenson) June 15, 2017
Gentry. The word, of course, signifies a subset of the ruling class historically in England, but has come to broadly mean "high society" or "high class," with more pernicious implications of "well-bred" or "well-born." And it's the root word for gentrification, an oft-discussed phenomenon in pockets of Buffalo whereby urban revitalization efforts are marked by the displacement of an established community for the sake of residents of a higher social standing and larger incomes, almost always with stark racial implications. In a move of deft internet trickery, as of this writing the URL wnygentrymagazine.com redirects to the Showing Up For Racial Justice website. 
what, was the name 'white supremacist patriarchy' already taken?

— attractive nuisance (@NotJKRowling) June 15, 2017
Everything about this publication is a real head-scratcher, especially since quality reporting by the same company's main publication likes to regularly point out that Buffalo is usually ranked as one of the three poorest cities in the US. In what delusional fever dream does the management of the Buffalo News think that there is a market for a magazine labelled "Gentry?"  
Hello, will this issue cover where I may find enough scarlet coats for my fox hunting party or is that a future issue?

— Jim Tamol (@JamesTamol) June 15, 2017
Here's some data about the WNY Gentry's non-readership, courtesy of our economics and policy observer, Bruce Fisher. The median income for two thirds of Erie County is below $50,000. Just under three percent of Erie County residents who filed tax returns in 2015 reported making over $200,000 a year. 
We at The Public love good journalism, and since you're reading this, chances are that you do too. Just because significant political, economic, and social problems plague our area doesn't mean that you can't write a profile on a haberdashery or a squash club, or even a 8,000-word mostly pointless profile on a billionaire, but the cover and title of this magazine alone is beyond the pale. 
Just last week, Assemblyman Sean Ryan described the lead-poisoning crisis in Buffalo as worse than Flint. The Buffalo Police have killed two unarmed men of color this year. Just yesterday, Mayor Byron Brown's political club, Grassroots, was raided for documents by the FBI. And the venerable underground arts space, Dreamland, which has offered a home for a diverse set of developing artists in an almost completely gentrified Allentown neighborhood, was shut down by city officials. (Director Dana McKnight theorized to the Buffalo News that a complaint may have been made by a "nearby arts festival.")
There are significant structural problems in the city and maybe, just maybe, the News's insistence on devoting resources to what amounts to public relations copy in the service of the economic elite over investigative journalism and honest storytelling has something to do with it.
what tax bracket am I required to be in to get a subscription? Any royal bloodline requirements? How much land should I own?

— Jack (@JackNLE312) June 15, 2017
The cover of the first issue featured the work of British artist Shantell Martin, on display currently at the Albright-Knox, and the use of her work did not escape her attention and ire in a Tweet she directed at the editor of the Gentry.
As the editor u should know that this was an infringement of my copyright as the Art in this image was used without my permission.

— Shantell Martin (@shantell_martin) June 16, 2017
And Buffalo artist Mickey Harmon chimed in with his own faux WNY Gentry cover design: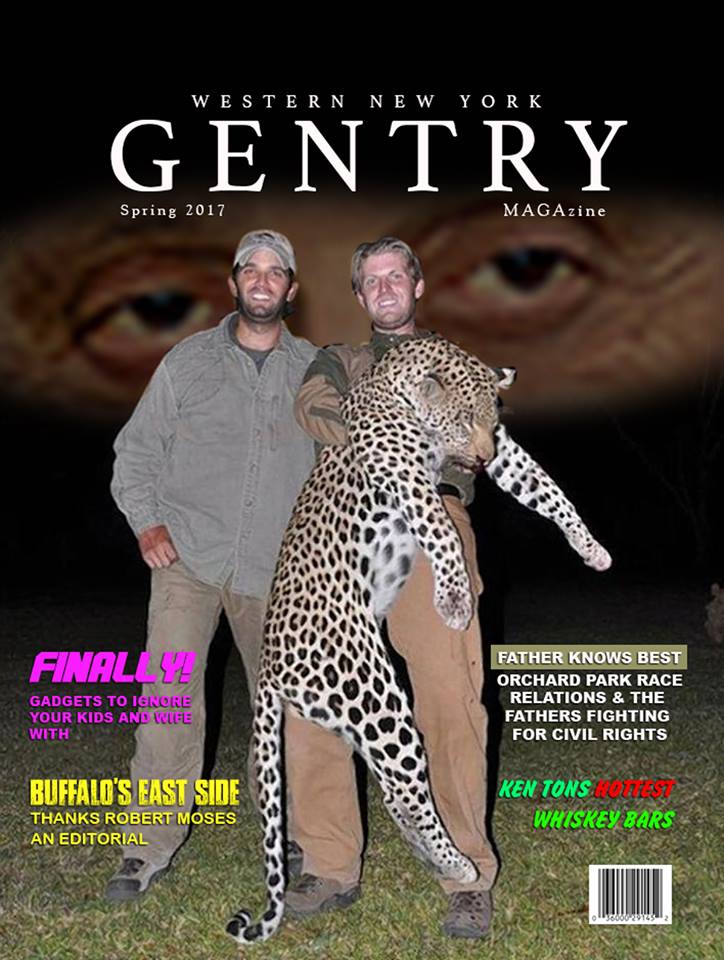 And from our politics blogger, Alan Bedenko: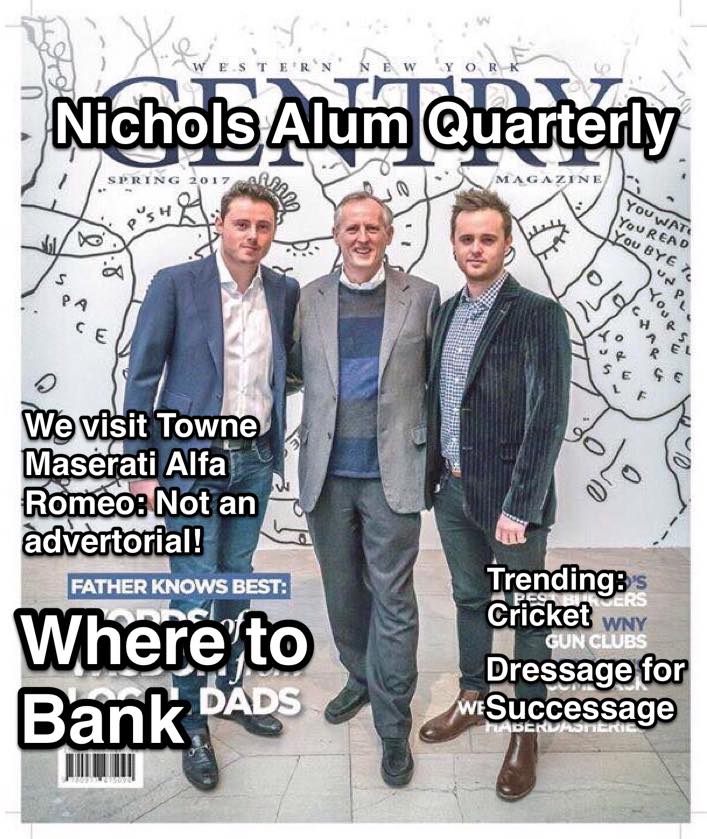 And!: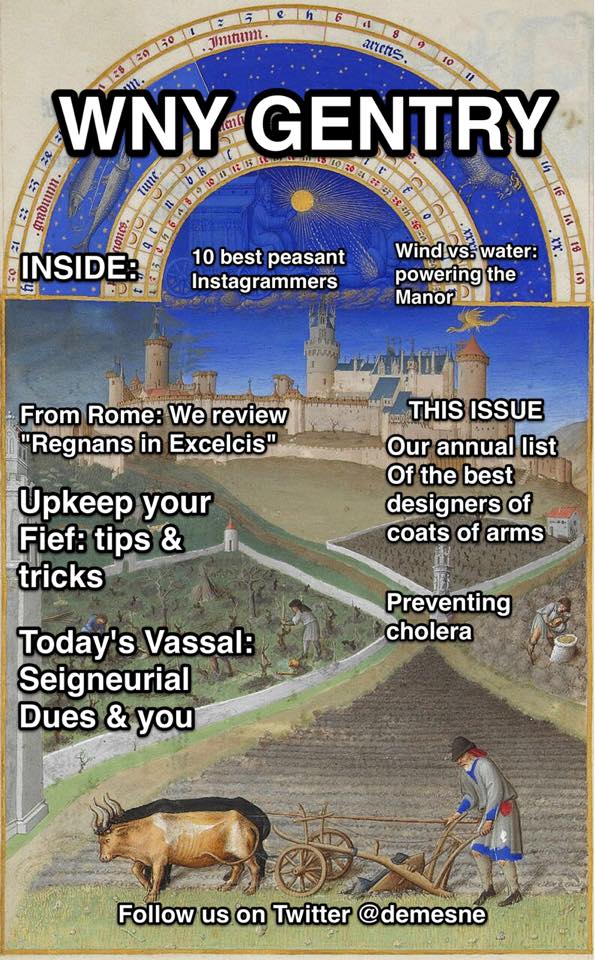 In the words of Buffalo musician Jack Topht, writing a song about not being able to cancel a show once you print the posters and T-shirts: "We can't go back now, look at all these flyers! We got them printed out!" This magazine has already been printed and left at area grocery stores. Why do we have the feeling we'll never see this magazine again?
CORRECTION: An earlier version of this story incorrectly implied that Buffalo.com was affiliated with Buffalo Magazine. While both entities are owned and managed by The Buffalo News, they have not been affiliated with each other since 2012.