Music
Review: Barenaked Ladies, Orchestral Manoeuvers in the Dark and Howard Jones at Artpark
by
/ Jun. 15, 2016 1am EST
If there's a band that enjoys being on stage more than Barenaked Ladies, I can't think who it is. Did someone say "Bruce"? Tell me, when did Springsteen ever do an encore in which he played the drums while letting his drummer sing? And if he did, did they do a credible version of Led Zeppelin's "Rock and Roll"? Didn't think so.
Since their start in the early 1990s as Toronto buskers and CFNY regulars, BNL has been known as much for their goofy humor as for their clever songs. If the departure of founding member Steven Page left a hole, it wasn't apparent from the show the quartet put on to open the Artpark Tuesday concert series last night. Their 90 minute performance seemed longer, but in a good way: did they really do so much in such a short time?
While co-founder/singer Ed Robertson is the band's genial frontman, all four members share patter with the audience and each other, as well as singing. Kevin Hearn, still "the new guy" to longtime fans (he joined in 1995 after the departure of original keyboardist Andy Creegan), initially seemed intent on playing a different instrument for every song, playing guitar, banjo and accordion before settling behind the keyboards. (Though not settling too firmly: moving later to electric guitar, he contributed the evening's one solo, and an impressive one at that.) Jim Creegan still performs mostly on double bass, but has a variety of heavy metal dance moves ready for when he picks up the electric bass (he and Robertson did a fine Iron Maiden impression during their rendition of the title song from "The Big Bang Theory").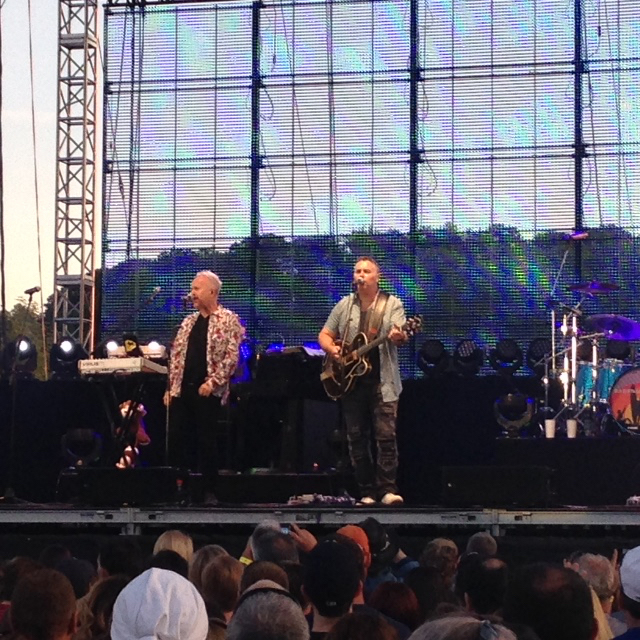 Howard Jones with Barenaked Ladies at Artpark.
While covering all of its history, BNL's current set eschews the openly emotional material contributed by Page for Robertson's wittier lyrics. The oddest of these was "Tonight is the Night I Fell Asleep at the Wheel," a song about the victim of a car wreck that features an arrangement ready made for Tom Waits. The obligatory "If I Had $1,000,000" and "One Week" (the "Rapture" of its era) gave the sold-out audience a chance to sing along, which they did gleefully. But the lesser-known songs are consistently rewarding as well. '
Beginning before the sun had set with a handful of acoustic tunes, the show grew in pyrotechnics as the natural light ebbed, leading to a finale (one of the band's everything-but-the-kitchen-sink medleys) that poked its tongue through its cheek by bringing out Darth Vader. And while drummer Tyler Stewart's turn as vocalist for the encore may have been conceived as a joke, his voice and energy were more than sufficient for "I Wanna Be Sedated" and the Violent Femmes' "Blister in the Sun."
Even before BNL took the stage, the Artpark audience had been treated to a full evening's entertainment. While most concerts precede the headliner with an opener or two you've probably never heard of, Tuesday's show features two who could have filled the place on their own, 1980s synthpop legends Howard Jones and Orchestral Manoeuvers in the Dark (you might know them as OMD).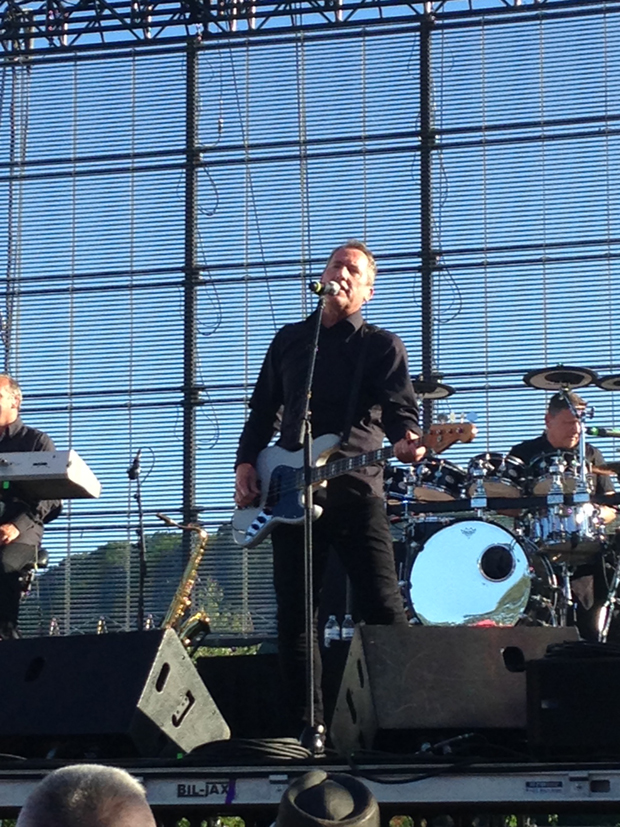 Frontman Andy McCluskey of Orchestral Manoeuvres In The Dark at Artpark.
Looking dapper in a white outfit and better hair than his mid-80s heyday, Jones energetically worked the stage while playing a portable Korg keyboard. For half an hour, the crowd of 10,000 (or as many of them as had gotten through the increased security measures provoked by—well, you know) were back at a dance club in 1984, as he played "What is Love," "New Song" and "Things Can Only Get Better" backed by a lad on syndrums and a second keyboardist who looked like he wandered in from Motorhead. Jones was in fine voice even at moments that led him near Jimmy Sommerville territory, and anyone who noticed that he didn't play his biggest US hit, "No One Is To Blame," only had to wait for him to sing it later with BNL during their set.
Recently regrouped after a hiatus of twenty years, OMD was restricted to a greatest-hits set by their 45 minute slot. I would have loved to see them do more selections from their essential albums "Architecture and Morality" and "Dazzle Ships" (both of which they have recently performed in their entireties in Europe). On the other hand, I wouldn't want to have missed a single one of the eleven tunes they did, from early singles "Enola Gay" and "Electricity" through "Tesla Girls," ""Secret," "Forever Live and Die," "Locomotion" and the more recent "History of Modern Part I," as catchy a song as they've ever recorded. Did the songs all sound exactly like their recorded versions? Well, yes, but why mess with perfection? And live OMD has the added attraction of singer Andy McCluskey's dancing, which he promised the audience would be the worst they'd ever seen. (Call it a tie with Nick Cave.)