Film
Blythe Spirit: I'll See You In My Dreams, The Mafia Only Kills in Summer
by
/ Jun. 10, 2015 1am EST
I sit through a lot of movies in the hope of finding one as endlessly charming as I'll See You In My Dreams. And when I do, it tides me through a lot of the cynical, contrived product that gets thrown onto most theater screens.
Here's how much I liked this movie: I hate to have to write about it for fear that I might fail to persuade you to take a chance on it. Still, there are those of you who don't share my taste for this kind of little independent movie: those who are impressed by box office figures, or a film's budget, or the number of digital effects technicians listed in the end credits. I'm not going to persuade most of you—you're too busy in the summer.
To begin with, this is the first film to provide a starring role for Blythe Danner. I don't understand how it is possible that no one in Hollywood over the past 50 years ever said to themselves, "Hey, this is a terrific, beautiful actress who you can't take your eyes off of when she's on screen, let's build a movie around her." Maybe they felt that she was too quirky, and that Diane Keaton already had that territory wrapped up. Or maybe it's her own fault—maybe she preferred to spend her time on the stage, limiting her film and TV work to supporting roles that didn't take up much of her time.
Danner plays Carol Petersen, a widow of about 70 living alone in a pleasant little house in southern California. Her daughter is a plane ride away, and most of her friends have moved into a nearby retirement community.
Her undemanding routine is disrupted by the death of her dog. (Pet owners who have ever had to put a beloved dog or cat to sleep may want to skip the first five minutes of the film: That dreaded moment is depicted—tastefully, but it's still likely to bring up unhappy memories.)
Carol's friends, with whom she meets to drink wine and play cards, try to persuade her to move in with them, or at least to take advantage of their community's dating opportunities. This bunch is played by Rhea Perlman, Mary Kay Place, and June Squibb, whom you may recall for her scene-stealing part as Bruce Dern's wife in Nebraska. This is perfectly balanced quartet of comic actresses, and I can only hope that the DVD has lots and lots of outtakes of their scenes.
Carol does end up spending some quality time with Bill (Sam Elliott), a loner who has moved into the community so as to be near to people even though he prefers not to spend much time with them. But she also makes a new friend named Lloyd, a guy in his 30s who cleans her pool, having moved in with his ailing mother after a failed career as a musician. Lloyd is played by Martin Starr, the Freaks and Geeks alumnus usually seen as arrogantly snarky nerds on shows like Silicon Valley and Party Down. With a softened look and an attitude adjustment, he makes for a surprisingly vulnerable and likeable screen star, and his scenes with Danner are the high point of the movie.
Admittedly, I'll See You In My Dreams does not have a lot of plot. Instead it develops character through an assemblage of scenes: Lloyd takes Carol out to a karaoke bar, where she provides a terrific rendition of "Cry Me a River." Carol tries out speed dating, where her first tablemate is Max Gail (Detective Stan Wojciehowicz from Barney Miller). Carol tries to connect with her daughter (Malin Akerman) when she pays an unexpected visit. The ladies get high on medical marijuana. (That may seen like a scene thrown in for an easy laugh, and maybe that's all that director Brett Haley and his co-writer Marc Basch expected out of it, but the four actresses pull it off hilariously.)
The film is muted, sedate: There's almost no musical score, and moments aren't hammered home to make sure you get the point. But as an actress, Danner couldn't ask for a better showcase of her skills as Carol re-opens herself to the possibilities of life she has avoided for decades.
When I see it again, as I plan to, I may find a moment or two to quibble with. If I do, I suspect they will be very minor. It's just about a perfect little film. It opens Friday at the Eastern Hill Mall Cinema, and if that's a little out of your way plan to make a day of it: They're also showing Love & Anger and Saint Laurent, both also highly recommended.
---
In the 1970s and 1980s, tensions between the police and government of Palermo, Sicily and the Mafia, which was headquartered there, reached a boiling point. Crime bosses killed their foes with growing impunity, often doing so openly with little fear of retribution. The situation got as bad as it did partly from widespread corruption of public officials but also from the general population's refusal to acknowledge the problem.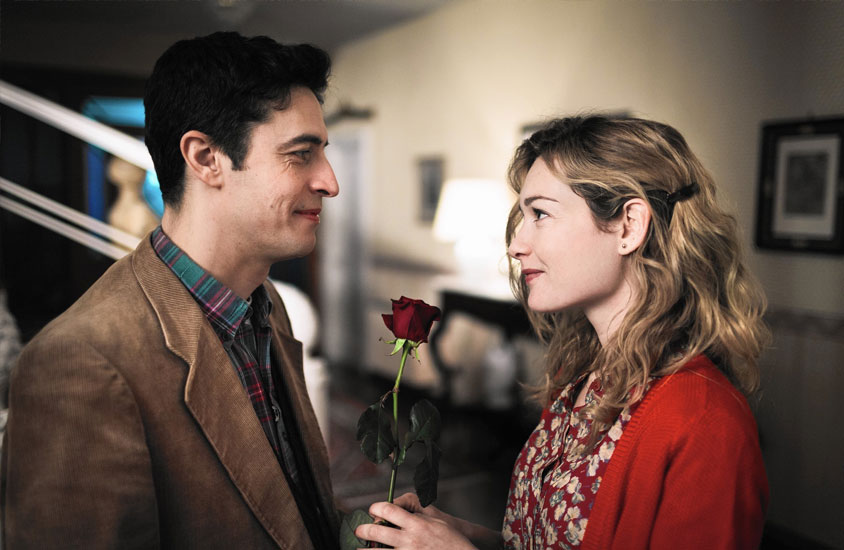 The Mafia Only Kills in Summer takes a comic look at these years through the eyes of Arturo, a boy whose every life event seems matched to a Mafia moment, beginning from his conception simultaneously with the Viale Lazio massacre in 1969.
Arturo's Mafia-centric view of life is wryly humorous, turning him into a very odd young man indeed. It isn't until he grows into adulthood that he realizes how skewed his perception of the good guys and the bad guys has become.
The adult Arturo is played by Pierfrancesco Diliberto, known as "Pif" to fans of his satirical comedy show on MTV Italy. As the writer and director of this movie, he calls on his own childhood memories. At the film's North American premiere at the Montreal World Film Festival last August, he told the audience that he was inspired to make the film after moving from Palermo to Milan in northern Italy and realizing what an antiquated notion of the Mafia most non-Sicillians had.
Unfortunately, most of the film's impact will be lost on non-Italian audiences who aren't familiar with the real-life figures it portrays (occasionally in Zelig-like scenes in which actors are mixed with newsreel footage). A funny scene of young Arturo going to a costume party dressed as Prime Minister Giulio Andreotti works better if you know what an uninspiring fuddy-duddy he was. It opens Friday at the North Park.