Local
Dyke March: Taking It to the Streets
by
/ Jun. 3, 2015 7am EST
"Your purpose has to be pure, so it gets to be fearless."
—Margaret Smith
Buffalo's Dyke March is changing. 
Since its first outing in 2001, the march has changed route, size, and leadership. 2015 brings a revitalized organizing committee of both "legacy dykes" and younger queer leaders re-envisioning an important event in Buffalo's LGBT community. 
The mission, as ever, is visibility. "The Dyke March is a chance for the dykes in our community to be seen—as mothers, as teachers, as employees, and as family," the Dyke March Committee states. At its peak, 950 women came out to be seen and celebrated. 
In the past few years, organization of the march has been under the umbrella of the Pride Center of WNY, but attendance had dwindled due in part to the complexity of trying to offer a family-friendly event in an arena emphasizing bar culture and drinking. Many of the march's organizers—original organizers Margaret Smith, Julie Carter, Robbie Butler, and Brenda Smith, plus recent organizers Phoenix Hawelu-Hills, Michelle Olandese, Harper SE Bishop, and new music coordinator Dana McKnight—had become very aware that the march needed changing if it were to remain sustainable. A new plan was welcomed by Matthew Crehan Higgins became senior director of the Pride Center last fall.
"Matthew coming on board opened a window and we were able to work out something mutually beneficial to both groups. So far, it has been great," says Margaret Smith, longtime community activist and founder of Buffalo's HAG Theatre. A new route and a return to Bidwell Parkway as the place for the after-march celebration were immediately implemented. Increased inclusiveness of children and elders, especially women with mobility issues, led to the decision to make the Dyke March an alcohol-free event.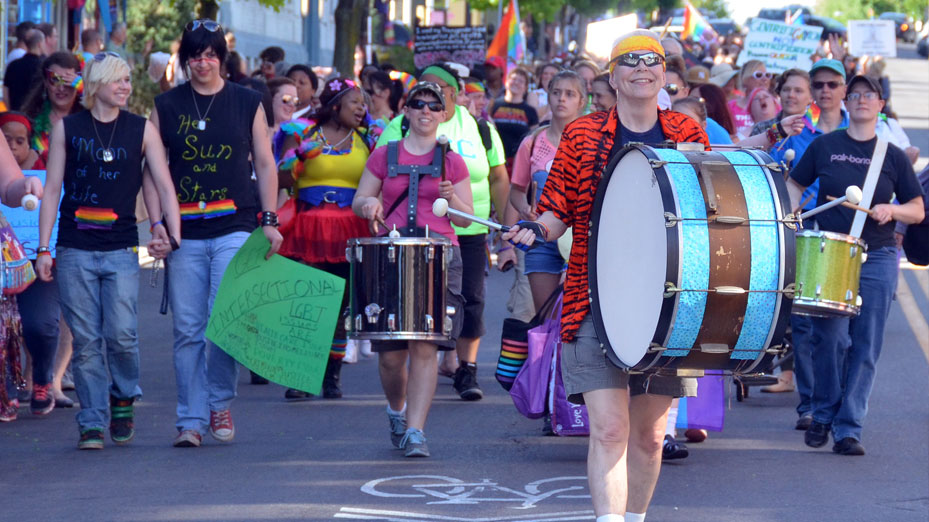 This year, efforts are being made to bring Buffalo Dyke March back to its roots and re-embrace the Dyke March-as-protest march. The organizing committee states, "We all want Dyke March to be an educational, re-energizing, accessible, and safe space for queer women of all backgrounds, ages, and bodies. In keeping with this goal, the Dyke March Organizing Committee is concerned with the ongoing marginalization of transgender women of color (TWOC) and queer women of color (QWOC) within LGBTQ communities, both locally and across the country. Workshops and ongoing conversations led by TWOC and QWOC communities are happening, so that these women will feel safe and honored in the Dyke March and year-round events, and through which they will be able to claim their rightful place in the realization of Dyke March as an all-inclusive space. Buffalo Dyke March would not be faithful to its herstory if its spaces, programs, and attendant conversations did not center TWOC and QWOC concerns."
The new route begins at Grant and Potomac, then takes Lafayette to Bidwell Parkway, where the music begins. Margaret Smith explains, "Robbie Butler noted that Grant Street and the West Side was where the majority of women-owned businesses were happening—Rust Belt Books, Paradise Wine, plus women immigrant businesses like those in the West Side Bazaar—were becoming economically empowered. There's a renaissance in the neighborhood which most people also think of as the most culturally diverse neighborhood in the city.
"Plus, Elmwood and Allentown, where we'd marched for years, had already gotten our message. Marching in a new place which hadn't seen hundreds of dykes being visible—spotlighted! highlighted!—and loud, and taking over the streets, seemed like the next thing to try." 
While the Pride Festival is a series of nine events over seven days, the June 6 march is the only one which has women as its focus. The Dyke March has always been different from the Pride Parade, though many people participate in both. Margaret Smith explains, "We called it a Dyke March because we wanted to claim the charged word for lesbian, and it's a march because it is as much a protest as a form of liberation. It's a day when all parts of our culture come together. It's energizing. Both lesbians and gay men have to fight to be seen, but we're different from gay men. They're our brothers, and we love them, but we're not the same. We have different political issues, and ours need to be visible."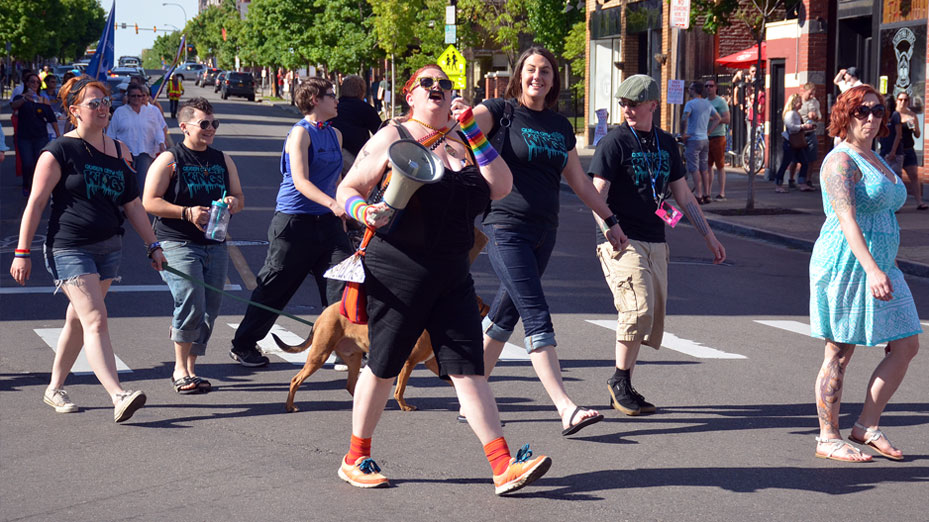 This year's march also aims to include more spirituality and a direct reach to younger and ever more diverse definitions of queer women. "I'm excited about the fact that the Dyke March is a bit more radicalized this year," says music coordinator Dana McKnight, co-curator of Dreamland, who is inspired by the change of route and the excitement of the older dykes to build new alliances in terms of social justice. "There are no major lesbian or activist circles here outside the party, fun-time scenes. Lesbian culture was more separatist in the past, for reasons of safety. That's changing. Still, the Dyke March is the only Pride event specifically encompassing most bodies, meaning pretty much anyone besides cis men, who still dominate the bars and most events. I see a need for the intersectionality which is happening in bars, on Tumblr, on Facebook, to get into the streets."
The Bidwell Parkway stage will feature four local queer acts, and will have specific viewing areas for persons needing accessibility accommodation. "All the bands are really multicultural, but I was struggling to find women of color and trans women of color who are performers and whose style would appeal to a younger generation who are radically inclined," McKnight says. Opening the music will be West Side Bike Ride, "adorably tender, twee pop" featuring ukulele, guitar, drums and harmony. The Other Guys is an indie-style transdude group providing acoustic covers of punk and riotgrrl songwriters. Shevy and the Pulse bring fusion-folk, "Adirondack realness" with vocals by Shevy who, warns McKnight, is better than Ani. "They're the folk band you didn't think you'd like because you're jaded." Finally, "resident city swamp witch" Lara Buckley, "power-anger songwriter," will play loops and guitar, singing dirges to nature and the feminine divine, integrating birdsong into her riveting performance. Between sets, short open mic slots will be available for queer women to recite poetry or speak.
A memorial tent will be a place for people to bring places photos, mementos, art, poems and other items to honor those who have gone on. "Be it a dear friend, a mentor, an author/poet/artist/activist/public person who meant something to you, this is the place to honor that person," says organizer Karin Lowenthal, who will be remembering Frank Goldberg, Buffalo LGBT activist who went missing in 2014, and there will be tribute to Leslie Feinberg, transgender, butch lesbian activist and author, who passed last November.
Another new feature of 2015 is workshops for children and adults preceding the march will be offered at The Evergreen Commons, located at 242 Georgia Street: a drum workshop for all comers, a children's workshop to make shakers and bracelets for the march, and a teen workshop for art making and writing. 
2015 Buffalo Dyke March
Saturday, Jun 6, 4pm gathering at Potomac Avenue and Grant Street, step-off at 5pm
---
Accessibility requests and other questions: bflodykemarch2015@gmail.com.