Literary
Peter Johnson Explains Your Black Friends to You
by
/ Jun. 2, 2015 11pm EST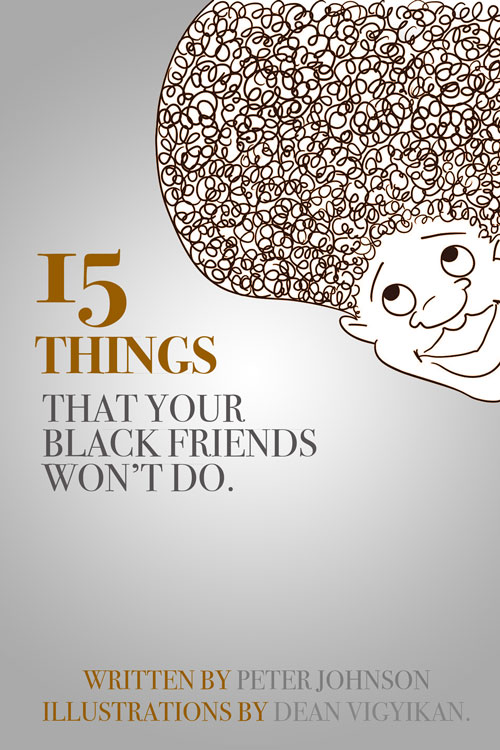 15 Things That Your Black Friends Won't Do.
Written by Peter Johnson
Illustrations by Dean Vigyikan
---
Call Peter Johnson a bridge-builder. 
Or you can call him an author and an actor, a producer, a documentary filmmaker, writer for The Public, playwright, screenwriter—the list goes on. The Buffalo native is all those things, but lately, and most passionately, someone who is trying to build bridges via humor.
15 Things Your Black Friends Won't Do is the title of his latest effort, a self-published book that lays out a series of "truisms" about black culture, followed by explanatory text that reads in part like stand-up comedy. Accompanying illustrations by Dean Vigyikan are charming and serve to defuse what might be considered some problematic statements.
Johnson is quick to note that the whole project is "all in good humor." 
 "I come from such a mixed background," he says. "I grew up on the East Side. My parents made some sacrifices to send me to better schools. I had to catch two buses to get to St. Joseph's Collegiate Institute in Kenmore, where I went for high school. It was tough at first. I had my neighborhood friends and my school friends. I had to really try to fit in at school, and then I had to educate others there about my background. I learned to bridge the gap, in a comedic way."
For some time Johnson, who is studying for an MFA from the Department of Media Studies at SUNY Buffalo (with plans to add teaching to his fat resume one day), had thought about writing a kind of primer on race relations. The White Person's Manual was a working title. "The way I see it, a lot of people are scared to step out [of their comfort zones]," he says.
"Today cultural tensions are higher than ever, with all the police brutality cases. Having Obama as President has highlighted racial issues even more. It has put a lot of our differences in the forefront. My book is meant to be both informative and comedic—I want to make people laugh, and learn something at the same time…I've had a lot of multicultural experiences, through my early years and school days, and now my professional life. I believe that people just don't understand each other's cultures, and if we understood each other a little better, it might make for a better world."
As a husband and father of a young son, Johnson says he has a vested interest in helping to build a brighter future. His book is dedicated to his own father, who died tragically in an accident last winter. "My father taught me a lot of things about how to handle myself as a man, despite being a minority member. He taught me values and principles, like honesty, morality, having a sense of humor and a great personality, and always following through—doing what you say you will do…This is what I am trying to teach my son. I am hoping he turns out okay!"
According to Johnson, among the 15 things your black friends won't do are swimming (urban black kids rarely have backyard swimming pools, municipal pools are often unhygienic, and black women don't want to ruin expensive coiffures with a gratuitous water soak), and participating in winter sports (skiing and skating require expensive equipment, and blacks do not generally like going out in the cold). They won't be on time, won't ever pay bills early, and prefer sitting in booths at restaurants. All the anecdotes, while written humorously, could also be offensive to some, to which Johnson says, "There is room for that conversation to be held."
 Though intended as humor, the book is also "self-reflective," he says. "It's my opinion, based on my experience, but it's also a learning opportunity. When I write about blacks' reluctance to go to the doctor, I include sobering statistics about high rates of heart disease and diabetes in this population…I hope blacks who read this take something away from it. But my real audience is other cultures, whites in particular who can learn about us. My biggest motivation is to bridge cultural differences here…And even though tensions around race in this country appear to be at an all-time high, I have hope. I love what my friend the esteemed actor Stephen McKinley Henderson said when he called himself 'a revolutionary optimist'—he said in today's society, you have to be a revolutionary to be optimistic."
Book Signing: Peter Johnson
6:30-10pm, Friday, June 5
464 Gallery, 464 Amherst Street