Visual Arts
Contemporary Queer at Sugar City
by
/ Jun. 1, 2017 7am EST
The Sugar City arts collaborative is an essential part of Buffalo's cultural ecosystem, and it is kin to a long line of DIY spaces. The names and locations have changed, and some of the organizations have established a national presence along the way, but the feeder system of smaller spaces with the freedom to experiment and establish communities remains intact thanks to places like Sugar City and Dreamland. The Contemporary Queer exhibit that opened on the Friday of Pride weekend is a testament to the queer community's many contributions to that fringe over the years, as well as its the many avenues it has followed into the mainstream. 
Buffalo curator and writer Dana Tyrell has selected the work of 26 LGBTQIA-identifying artists from the Gerald R. Mead Collection. These works are meant to highlight the essential contributions these artists make in the community of Buffalo. By showing these works together Tyrell is giving us a snapshot of Buffalo's ability to create space for queer artists that challenge the worldview of the community while at the same time highlighting Buffalo as a destination for contemporary art.
Artist, independent curator, and art advocate Gerald Mead has worked tirelessly for decades to collect artworks by artists associated with this region by birth or residency. Mead has over a thousand pieces in his collection. The work selected for Contemporary Queer seeks to illuminate and investigate identity through a comment narrative in different artworks. Tyrell refers to Mead as the "Yoda" of the Western New York art scene. Mead's home is filled salon style artwork he has collected over decades reflecting his generous and encyclopedic palate.
About his curatorial process, Tyrrell writes that "the artists included in this exhibit all identify as LGBTQIA, and it is the breadth of that range that is expressed therein. A lot of the work, and the show moreover, delves into identity; as it is expressed individually, how it can be deployed toward political ends, as it serves as a mutable device, and how identity is constantly evolving and self-fashioned within the gay community."
Artists included in this exhibition are: Steve Ardo, Eric Bellman, Lawrence Brose, Nick Butler, Craig Centrie, Jack Edson, Florian Ayala Fauna, Keith Gemerek, Jim Goodrich, Anthony Peter Gorny, Amy Greenan, Carlos Gutierrez-Solana, Andrew Hershey, Justin Higner, Scott McCarney, Dana McKnight, Tommy Nguyen, Alice O'Malley, Cristiano Pereira, Paul Rybarczyk, Tara Sasiadek, Donald Siuta, Peter Stephens, C.J. Szatkowski, Adam Weekley, and Joe Ziolkowski.
A few images that Tyrrell has sent out for the show, show a focus on the body. Cristiano Pereira's photograph, Selfie Steam 1, is exactly as stated—a portrait of himself through a fogged-up mirror, his body obscured so heavily by the steam one can barely perceive anything beyond the tone of the body and its flat background. Naked, yet hidden. In Adam Weekley's Untitled, is a gouache painting of a male body, sitting semi-naked, the figure is taking off his white t-shirt. The viewer sees his knees, chest, lower hip, and the top part of his head hair sticking out from the shirt. These works both give the viewer little information about the subject of the work. Both pieces highlight bodies but make the viewer make up their own narrative about the work. These are just two pieces selected by Tyrrell that embody his vision for bringing these pieces all together for Contemporary Queer.
Contemporary Queer is on view through July 1. There will be a closing reception at Sugar City (1239 Niagara Street) next Friday, June 30, including a walkthrough with the curator 5:30-6:30pm, followed by a punk rock show.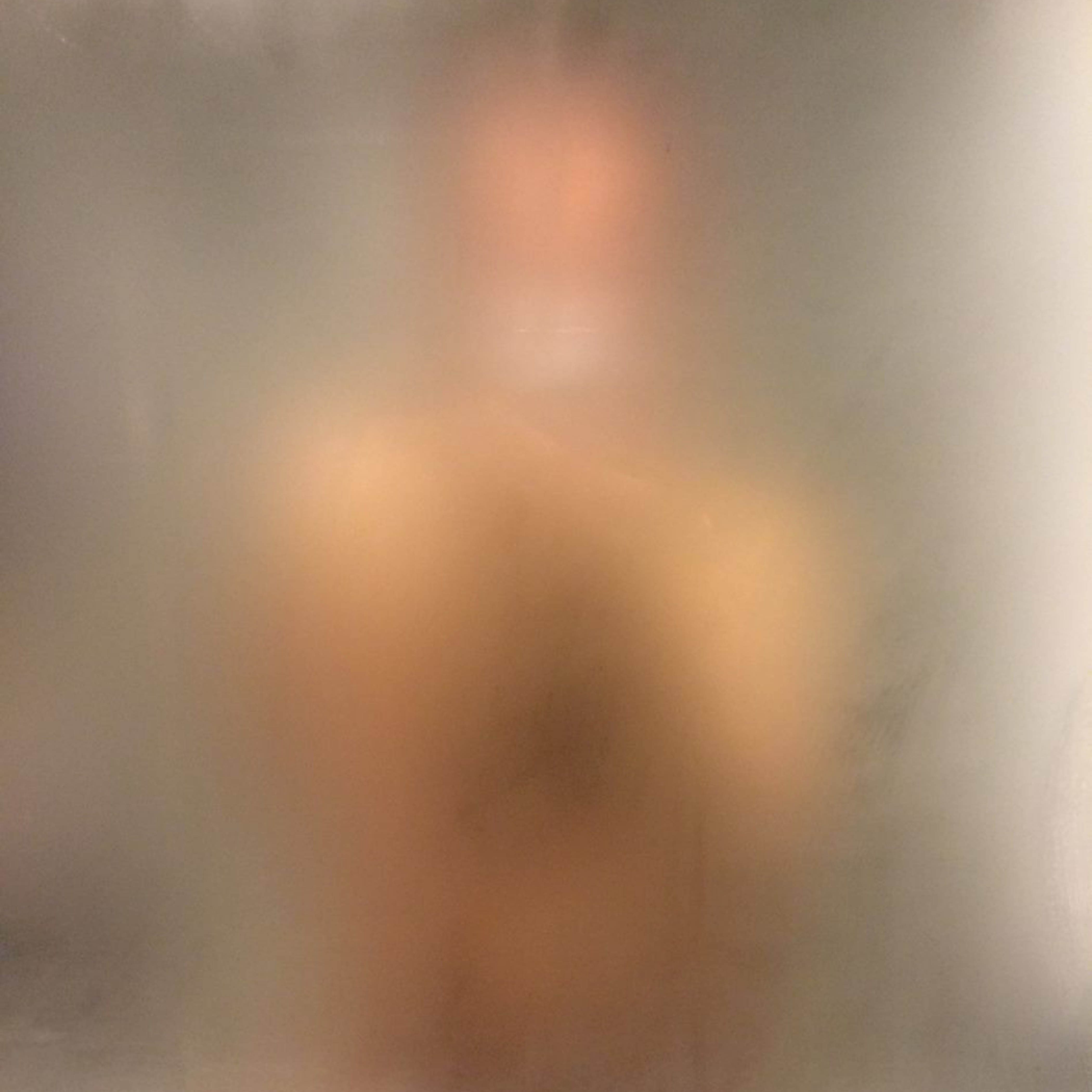 Selfie Steam 1 by Cristiano Pereira.