Local
The Good Citizen: 25 Years for El Buen Amigo
by
/ May. 26, 2015 5pm EST
El Buen Amigo's 25th Anniversary Party
May 30, 6-10pm
Buffalo State Student Union Social Hall
Adults $30, seniors and students $25, children 12 and under $15
---
Santiago Masferrer is an easy talker. When you step into his shop on Elmwood Avenue, and he apologizes reflexively for his accented yet fully expressive English, the conversation can go anywhere.
And yet, 40 years ago, Masferrer's life was turned upside-down by his inability to talk.
It's been 40 years since Masferrer was held in solitary confinement by the Chilean police for six months, but he recalls the details of that time with ease. His cell was about six feet long, six feet tall, and two and half feet wide. The only way in and out was a door that opened at chest level, cut with seven small holes for air. He crawled in and out of the door three times a day to use the bathroom but spent the rest of the time in his tiny cell with no window, thinking. "When you can't go out, you go in," Masferrer says.
Every day his captors asked him if he had anything new to declare, and every day he had nothing to say.
Now 73 years old, Masferrer has packed several lifetimes into one, filling his experience with community, family, and education. With a thick mat of salt-and-pepper hair, glasses, and his uniform of khaki pants and a buttoned knit shirt, Masferrer offers a professorial presence. The pens clipped to his shirt pocket over several checkbooks, however, reveal the businessman. The proprietor of El Buen Amigo, the Allentown fair-trade gift shop and cultural center that is celebrating 25 years of life, has never suffered from lack of imagination or ambition.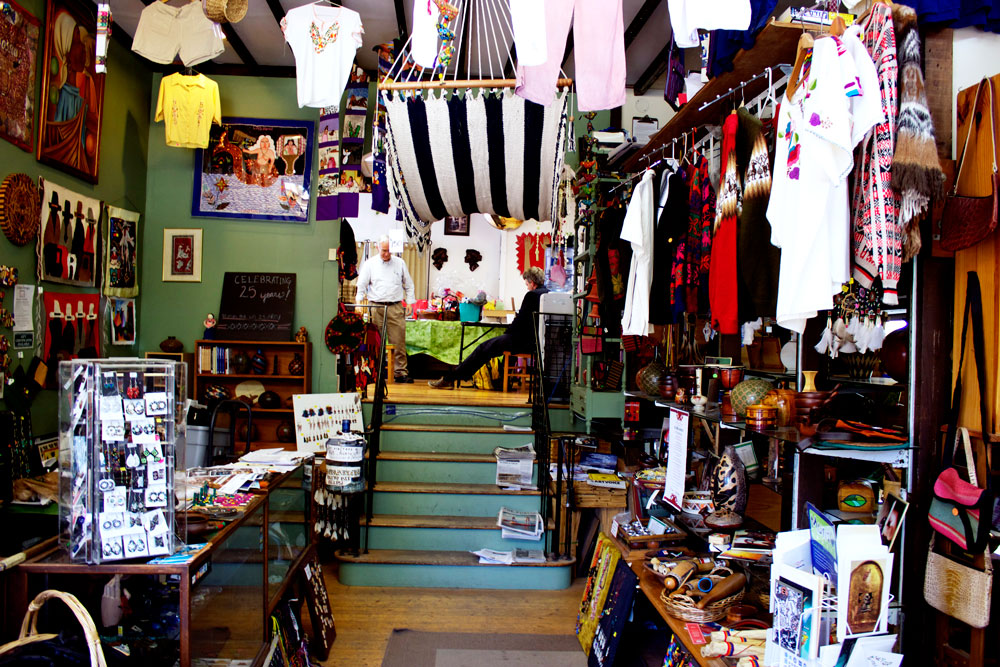 In 1973, Masferrer was more than 10 years into a career as a civilian employee of the national police in his hometown of Santiago, Chile. He had two young children and a wife and was working on a college degree. Though his post and his wife's—managing the blood bank of a local hospital—made his family solidly middle class, his family lived in a working-class neighborhood on the east side of the city. At university, Masferrer volunteered for a housing organization and at home he served as president of a neighborhood association that counted 500 families as members.
While President Salvador Allende's socialist government held a tenuous grasp on a population growing restive in the country's faltering economy—a fissure exploited by the CIA to fund rebel groups in the military—Masferrer focused on the needs of his neighbors. Asked if he was a socialist at the time, Masferrer says only, "I was human," and signals that the roots of his compassion were probably planted by his Catholic upbringing. For him, citizen is something of a holy word: It signals a civic responsibility that he feels is dying in his adopted home country. "We don't have citizens here, we have customers," he says.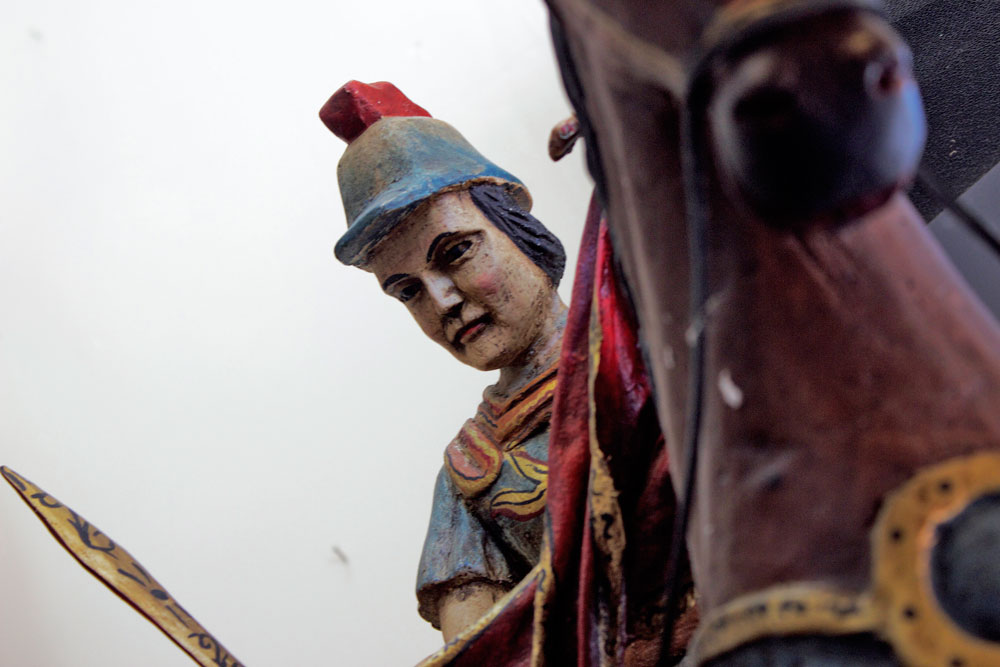 One month before the military coup d'état on September 11, 1973, Masferrer's community was given a cow to divide among them. With 500 families vying for maybe 500 pounds of meat, Masferrer recommended that families in need with children seven years old and younger be given preference. (Masferrer's own family was not in need.) The measure was voted on and passed and Chile's largest daily newspaper El Mercurio published a news story on it that featured Santiago's name. Masferrer is convinced this, and only this, was what brought his name to the authorities' attention as a possible Marxist.
"This isn't socialism," Masferrer says, still incredulous, "this is the rationing of food." But, he reasons: "When you give food to the poor, you give more power to the poor. And when the poor have power, oh my gosh."
On September 11, Augusto Pinochet overthrew the government and installed a military junta. The arrests and disappearances of thousands of suspected dissidents began. Masferrer got a phone call the very next day asking him to report to a police precinct. He surrendered himself, fearing his fate should he fall into the army's hands and hoping his connections to the national police might save his life.
Accused of hiding weapons in the sewers of Santiago, Masferrer was held at a local police precinct pending an investigation. Suspicion and paranoia tremored through Chilean society as it tried to adjust to the new reality. He was accused of being a member of Plan Zeta, which itself was a false flag operation used as progaganda to justify violence against leftists. "It was tense for the police as well," Masferrer recalls. "The police were very close to the people."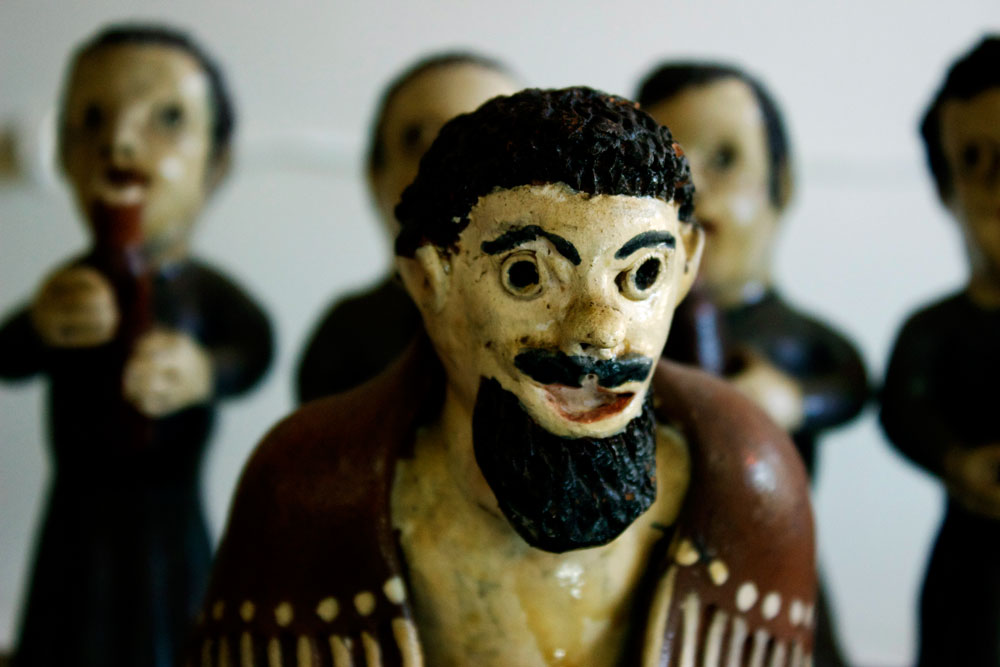 He was held for three weeks while the police conducted their investigation. They returned no credible evidence to back the first accusation, but even a fishing expedition in dead waters will yield a few nervous fish: a co-worker who thinks he saw you carrying a red flag one day, a student who claims you were organizing secret meetings. For about a month, the police let Masferrer return to work and go home one day per week to do laundry, until enough minor accusations accumulated to convince authorities that they had a major player. Then they put him in solitary confinement.
They deprived him of food for three days at the outset. "I knew they were trying to break us down psychologically," he says. While he couldn't see other prisoners, he was in earshot of some, and he witnessed their crumbling mental states. He remembers struggling to get enough air in his cell through the small holes in the door. "You realize my life is not with me, my life is in the hands of other people, and you accept it," he says. "I didn't have fear of death. We all go there." Every day the guards would ask him for new information. "What news could I possibly have?"
He spent his time taking inventory of his life and reinventing his belief system. "You organize your life. You don't know what will happen. Each person [in solitary confinement] learns something about him- or herself. You discover who you are, you discover your power."
"You own your attitude, you own your feeling," he adds. "You decide to be human."
Being human and believing in something are the tenets underlying any conversation Masferrer has—with his customers, with the mailman, with bill collectors who call on the phone. On the front of El Buen Amigo are listed Gandhi's seven deadly social sins, and Masferrer, now that the weather is good, is proud to steer any conversation about politics or society outside onto Elmwood to look up and read them: "politics without principle, wealth without work, commerce without morality, pleasure without conscience, education without character, science without humanity, and worship without sacrifice."
After six months in solitary confinement, Masferrer was transferred to Carcel de Santiago and reconnected with other human beings—perhaps too many of them. He was housed with 500 other inmates who shared four toilets, each of which was infested with vermin to the extent that no one felt comfortable sitting on the seats for fear the rats might chew exposed flesh. Through the intervention of US Senator Ted Kennedy, the inmates at Carcel de Santiago were transferred after nearly a year to more humane conditions. In the meantime, Masferrer continued his education from the other inmates, a host of intellectuals and dignitaries that included Alberto Bachelet, the air force general and father of current Chilean President Michelle Bachelet. The senior Bachelet died under the duress of interrogation in 1974.
By the time he was released in June 1975, Santiago had resolved to seek political asylum, picking the US over Europe almost in spite of itself. "There was a lot of ignorance about Latin American culture," he says. He felt therefore that the US needed him. He had planned to join a Chilean community in Milwaukee, but forgot the name of the city when meeting with the US ambassador, remembering only that it was a city in the Great Lakes with a double letter in the middle of the word—mistaking "double-u" for Buffalo's double-f.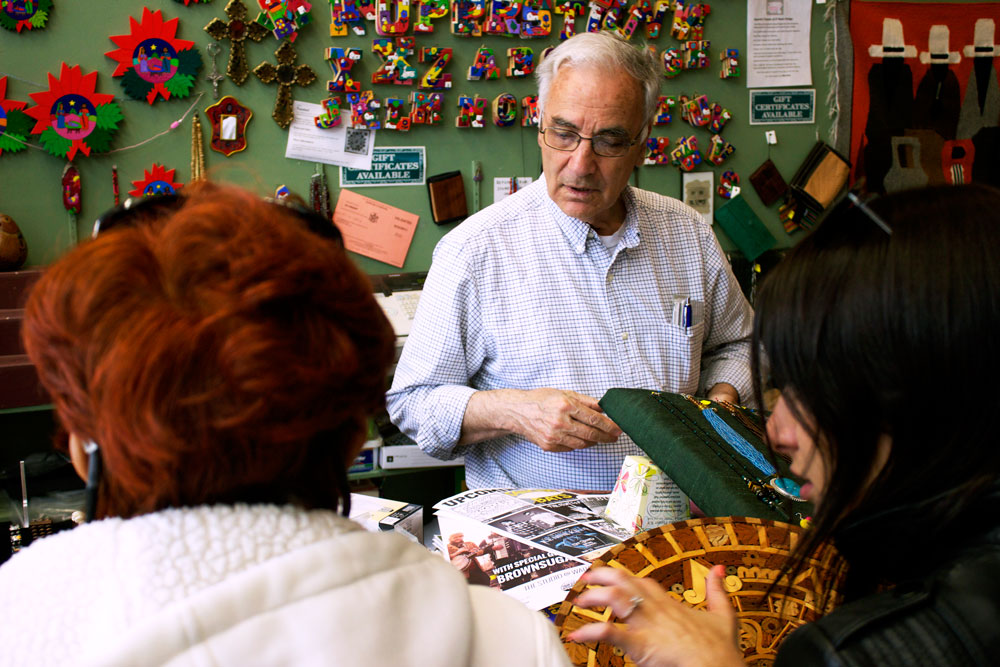 Masferrer founded the Latin American Cultural Association here and became a janitor at Millard Fillmore hospital, where his wife also found work. In 1984, he left the hospital and went back to prison, this time as a carpentry instructor at Attica, and later at Orleans County Correctional Facility in Albion, where he got a frontline look at American injustice. He's especially proud of the Inmate Program Associates program he administered at Orleans from 1993 to 2004, which enabled inmates to pursue degrees behind bars. He has piles of data that he collected on the inmates in the program, showing a stark drop in recidivism: in one instance from as high as 70 percent to as low as 11 percent when an inmate had completed a college program.
El Buen Amigo, which features fair-trade clothing and gift items from around the developing world, is more than a store: It's a collection of stories and art. Above our heads, while Santiago tells parts of his story, hang wood-carved and painted letters from the same community in El Salvador that he has been doing business with since he opened shop 25 years ago. He depends on an array of interns, volunteers, and teachers to keep his space vibrant and populated.
And he's ready to talk. Just go in and ask him.