Etc.
Checklist: 6 Authentic Buffalo Summer Activities
by
/ May. 25, 2016 12am EST
Summertime is Buffalo's highlight reel: It showcases the best moments but is over before you can hit replay. The window of time to capitalize on warm-weather fun is finite, but when you participate in activities true to Buffalo's nature, you'll be able to head into fall with a head full of new memories and a heart full of…you guessed it…pure Buffalove.
 TUBING ON THE NIAGARA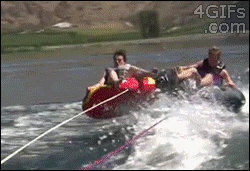 As the weather heats up and you crank the air-conditioning, opt for a refreshing tubing trip over locking yourself indoors. Make the Niagara River your own lazy river with the help of some inflatable tubes, life jackets (safety first), and a group of friends. Head on down to Aqua Lane Park in Tonawanda, tie your rafts together, and push off. Stay close enough to shore that you can easily "dock" when the time comes. The five-ish mile journey will take a couple hours, depending on the current, until you see the shore of Niawanda Park, home to the famous Old Man River Seafood Shack and Mississippi Mudds. The best adventures end with steamed clams and ice cream.
Logistical Note: Have at least two cars. Park one at Niawanda Park before heading back to Aqua Lane to launch. Sure beats hitchhiking.
---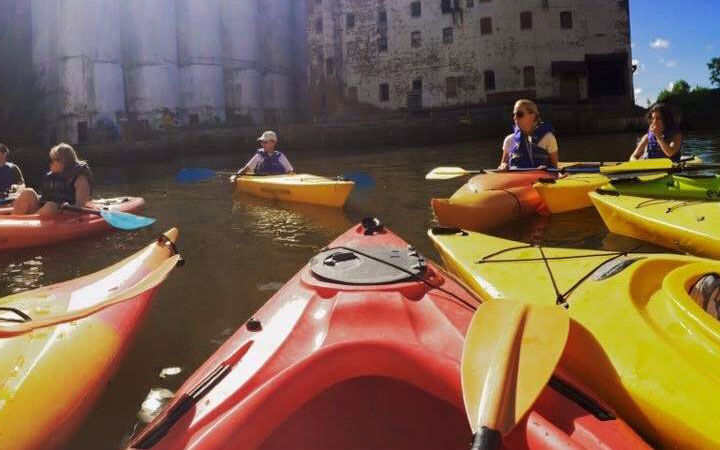 Photo courtesy of BFLO Harbor Kayak
 KAYAK EVERYWHERE FOR A DAY 
Seriously. Pack up and hit the Buffalo or Niagara rivers and let the water take you where you it may. If you don't own one, rent from Paths, Peaks & Paddles in Tonawanda of Buffalo Harbor Kayak at Canalside. If your adventures take you to the Outer Harbor, make sure to stop by Charlie's Boat Yard (formerly Dug's Dive) for dinner or Sunday brunch. If you prefer to stick around the Canalside area, pick a Thursday so you can enjoy a free concert from the water, skipping the crowds. With such great waterways right in our backyard, it seems wasteful not to spend at least a full day out there. 
---
QUEEN CITY PHOTO SCAVENGER HUNT
Buffalo has a lot to offer, as well as find. Explore hidden gems as well as staples when acting out your own photo scavenger hunt. Recruit friends to create two teams and let each team create half of the tasks, but try to stay away from obvious and touristy ideas like "Take a picture with Shark Girl." (No offense, Shark Girl, we love you.) The more creative and offbeat the tasks, the better. Get off to a good start with these items:
Take a photo…
"…of your team playing giant Jenga."
"…of a local bartender creating a craft cocktail."
"…where President McKinley was shot."
"…with a local mural that you love."
"…with a food truck."
"…outside the oldest standing bar in the city."
"…from the top of City Hall."
"…with a local celebrity."
Give yourselves two hours to complete as many tasks as possible. Whichever team finishes first gets bragging rights, and a free round/meal on the losing team.
---

 RUN THE TOWN FOR A CAUSE 
Whether or not races are "your thing," you should sign up for a local run. Not only do most of them benefit great local causes but running the town will allow you to see areas of Buffalo that you might only be used to seeing from out of your car window. And really, you don't have to run. Go for a leisurely stroll if that's more your speed. It's all about the camaraderie anyway.
Summer runs worth a second look: The Gay 5K on June 2 and the Superhero Walk on June 10.
---
 HAVE A ZAMBONI SNOWBALL FIGHT 
The winter weather is officially gone, but if you're feeling nostalgic and want to recreate the childlike thrill of a snowball fight, you're in luck and probably not alone. Thankfully for us, there happens to be fresh "snow" right behind of the First Niagara Center year-round thanks to the magic of the Zamboni. While I can't advise that you fight right on South Park Avenue, I can advise you to fill a bucket or tote with as much snow as you can and proceed to have the best summer snowball fight ever.
---
 GET A HISTORY LESSON 
We all play favorites when it comes to our areas and towns in Western New York, but how much do we really know about them beyond what's on the surface? As it's said, to create a full understanding of anything, you must know its past. Spend some time digging into the past of places you may think that you know well. Start at the Buffalo History Museum—admission is only $7 for adults and is free for kids under seven years old—and work your way down from there. Most towns have historical societies available to the public. For example, if you head a little north, the Historical Society of the Tonawandas may teach you a thing or two about its history, but only during limited hours Wednesday through Friday. (Make sure to check their website.) And if you look to the Southtowns, the Hamburg Historical Society has a handful of events coming up, including a World War II exhibit and a chicken barbecue. Foster a yearning for learning and you'll have that much more reason to take pride in the place you call home.
What do you say? It's time to skip the same old, same old this summer and go for authentic and unforgettable. It's all laid out; the rest is up to you.