Etc.
Spotlight: Skate or Don't
by
/ May. 20, 2015 12am EST
"Spots get made and they get destroyed," says J.P. Gillespie, owner of Sunday Skate Shop. The shop has been a haven for Buffalo skaters since it opened in the Elmwood Village on the corner of Elmwood and Potomac in April of 2005. Few people know the Buffalo skate scene as well as Gillespie, and this week, as part of our Best Summer Ever issue, he chose some of his favorite skate spots, past and present. To give you an idea of what these locations are (and were) really like, we dug up some classic photos of local skaters (including Gillespie himself) hitting these gnarly spots.
 Trackmasters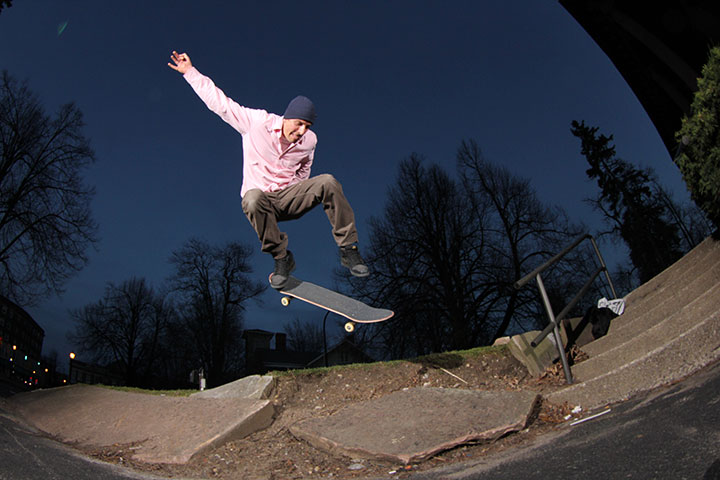 JP Gillespie skating Trackmasters. Photo by Andrew Maholsic.
"I've been living here for 20 years and this one goes back to even before that. The spot is called Trackmasters, named after Trackmasters recording studio, which is now GCR at the corner of North and Franklin Street. They've given us the blessing of not skate-proofing the spot because it's been skated on for 20 years. It's like a caveman's skatespot: It's made of slate slabs around these grass banks. The older guys would skate that and I couldn't get it. I wanted to skate my way at this spot and I hated it because I had a different approach to skating, which was the wrong approach. It took me 10 years to give in and say 'oh this is how you skate Trackmasters.' You have to skate it with less technical ability and more speed and power. Once I learned how to really skate this spot it went from my least favorite to my most favorite spot. It's a classic spot that's been in ads and has been mentioned in interviews with famous skaters."
 Ledgespot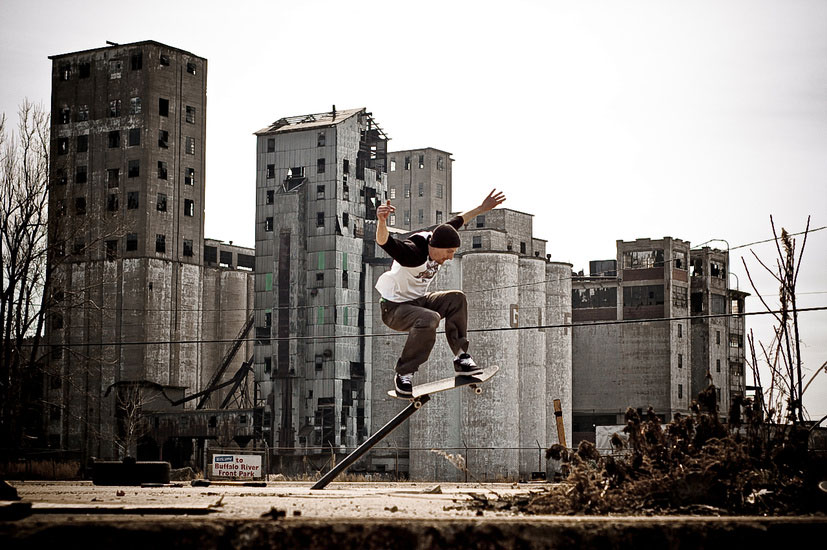 JP Gillespie skating Ledgespot. Photo by Jason Stankiewicz.
"There was a spot called Ledgespot, which has now been bulldozed. It was basically the foundation to a long defunct metal foundry. For many years we'd always be told, 'this is your last year here, this is your last year here.' We'd build makeshift skate obstacles out of cinder blocks or whatever. It was like a bust free spot: The cops would drive by and leave you alone because they'd rather have you there than at KeyBank or M&T or something. This year it's gone. They bulldozed a cement foundation the size of a football field. There is a picture of me hitting this pipe that we installed in the concrete. I had recently wrecked my knee and it was my first time back on a board."
 Tupper Street Planter Ledge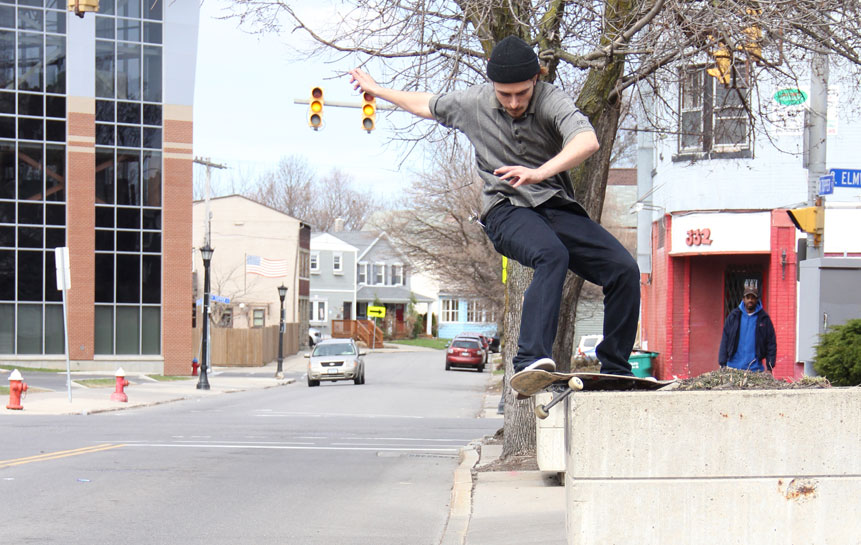 Alex Furtado skating Tupper St Ledge. Photo by Andrew Maholsic.
"Another great spot is the Tupper Street planter ledge. There is what we call a 'curb cut,' which is the dip between the driveway and the sidewalk. On Tupper Street there is a maybe three foot high by six foot wide planter ledge that fits perfectly between curb cuts. It makes a perfect natural skate spot. When pro skateboarders come to town, they go and test themselves on that. It's a hard spot to skate. It's been in actual Nike ads and stuff. It's neat to see Buffalo in international ads."
 Turtle Bowl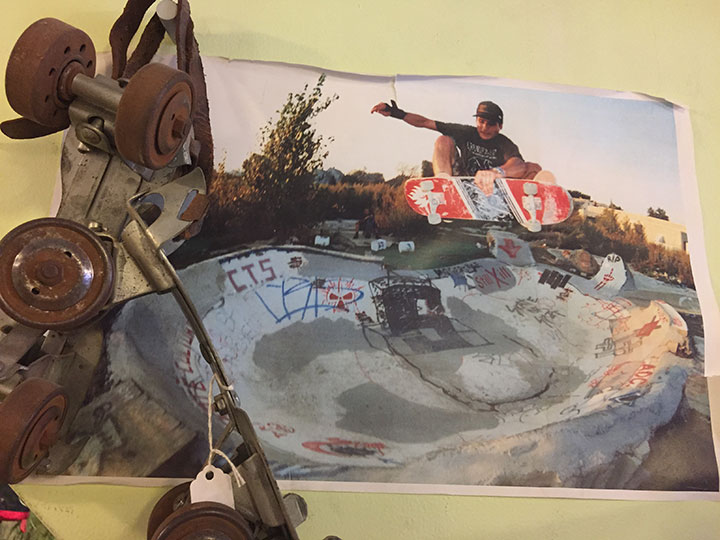 Paul Gizzarelli skating Turtle Bowl. Photo by Casey Haley.
"There is an abandon Golf range behind Tops on Grant Street called Tee-To-Green. We used to skate the old putting hazards. There was no drain so it would fill with water all the time and turtles would live there, so we called it Turtle Bowl. It's a defunct spot: It's destroyed now."
 Green Benches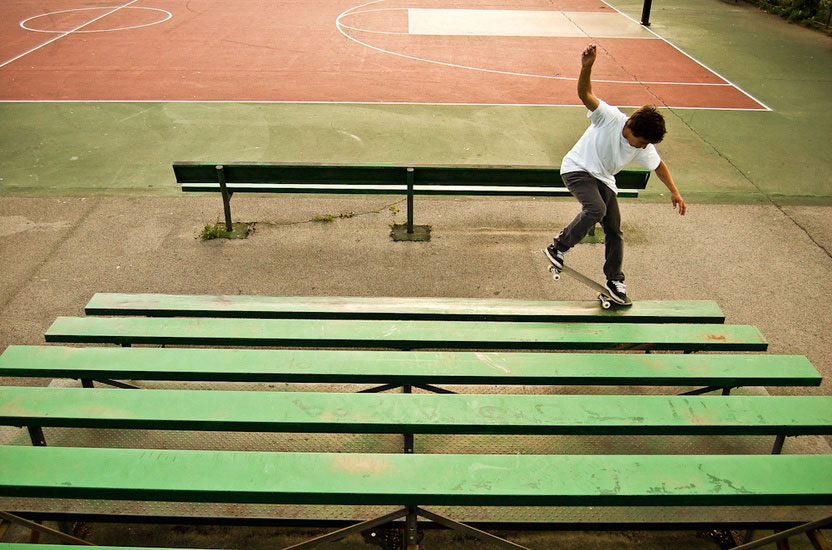 Alex Furtado skating Green Benches. Photo by Jason Stankiewicz.
"Green Benches was a great spot, but that's long gone. We're not very clever with the names, if we found a dead cat it would be called Dead Cat Spot for life. But at this spot there were green metal benches in a row with far enough spacing that you could do trick, flip trick, trick, another flip trick, and there was just this muscle memory rhythm to it."  
 Main Place Mall 
(see main photo)
There is a photo of our friend Dave [Weaver], who passed away, skating downtown at this Main Place Mall ledge. The photo could seriously be the cover of a magazine; it is pretty epic. You can see the lake from the top of this spot, so if you go stand up there it looks like you're kick-flipping off to the moon. There is no way of knowing how gnarly it is. So Dave went there after getting chemo to try and do it again, and oh my god, it was crazy.