Etc.
Roll On, Summer: Bikes and Biking
by
/ May. 20, 2015 12am EST
Kara Kenney is an urban bicyclist killing Buffalo's drivers with kindness. 
Sporting a lavender-hued pixie cut and a kilowatt smile, Kenney stops by mystified drivers who have rolled down their windows to rubberneck at the 300 bikes passing by them.
"This is called Slow Roll Buffalo," Kenney says to one of the drivers.
As her bright orange short emblazoned "squad" indicates, Kenney is one of the handful of safety personnel for Slow Roll Buffalo.
First conceived five years ago on the other side of the Rust Belt in Detroit, Slow Roll began as a way for novice and experienced bicyclists to get out and explore their city at a leisurely pace. The bicycle jaunt has since evolved into a global movement, with chapters in Washington, DC, Chicago, and Cleveland, as well as cities in Iraq and Sweden, according to Tony Caferro, co-founder of Slow Roll Buffalo.
"We're trying to get people who don't normally ride out," he said. "You're going so slow that it becomes talking with your neighbor and seeing the sights."
Caferro, a buddy of Detroit founder Jason Hall, helped launch Buffalo's chapter last year with his friend, Seamus Gallivan. The two started with three trial runs last summer. This season, the group will lead a ride every Monday night at various locations across the city. 

On May 11, hundreds of bicyclists lined up near Hydraulic Hearth at Larkinville for a nearly 10-mile ride winding through Kaisertown, Cazenovia Park, and South Buffalo. 
For drivers, the droves of bicyclists streaming down busy thoroughfares might bring back memories of Critical Mass. But Caferro is quick to separate Slow Roll from a militant biking mindset.
"Critical Mass got really aggressive," he said. "We're not doing a ride at 4:30pm on a Friday. We're doing it at 6:30pm on a Monday."
Kenney manages to maintain her sunny disposition, despite drivers dooring her in the past. Instead, she and her Slow Roll compatriots hand out flyers and encourage drivers to join them on future rides. The squad members also communicate over Bluetooth radios and command the other bicyclists to keep right to make room for cars.
The dynamic between drivers and cyclists works most of the time, until the parade of cyclists begins to wear on those idling in their cars. Even in a single file hugging the right curb, the mass of cyclists clog most of the road. 
"I don't know if we can do three [red] lights next time," one squad member says. "The anger starts kicking in after two."
On the quieter side streets, neighbors waved from their lawns and kids stopped on their own small bicycles, awestruck by the sheer number of bikes. On Clinton Street, 13-year-old Crystal McDonald and her cousin, Veronica Jackson, hung out their living room window to watch the almost endless line of bikes.
"Ugh, I wish I could join," McDonald said, pointing out a man cruising on a five-foot-tall bike. "I would if I had a bike."

Like its sister roll in Detroit, Slow Roll Buffalo is designed to introduce riders to often forgotten parts of the city. 
As the ride progressed down Clinton, it wove a narrative of Buffalo's history. Cyclists rolled past barren mom-and-pop drugstores, an old German parish on Baitz Avenue, and Tiffany's Cabaret. The gargantuan capital letters of the Laub International warehouse loomed over the East Side, casting an imposing industrial shadow over the neighborhood.
A bike ride can show literal gaps in a city's infrastructure too. Some stretches of the route seemed more pothole than road.
Yet for every decaying factory and beaten pavement, the ride also highlighted a hidden gem. In the rosy dusk, St. Casimir's golden dome shined like a jewel. Blossoming trees perfumed the air in verdant Cazenovia Park and McClellan Circle. 
On the last leg of the ride in South Buffalo, cyclists reminisced about the stalwart Irish pubs, where patrons left their beers on the bar to step outside and wave. The route peaked at an industrial bridge near Solar City, a development on which many have pinned the future of Buffalo.
At the end of the ride, the Baum family unloaded their two children from their bike seats. Amid a sea of older riders and cycling hipsters drinking craft beers at the Hydraulic Hearth, five-year-old Jaxyn Baum sipped a pop at the bar. 
Her mother and father, Janelle and Eric Baum, came full circle in more than one sense on the ride. The Hamburg couple didn't expect to pass by their old house on South Ogden during the route.
"It was amazing," Janelle said. "I wouldn't have done this route by myself, so doing it as a group I had the discipline to do it."
---
 Tours de Buffalo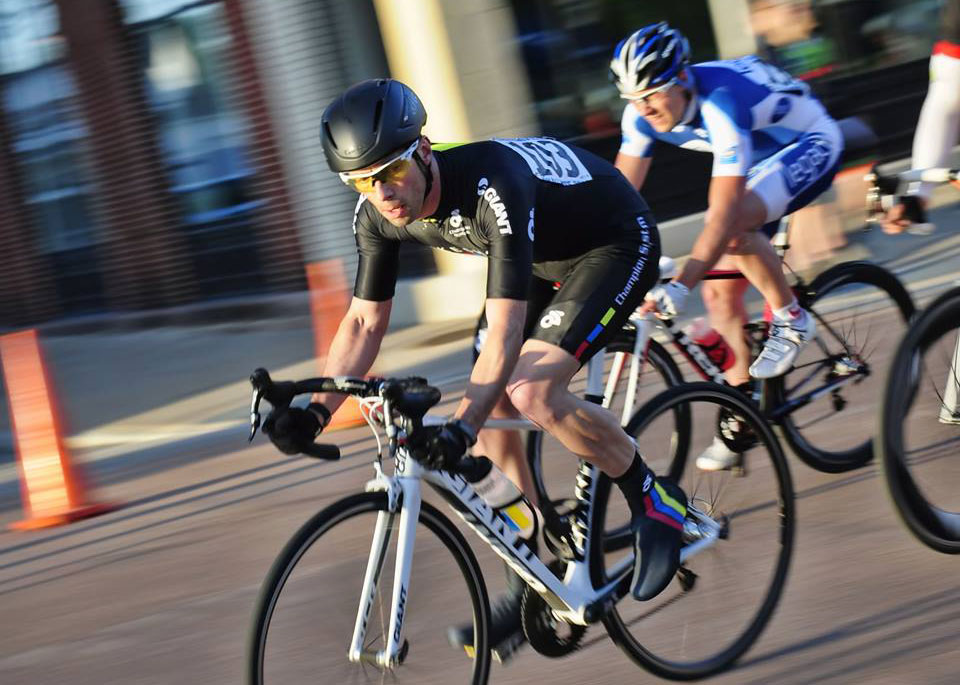 THE DIE-HARDS: 
One of Buffalo's oldest organizations promoting competitive cycling, Buffalo Bicycling Club leads rides outside the city, as well as the Criterium Race at Larkinville (May 21 & 28, June 4 & 12, 6pm, Larkin Square).
If spandex takes a little getting used to, BBC also leads training races to help novice riders learn the sport. Racing coaches focus on developmental skills and no racing license is required.
 THE NOSTALGIC ONES: 
Mark Twain had a Connecticut Yankee in King Arthur's Court. Woody Allen had Midnight in Paris. Buffalonians have the Buffalo Lazy Randonneur Club. Steeped in the tradition of French and English cyclotouring, the group is the closest thing to transporting one's self to turn-of-the-century Provence. The group organizes solstice rides, including the spring tweed ride (sorry, you missed it) and the summer seersucker ride (June 21, starting at Canalside around 10am). Dress appropriately and bring your picnic basket along for a modest nosh in Delaware Park after the ride that rivals a Manet painting. It's a dandy way to spend a weekend afternoon.
 THE PARTY BOYS: 
Depending on the night, Buffalo Bike Party can become a ride or a bar hop. The group recently celebrated its one-year anniversary and greeted everyone they passed with a "happy birthday." Unlike Slow Roll, the group is recommended for experienced riders. Buffalo Bike Party's Margaritaville-themed event descends on Colonial Circle, Friday, June 12 at 8pm. Costumes and decorated bikes are highly encouraged.
 THE KIDS: 
Started in the hippie stronghold of Eugene, Oregon, Kidical Mass has stretched across the country and made its way to Buffalo. The first Kidical Mass Buffalo ride of the season kicks off May 24 at 10:30am in the Rose Garden at Delaware Park. The three-mile route will wind around the Elmwood Village and the West Side, with a snack stop along the way, and will end up back at the playground in the park. Helmets are legally required for children 13 years old and younger.