Food
Barrel + Brine: Beauty in a Jar
by
/ May. 18, 2016 4am EST
Nothing pisses off RJ Marvin more than a soggy pickle. "And you can fucking quote me on that," he tells me as we sit inside Buffalo Barrel + Brine, located at 257 Carolina Street on the city's West Side, the store he and his wife Lindsey own and operate.
In the time I spent at the store, RJ offered the above opinion twice, and for good reason. The Marvins take great pride in what they do, and their hard work shows.
Growing up, both had family members who canned food. "My grandma did a lot of canning and pickling," Lindsey says. "It reminds me of her, and I really love it." RJ also has memories of family members canning and pickling, though he admits it was less central to his childhood than it was to Lindsey's.
RJ used to work at East Aurora's Elm Street Bakery, and that's where he found the motivation to open Barrel + Brine. "They got so much produce from local farmers," he says. "They were starting a fermentation department." The kitchen took leftover produce, pickled it, and sold it in the winter months.
These bitter winter months compelled him to bite the bullet and open his own store with Lindsey. "It got to the point that, rather than driving to East Aurora when there's 16 feet of snow, we decided to just do it on our own."
RJ says he studied up on pickling and "just kind of ran with it." He admits to having made "a lot of really shitty pickles" in the process. A quick taste test confirms he has learned the trade well.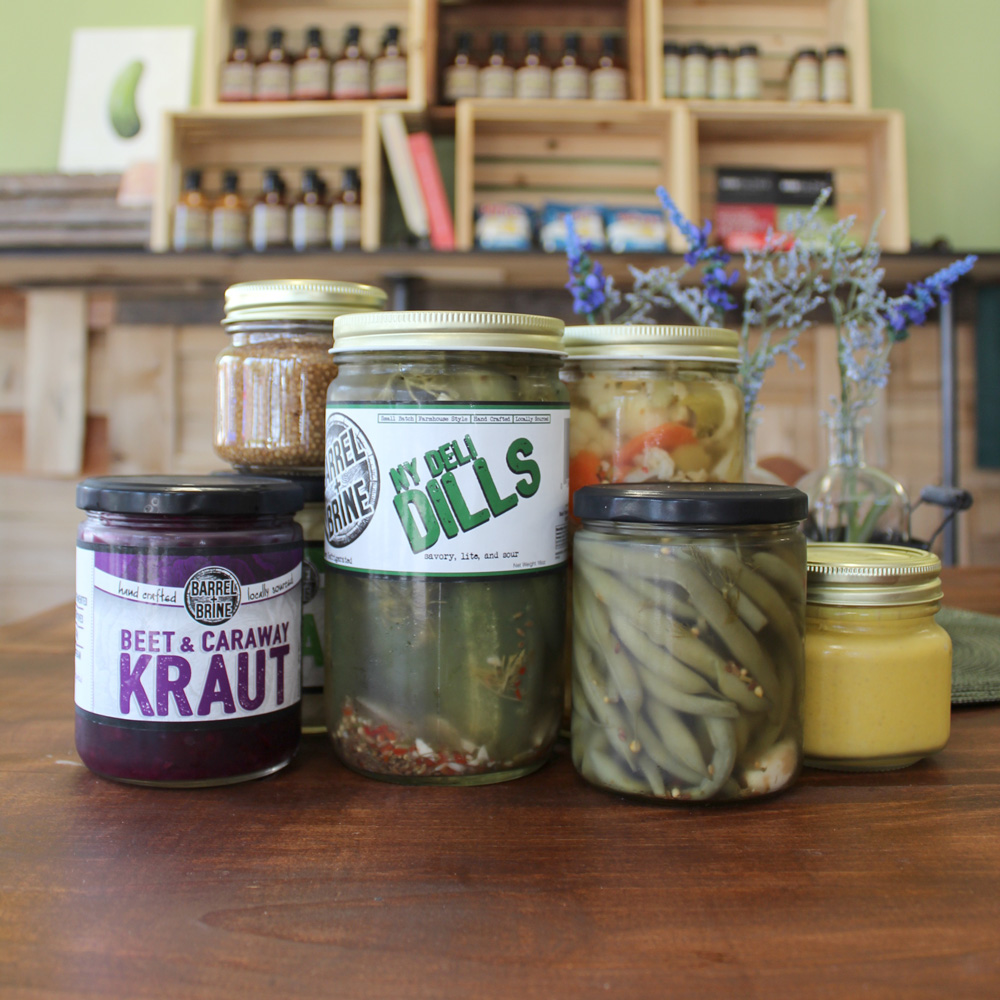 Specializing in both pickles and ferments, the Marvins and their help are incredibly productive. "We do roughly 1,000 pounds of cucumbers a month," RJ says. "Less than that of cabbage, only because we do 800 to 1,000 pounds at once, and then have to let it sit for a while." 
Initially the menu was simple, consisting of only a few items, until innovative ideas from both customers and the Marvins led to the ever-expanding list of options available now. Products like the beer-soaked IPA pickles, the spicy yet delicious Fire + Ice, and kombucha in varieties ranging from blueberry lavender to sarsaparilla are just a handful of the many different flavors customers can expect.
"It keeps growing, and it just keeps evolving to the point where we can't even keep up with our own ideas," RJ says.
Lindsey provides a tour of the walk-in cooler. "RJ is kind of a hoarder," she says, gesturing to a table in the cooler holding assorted colored jars. "He'll make these one-off things. I'll ask him, 'What is that?' to which he replies, 'I don't know.'"
RJ later acknowledges that he does not always remember to write down new recipes when he's experimenting.
While the jars speak to RJ's alleged hoarding, they also give an idea of what shoppers might see at Barrel + Brine in the near future. For example, supplied with meat from Camillo's, Barrel + Brine have been experimenting with pickling various sausages. Among the different varieties are cheddar jalapeno, Polish, and, most notably, a sausage RJ refers to as "the M80." A play on the mass-produced Fire Cracker sausage, the M80 is a larger, slightly spicier version perfect for snacking.
The Marvins also have experimented with a Bloody Mary mix, which will be available again in June. They teach pickling classes, too. 
"It literally boils down to making food in a collaborative and creative fashion," RJ says.
Both explain how important the community is in the work they do at Barrel + Brine.
"There's something embedded in every human where we share food with people, and make food for people, and it's spiritually uplifting," RJ says, adding that he's not normally a spiritual person, but simply is happy to share his ideas and culinary creations with Buffalo, and to discover what Buffalo has to offer.
He gestures to the cooler where they keep all of their gifts from customers. "People bring us things all the time like their own pickles, or bottles of beer they made, and being a part of that cool little community where people are feeling the excitement, I think, is what really is important, and drives me personally to do it."
---
 BARREL + BRINE Presents 
 TACO! TACO! TACO! 90s HIP-HOP! 
 A taco fueled 90's hip-hop blaring party 
 Sunday, May 22 @ 12pm 
 257 Carolina St, Buffalo