Sports
Spotlight: Olivia Schmidt
by
/ May. 11, 2016 3am EST
It's halfway through the second quarter. Holland High School basketball player Olivia Schmidt catches a pass from a teammate. She's outside the arc and shoots the three—swish!
The game is stopped; celebration ensues.
An milemark was hit this high school basketball season in the Town of Holland, when Olivia Schmidt scored her 2,000th career point in a home win in front of all of her family, friends, and fans. Only 11 other local women high school players have hit that mark. 
The school and Town of Holland celebrated her milestone as soon as she hit the shot, stopping the game and giving her a commemorative game ball.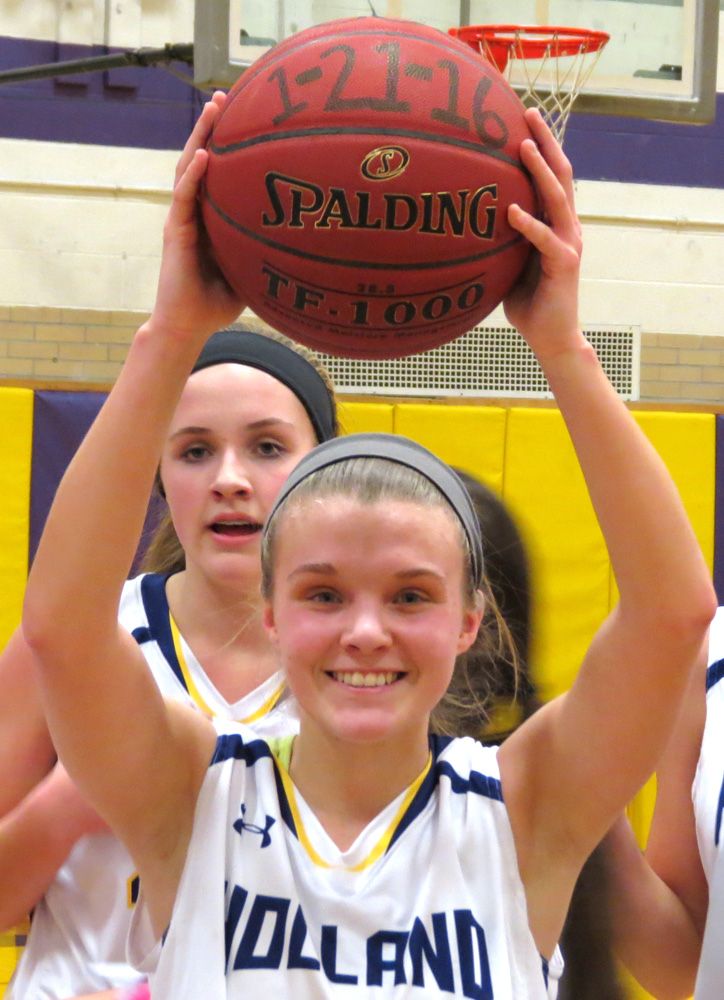 "I felt extremely blessed, honestly, because I had so much of my family and friends there, and people that have helped me succeed," Schmidt says. "Some of my best friends are on the team now, and I got to do it beside them, which was awesome."
Schmidt led the team to the Far West regional championship game, which they lost to the eventual state champions, South Seneca. Schmidt scored 44 points and dished out five assists. She ended her career with 2,263 points.
Coach Dan Parker, Schmidt's coach of six years, touches on her leadership, and how it helped her and the team go so far this season. "Her leadership and skill set have helped her mature into a player who knows how to win," he says. Parker says her leadership was exemplified in her play in a game against Allegany Limestone. "She was double-teamed throughout the second half, but she was skilled and experienced enough to use the double team to get her teammates shots."
Schmidt ended that game with eight assists, which followed a 10-assist outing the previous game that gave Holland its first ever sectional championship title.
Most basketball points isn't the only record Schmidt holds at Holland. She also holds the record for most soccer goals, with 173. "Just to pass the people that were there to begin with is really cool, because I remember watching them when I was little and growing up. It's a great feeling," Schmidt says.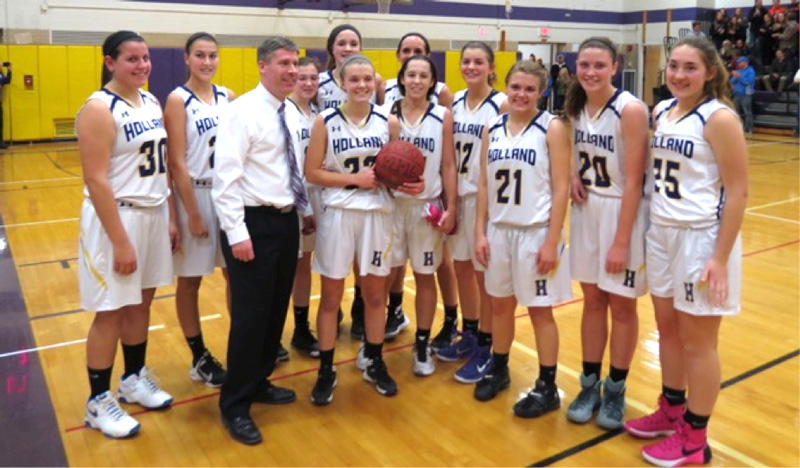 Next year, Schmidt will play soccer at Division II Indiana Wesleyan University. "For the first year I'm just going to play soccer and see if [basketball] is even a possibility. If I have enough time, I'll definitely consider it, but if I can't, I'll just stick to soccer," she says.
"I think sports have so much to do with your mentality. To mentally not get frustrated, and keep yourself focused in the game is the biggest part."
Schmidt and Parker have been a player-coach tandem for six years. Although their basketball relationship has ended, the memories and success each has brought to the other's life endures. "It has been a pleasure to coach Olivia for the past six years," he says. "Her skill set would make any coach look smart, but to see her continue to develop those skills, work with her teammates and work to fully understand the strategy and mental aspects of the game have made the experience truly enjoyable."
When asked what she will miss most about high school sports, Schmidt replies, "Playing for the town…I've been playing [sports] with the same girls since we were all 10 years old. Playing beside those girls all this time feels amazing."