Etc.
Indeterminacy Festival at Silo City, UB, and Hallwalls
by
/ May. 10, 2017 12am EST
On May 12 and 13, 2016, Stanzi Vaubel's Excursions Into Unknowable Worlds ran for two nights at the gallery at Hi-Temp Fabrications, now closed. This immersive performance, directed and conceived of by Vaubel, was co-created by more than musicians, dancers, choreographers, lighting and sound designers, scenographers, theorists, and filmmakers. Vaubel invited audience members to move through a maze of delicately entangled scrims, light, sound, bodies, and story. The hour-long experience was offered as a collective exploration of what it means to be willing to face ourselves—or, in Vaubel's words, to "walk through fire"—and how embracing our vulnerabilities might make us form more deeply meaningful connections with others.
Just over one year later, Vaubel's Indeterminacy Festival is expanding these themes into a five-day series. It begins on May 16 with Montreal-based interactive media artist Luc Courchesne, who will give a workshop and public talk at the University at Buffalo's Center for the Arts at 5pm. Vaubel is partnering with artist Tony Yanick to curate a selection of films around indeterminacy, screening at Hallwalls on May 18 at 7:30pm. On May 19, 5pm at Silo City Marine A, WNYBAC will lead students in a bookmaking workshop. The students will use their books for a poetry workshop hosted by Just Buffalo Literary Center to compose on-site creative writing pieces inspired by indeterminacy. 
Finally, on May 19 and 20 at Silo City Marine A ($5 for students and $10 general), large inflatable plastic bubbles will become "a space within a space," within which dance and music performances take place. These performances feature musicians and music from Buffalo String Works, featuring youth students "who belong to a community that is comprised primarily of recently displaced families from all over the globe." Vocals will come from Sotto Voce Vocal Collective, which "aims to perform works primarily by under-represented living composers" and recently presented the work of Julius Eastman at the Burchfield Penney. Dance includes works by Jenna Del Monte and Courtney Barrow and Buffalo's PDdance/Dance for Parkinson's group, with the direction of Cynthia Pegado. Justina Dziama is the festival's architectural designer and Lucas Segall will provide the musical composition. 
Vaubel's social practice works are invested in creating possibilities for re-imagining ourselves and communities, by plunging audiences into strange and richly textured environments porous to participation.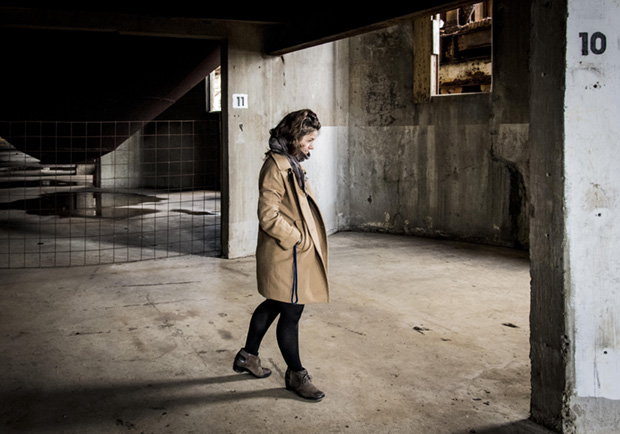 We posed some questions to Vaubel about her work and the Indeterminacy Festival:
Can you ground us in a visual-spatial sense of Marine A?
Marine A was originally intended for mill and grain, not for humans. 
Inside of the space, there are massive cement cylinders displaced and gutted of their initial use, forcing you to look up, up, and up…your impulse is to call out. As you wait, listening to the echoed response, you get a sudden understanding of what Pauline Oliveros might have meant when she defined deep listening as our attention to the things around us, causing them to respond back.   
There are hoppers, which are funnel-shaped containers in which materials like grain are stored. They dip deep into the many of the spaces, making it difficult for a visitor to easily pass through without negotiating with the shape itself. There are narrow circles, interlocking with larger cylinders that shoot 150 feet into the air. The spatial experience is impossible to feel comfortable with. It's overwhelming every time. 
Why are you placing your structures in all of Marine A? All past performances in the space from other artists have only covered one silo, or a smaller part of the space.
Because Marine A's interior is so daunting, I realized installing inflatable structures within the larger structure of the space would provide audiences with a unique opportunity to experience spaces they would otherwise avoid. The way I began, was to work with architecture student Justina Dziama, on all of Marine A's architectural plans. She created a navigational system for the entire space based on these plans. 
Even after we had the plans, I still felt lost in the space; completely overwhelmed. Initially, I had no idea how to install even one of the bubbles, let alone the 13 the final piece will feature. But it was essential for me to take on the entire space, to create a fully living organism with many complex parts to offer audience members. It is an incredibly daunting task. But to me, this is the only way to actually create a new structure. It's about getting dirty and exhausted. It's the carting around of 100 foot sheets of plastic that I had no way to even move or store, let alone install. 
It has required me to adjust when things go wrong, or don't go as planned, on practically an hourly basis. I've become highly aware of the indeterminate element in every aspect of the process. I've had to get skilled at the very material of indeterminacy. And that skill lies in constantly paying attention to re-navigating the structural aspects of all the mediums involved. Because in this project, there is no fixed point that everything rests on. The project becomes a relational dynamic between people and material components, like music or plastic. Indeterminacy is the relationship between actors, both human and non-human. 
How do the bubble structures transform Marine A from an almost divinely mediated experience, into a space that enables a deeper sense of human vulnerability?
It's in grounding the cathedral-like awe of it, in human experience. It's entering into relationship with it. In response, the space talks back with an immediacy, a gentle reciprocity you can feel. For instance, it's impossible to clean these spaces, because they are permeated by the outdoors all the time. You can't avoid the elements. Charting a path through Marine A is not about dominating the space: It is about relating to it. The bubbles define the space by folding around its contours. They converse with it. 
We all want to stick to the silos that are open and comfortable and enchanting. They're not all enchanting. If you had a choice, you wouldn't go through many of them. Navigating through the interior silos will be an exciting experiment. It's going to be something, going collectively through all the areas of darkness and obstruction. It is important that we take on the challenges of life through the creation of community structures. There's going to be something to making it out the other side, to arriving into the more open spaces together. 
How does this commitment manifest in your work?
Social networks are supposed to spontaneously connect us with all sorts of people from all different branches of our immediate and less immediate circles of connection. 
The virtual social network is much more prone to the kind of apathy that is dangerous if we want to build strong communities. To create a real social network, we have to make real places that embody visionary ideas of what relationships could be like and emphasize the different avenues for possible future worlds.
People are willing to consider connections that they otherwise would not be open to. The real spaces we place ourselves in have a far more profound effect on how we relate to each other than we could imagine. 
How has creating this project changed how you've thought about social networks in your own life?
The installing of these inflatable structures has been far beyond any plan I could've thought of in advance — and totally dependent on others to help build them and others to give themselves over to them.  It requires giving up control in favor of interdependency. 
And I believe in interdependency that exists outside of your immediate family structure, outside of your partner. It's about refusing to expect anything from someone in a transactional way. It's caring about someone and seeing them as a human being. It could be for a moment, someone you meet on a plane. Or, for a lifetime. We need this for our survival as human beings, for ecologies to survive. We are interconnected, and we must acknowledge this as a fact. 
Why have you invited community groups and youth to engage as collaborators into your process? 
For me, profound experiences altering my conception of the world came from participating in artistic projects as a child. These projects brought together youth and amateurs with experienced or mature artists. These experiences had nothing directly to do with politics, or even, an overt sense of community. However, they were experiences that remain today, the brightest reminders of hope. 
Hope for what the Greeks called achieved innocence. To experience the world you have to believe in being innocent. Vulnerable. Unsure of how everything fits together. 
Experiences that are filled with a vulnerable hope tied to a high aesthetic. In high art, you aspire to communicate, but you also aspire to create a sense of enigma, a presence of the unusual, the fantastic. An idea of dreaming. Within that high art there's room to be highly inclusive in terms of who gets to be involved in believing the vision is possible. Who gets included in the dream and being allowed to dream. 
If you get included, you get a glimpse of a future you couldn't up until that point have imagined. All you need is a taste of the reality of the dream, to dream yourself. It is worth the effort of creating really hard to stage and pull off experiences, in order to give participants and audiences that taste of something that might just change their perspective on what is possible. 
It is true that we can be changed. If we're ready, something can catalyze real change. You don't know who will come to your performance and what that experience could catalyze for them, but you have to make it so that others might dream their own dreams. So that they not feel alone as they go through the real trials and tribulations to actually create the new structures we will someday come to rely upon. 
 The Indeterminacy Festival
 Tuesday, May 16 / 5pm 
 The Center for the Arts, 103 Center For The Arts, Buffalo 
 Thursday, May 18 / 7pm / Hallwalls, 341 Delaware Ave, Buffalo 
 Friday, May 19 / 7PM / Saturday, May 20 / 8:30PM
 Silo City Marine A, Silo City Row, Buffalo
 indeterminacyfestival.com