Local
Story: Defecting, Pitching, Researching
by
/ May. 6, 2015 9pm EST
It was on a 1990 sightseeing trip to Cyprus from the Soviet Union that Vladislav Sandler made his move—and defected. "The tour went that way and I went the other, quickly," he says, laughing.
Sandler was a trainer of German shepherds for the Red Army, sniffer dogs for the war in Afghanistan. He shows a scanned photo on his smartphone, him looking dour in uniform with a leashed dog. Less than three decades later he would arrive in Buffalo following a fortuitous encounter with someone at a business meet-up in Manhattan who told him about the 43North business competition with its million-dollar first prize.
"Before Cyprus, where I disappeared, I went to the Netherlands embassy, and planned my escape to Israel." From Israel he moved to Vancouver where he became a Canadian citizen in 1998. "Vancouver is the best city, you can see skiers from downtown"—an important fact for an avowed skier. When he moved to Buffalo, Sandler says, he "drove here from New York with my dog and my skis, mostly."
Sandler received his PhD from the University of British Columbia, worked at Harvard, and later joined the faculty of Weill Cornell Medical College as an instructor in genetic medicine and as a senior scientist. The research focuses on stem cells for treatment of leukemia, lymphoma, and multiple myeloma. After hearing what HemoGenyx does during the 2014 pitch competition, this reporter became interested in the company's mission, having lost a friend recently to multiple myeloma.
When asked what prompted his work, Sandler says, "When a textbook makes a definitive statement it's usually wrong." So he set out to prove that stem cells, believed to disappear in adult bodies, still existed. He found these blood cells three years ago—in adult livers and umbilical cords. "The discovery was made and a patent was filed by Cornell." They agreed to let him continue the work elsewhere.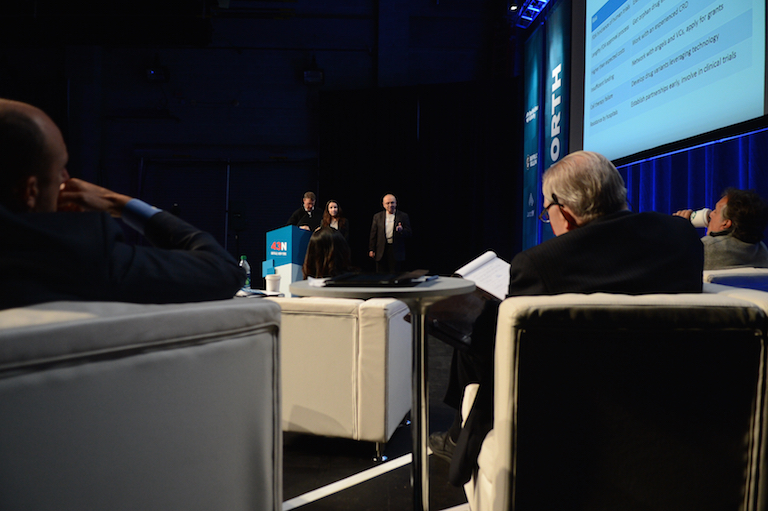 HemoGenyx, Sandler's company, collected a quarter-million dollar prize after the pitch before the panel of judges on the stage at Shea's Performing Arts Center last October. Deena Malkina, now an advisor to the company, did all the talking/pitching; Sandler took over for the Q&A with the judges.
"It was like a game, it didn't feel real," he says of the competition. "It all looked too simple—usually when something looks too simple, it's a scam. It became much more real after the first cut, the semi-finals. We had to write another application, do a video interview, and provide more documentation." About the actual act of pitching, he says, "It was like theater. We all knew that we finalists had won money, but not how much, so that took off major pressure. Plus it was like theater because we were on a stage in a real theater."
Sandler rents an apartment on Delaware Avenue and hits the park daily with his whippet, also a regular at the 43North headquarters/incubator downtown. Sandler has a primary residence on the Upper West Side of Manhattan with his wife (and HemoGenyx  co-founder) Alexis and son. His wife is associate general counsel for The Museum of Modern Art, "her dream job."
We are talking while sitting on a bench near Delaware Park's dog run alongside Rumsey Road after a portrait session for 43North. I've been making portraits of the competition winners in casual settings to showcase iconic Buffalo places. Two weeks ago I made portraits of Sandler in his lab downtown in the Buffalo Niagara Medical Campus: Everything was brand new, right out of boxes. We shifted things around to make the lab look active. He's still awaiting approval for mice for the research.
The 43North prizes require winners to reside in Buffalo for one year. After one year, what does Sandler think the status of HemoGenyx will be? "It's impossible to predict. If everything is financed and progresses, the company could employ 40 to 60 people and then get acquired or go public." For now Sandler is about to hire two scientists to work with him in the new lab and is advertising them on the company website.
Sandler talks about "bureaucratic obstacles" to being a startup lab, but in Buffalo he's had several fortuitous encounters with other scientists who have helped HemoGenyx. Rather than being in the 43North office, Sandler has networked and found it most productive to work within the science community. "All companies are different. What I have told the 43North organizers is that life science companies have different administrative needs than lifestyle companies. If you want success, you have to nurture the success."