Visual Arts
Mabel Dodge Luhan at the Burchfield Penney
by
/ May. 3, 2017 12am EST
The Mabel Dodge Luhan exhibit at the Burchfield Penney is the story in words and pictures of the creation of an alternative American modernist art tradition to the default tradition abstract expressionist New York School. The alternative tradition was more authentically representative of the fullness and complexity of American culture than the basically self-referential New York School in that—without ignoring or rejecting the abstractionist imperative—the variant tradition was solidly and consistently in reference to the American land and American people, including Native American and Hispanic ancestry populations. The home base of the alternative tradition was—of all places—Taos, New Mexico. But the story started in Buffalo. 
Some notable artists associated with the Taos eventual arts colony included: painters Georgia O'Keefe, Marsden Hartley, John Marin, and Buffalo grande dame of modernism Martha Visser't Hooft; photographers Alfred Stieglitz, Edward Weston, Paul Strand, and Ansel Adams; writers Willa Cather and D. H. Lawrence; and dancer/choreographer Martha Graham. All of them were introduced to Taos by Mabel Dodge Luhan, whose first visit to the region was in response to a message from her then husband Maurice Sterne, who on a trip there wrote and encouraged her to come out to "Save the Indians, their art—culture—reveal it to the world." She went, and upon arrival promptly dispatched Sterne back east and met and took up with Tony Luhan, an ethnic Pueblo Indian and eventually her fourth husband. It was to her and Tony's place, called Los Gallos—originally a 12-acre farmstead with small adobe house that she and Tony greatly enlarged and improved, adding guest houses—that she brought her artist and other friends. She later wrote about her vision of Los Gallos as a retreat for the "movers and shakers of the earth, to relax and recover their energy" there. The visitors typically fell in love with the stark magnificent Northern New Mexico environs, and some relocated there, but all were likely significantly influenced by the Taos experience. 
She was born Mabel Ganson into an old money Buffalo family, to escape which she married at an early age and had a son with Karl Evans, who a few years later died in a hunting accident. Soon afterwards, she and her son, John Evans, shipped off to Europe. On board she met Edwin Dodge, a wealthy Bostonian, and they married and purchased a former Medici villa in Florence, where she began developing a taste for art, and hosting visitors the likes of Gertrude and Leo Stein. Eventually the Dodges—their marriage now heading for the rocks—amid numerous romantic affairs, on her part at least, with lovers of both sexes—relocated to Greenwich Village in New York City, where she set up as a patron of the arts and hosted weekly salons that attracted artists and intellectuals, usually of distinctly socialist progressive political leanings. Such as poet and radical journalist John "Jack" Reed—most famous for his eyewitness accounts of the Russian Revolution—with whom she had a sporadic series of romantic affairs. The Greenwich Village period included regular excurses to Provincetown, Massachusetts, where she also became involved in arts scene—she and Reed helped organize the Provincetown Players theater group. Back in the city, she was one of the organizers of the famous 1913 Armory show.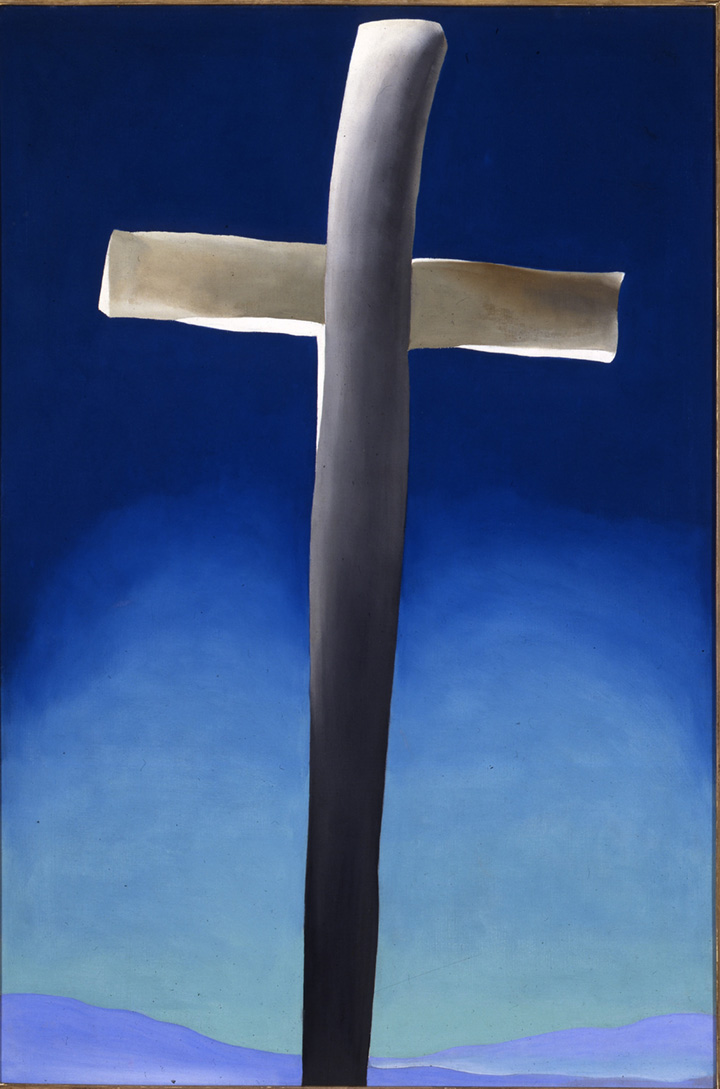 Georgia O'Keeffe's Grey Cross with Blue
The exhibit includes works of many of the artists associated with the Taos colony, including: Georgia O'Keefe's magnificent Grey Cross with Blue; a series of Southwestern landscapes by John Marin; an abstract of Indian symbols by Marsden Hartley; sketch drawings by Diego Rivera for a dance collaborative work with Mexican composer Carlos Chávez; a photo portrait of Chávez by Paul Strand; other photos by Stieglitz, Weston, and Adams; and Martha Visser't Hooft's dark luminous Blue Shards oil painting with a look and feel of stained glass work. 
Also some film footage by Chauncey Hamlin—the founding father of the Buffalo Museum of Science—of a horseback trek into the mountains with wife Emily and daughters Martha and Mary during a trip to Taos to visit Mabel and Tony. In a display case nearby, a letter from the trip from young Martha to her fiancé Franciscus Visser't Hooft. That begins, "My most darling boy—why aren't you here—that is what I keep saying to myself…" and goes on for nine pages to describe some of her experiences on the trip: "If you could see the shadows on the hills out here…This is the country of poets and artists, and they are here in hundreds…Suddenly the most gorgeous Northern lights appeared…a glorious sight…" 
The exhibit includes a segment on native Pueblo art, and ancillary display of Mexican Hispanic folk art religious paintings and statues, and other works related to the intense religious sensibility of the indigenous population. Including a superb photo by Barbara Morgan of dancer Erick Hawkins, as if in performance in a Martha Graham ballet, in the role of "El Flagellante." 
The exhibit is called Mabel Dodge Luhan & Company: American Moderns and the West. It was put together by the Harwood Museum of Art, Taos, University of New Mexico, with additional materials on Buffalo connections in the Burchfield Penney version. Continuing through May 28.
 Mabel Dodge Luhan & Company: American Moderns & The West 
 Burchfield Penney Art Center / 1300 Elmwood Avenue, Buffalo / 878-6011