Visual Arts
Jesse Walp and Bethany Krull at Indigo Art Gallery
by
/ May. 3, 2017 12am EST
When most artists collaborate, they go home when the work is done. When they go home, Jesse Walp and Bethany Krull, who have been working side by side for the last 12 years, find themselves in the same place—together. In the early years, what brought them together was proximity and deep interest in each other's process. More recently, what binds them together are two young children. Walp and Krull appear to thrive in their partnership.
Their exhibition titled Entwined, on view at Indigo Art Gallery, focuses mostly on the relationship between humans and nature, asking its viewers many of pressing questions of our time. How do we teach younger generations about the complexity of nature? What happens when we try to control it? Why do we value certain species or spaces more than others?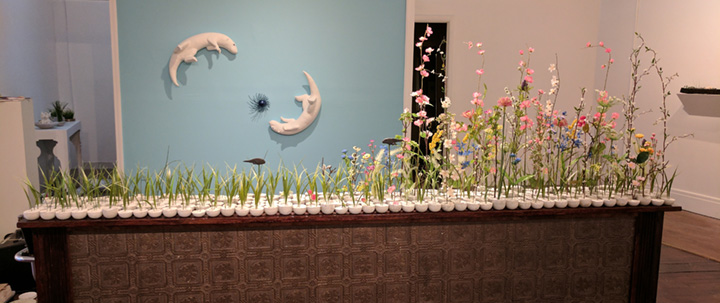 Swamp and Bound
The show has me contemplating the words of  author Jon Mooallem: "Zoom out and what you see is one species—us—struggling to keep all others in their appropriate places, or at least in the places we've decided they ought to stay. In some areas, we want cows but not bison, or mule deer but not coyotes, or cars but not elk. Or sheep but not elk. Or bighorn sheep but not aoudad sheep. Or else we'd like wolves and cows in the *same* place. Or natural gas tankers swimming harmoniously with whales. We are everywhere in the wilderness with white gloves on, directing traffic."
The exhibition features 11 major works, three of which are made by Walp and Krull in tandem, while the other eight find connections to one another without having been made collaboratively. Also included in the show are a series of small works that demand attention. The textures, colors, and shapes are alluring. I would liken my first reaction to entering the gallery to the long walks I take in the woods with my children. I wanted to look beneath each piece, inside, and underneath. In some cases I wanted to stroke or squish the work, much to the obvious dismay of Walp.
Before you even enter the gallery, in the window you will first see Krull's Entangle—a gorgeous, if grotesque, pile of ceramic baby rats. No fur, they are varying shades of flesh tones resting on one another, their eyes squinting through slits suggesting safety and happiness. They are surrounded by dense artificial grass that slowly thins out on the sand bed they lay on. The grass protects them. This piece reminds of our relationship to rats—animals we see as nuisances, historical carriers of disease. In the northern Canadian city Edmonton, authorities have taken extreme actions over the last 50 years to eradicate rats all together. They have also been wiped from our consciousness: Many people don't even know what a rat looks like. Krull asks us to consider our relationship with other species. How can we love or respect one animal over another? Some of us even repulsed by non-domesticated animals.
Becoming Brand New is composed of ceramic tadpoles suspended in rubber bubbles or orbs. (This is the piece I wanted to touch most.) Curator and gallerist Emily Tucker described this piece as "visual magic." I can't agree with her more. The piece looks wet, the ceramic tadpoles look alive, and its arrangement suggests it was placed there by nature. Each orb with the tadpole suspended is mounted on the wall. It the center the composition is dense and the orbs radiate out—they become sparser. Walp writes, "I am inspired by thoughts of the internal energies and processes that bring natural forms into being…" These tadpoles aren't done growing; they need water and time. Walp suggested I open any plastic container in my refrigerator and look at the underside of the lid. He seemed sure I'd find a similar formation of water droplets, minus the tadpoles. This piece is the fruit of Walp and Krull's collaboration.
Persistence, made by Walp, is composed of four concrete bricks laid up against one another, as if to suggest bricks in a sidewalk. Pushing up between the bricks are blades of purple and green grass. This piece subtly illustrates the power of nature in clear and simple terms. If you look closely, you will see this power even in the most densely populated cities. Nature was first and it will certainly be last.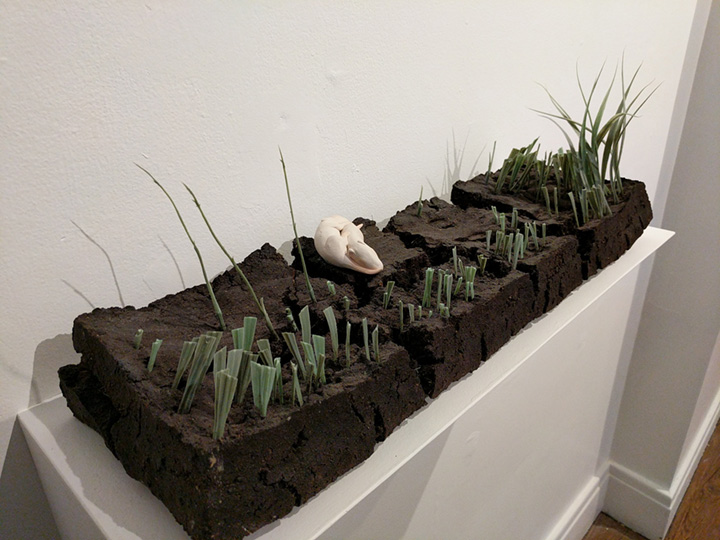 Tranquil & Trembling Earth 
Tranquil & Trembling Earth is an urgent call-to-action by piece made of soil, ceramic, adhesive, wire mesh, and artificial grass. There are two naked rats, eyes shut, curled up with one another on broken, cracked, dark earth surrounded by scant blades of grass, some cut, some still standing tall, untouched by human hands. The color of the soil suggests it is nutrient rich and fertile, though it is cracked, buckling, dry, and curling up. Krull explained that it had sat dormant for some time, but she realized its potential again as she tried to process the recent political shit show.
Walp's Harbor is made of slightly arched, black-dyed wood thoughtfully connected to look like slats. In the center there is is slight arched opening. At first glance, you only see the sculpture—the bones of the sculpture—but if you take the time to look inside, you'll see a few small bluish "seeds," suggesting a hidden potential. Looking at this piece and finding the seeds inside gave me a similar sensation to turning over a decayed log in the woods in hopes of finding a salamander.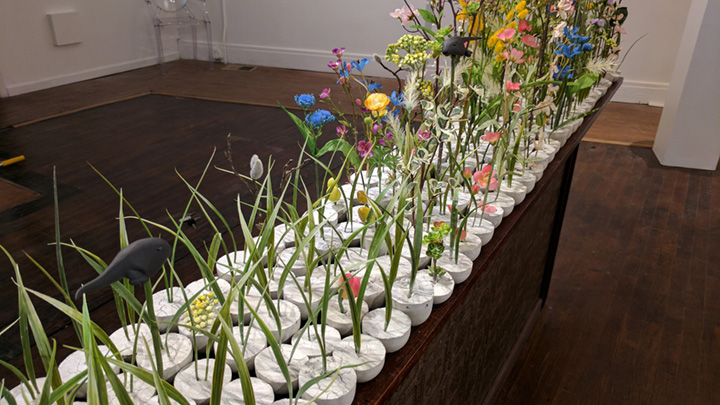 Swamp
Swamp is composed of cast disks of concrete with fake grass and flowers coming out of them. On one half, the disks only have grass growing from them; the other half blooms with fake flowers of multiple colors. Tucked way in the grass and flowers are two tadpoles staring each other down. I am reminded of mowed lawn with only one species of grass to be found, versus a yard filled with various plants, flowers, insects and animals. Krulls asks us, why control it?
Observing Underbelly can be compared to waiting for a seed to germinate and break through the soil. It is a long, lean piece made of walnut, poplar, and dye. It is like a long, double-sided tongue wrapped in thin sheets of wood. This piece feels like it might come alive at any moment. Walp describes this piece as a study of common bugs, such a potato bug or an African hissing cockroach. It really gives the viewer a sense of emerging energy. This piece must be seen in person to fully understand. As elsewhere in the show, the craftsmanship is stellar.
Bound shows two placid, white ceramic otters swimming around in a spiky metallic sphere. Krull described that spiky sphere to me as an object of desire. This work seems to sum up Krull and Walp's relationship to one another—happily bound in family, art, and exploration.  
There is something about this collection of works that makes me consider how if nature was gone, we could come look at these pieces to remember, if only faintly. They have an artifact quality to them. If the conceptual basis of this work doesn't strike you, the craftsmanship will.
Entwined will be on view through May 27. There will be a gallery talk on Saturday, May 6 at 3pm. Gallery hours are Wednesday-Friday, noon-5pm, Saturday noon-3pm, and by appointment.
 Entwined 
 Indigo Art Gallery / 47 Allen St, Buffalo / 984-9572