Local
Story: Albright-Knox Neighbor Gussies Up
by
/ Apr. 29, 2015 12pm EST
The only home that is truly next-door neighbor of Albright-Knox Art Gallery is this year's Junior League Decorator Showhouse, the Edward H. Webster House at 164 Lincoln Parkway on the gallery's eastern side facing Hoyt Lake. The home, an Arts and Crafts mansion, was designed by architectural firm Esenwein & Johnson and completed in 1908, seven years after the historical Pan-American Exposition that took place nearby. 
This home was the second commissioned by Esenwein & Johnson: Edward H. Webster had them design his home at 781 West Ferry before moving further north in the city. When 164 Lincoln Parkway was built the nearby lake was known as Gala Water.
Esenwein & Johnson, a sanctioned architectural firm for the Pan-Am, drew and had realized dozens of other remarkable Buffalo residences and commercial buildings, many of which remain. Noted for Johnson's signature decorative motifs, their Art Nouveau Ansonia Building (at 712-726 Main Street at West Tupper), Buffalo Museum of Science, Root and Calumet Buildings on Chippewa Street and the incredible Electric Tower (535 Washington Street, inspired by the Pan-Am Electric Tower) are turn-of-the-20th-century masterpieces. The firm also created the infamous Temple of Music at the Pan-Am, site of the assassination of President William McKinley.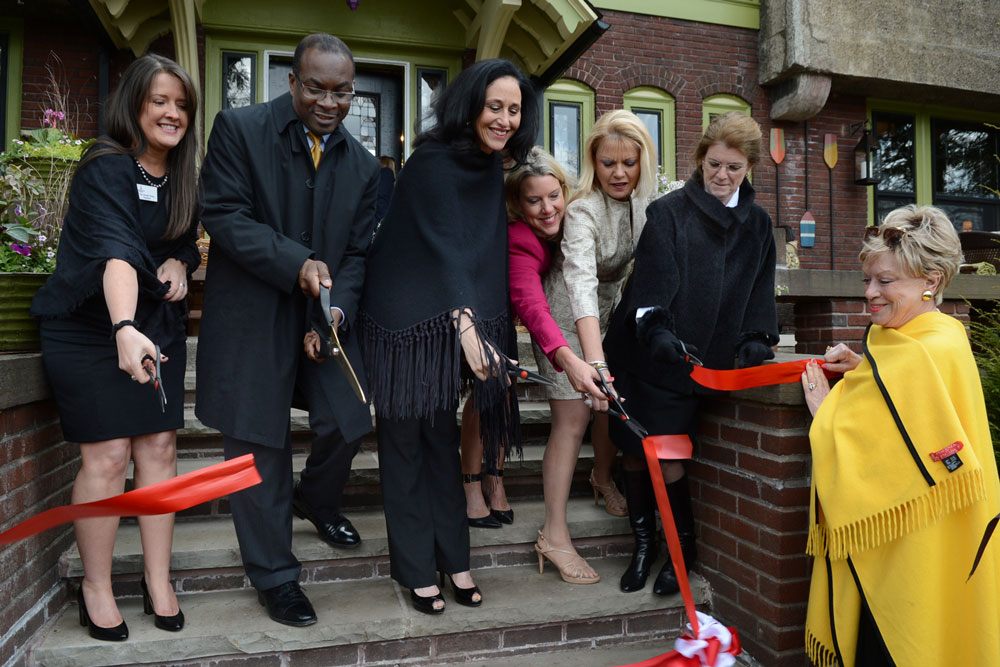 Decorator Showhouse ribbon cutting ceremony.
The biennial Decorator Showhouse opened with a ribbon cutting and champagne toast on Friday, April 25 with Lauren Hall (of News 4 Wake Up on WIVB, and also of ultra-firm handshake) emceeing. Mayor Brown and about 50 Junior League ladies and guests raised glasses before heading indoors.
The house will be open for public tours Tuesday-Sunday until May 17 and private tours are available on Mondays. All proceeds from ticket sales benefit a local nonprofit organization, and this year's is to be determined. Last Decorator Showhouse benefitted Massachusetts Avenue Project to construct their Community Food Training and Resource Center on the West Side. This year the Junior League has added a "Cultural Campus Collaboration," with discounts to visit 14 other attractions, among them the Burchfield Penney Art Center, Darwin D. Martin House, and the Buffalo History Museum.

Champagne for toasting.
Webster House landscaping has been tamed and updated colorfully by designer James Wieczorek of Seasonal Nursery, making the facade more visible. The 43 rooms in the three-story home and carriage house have been reimagined by interior designers and artisans, mainly local with a few national stores mixed in. Each of the rooms has a theme making the wending floor plan more easy to follow. "From Farm to Pantry," "As the Sun Sets" (back porch), and the "Buffalo Rocks" game room on the third floor are a few. Muralist Augustina Droze has work in Room 26, "Journey Into the Artist's Mind."
The Public spoke to Decorator Showhouse chair Rachel Stenclik ("a part-time fashion consultant and photographer") about the project. "I love you guys," she says of  this publication. "I picked this house, with my selection committee, because of three reasons: location, location, location. And the house, besides being in a phenomenal location, has enough rooms, a place for the boutique, big rooms, and wide stairwells for foot traffic. I've worked on all the Showhouses since 1999 but this one is my baby."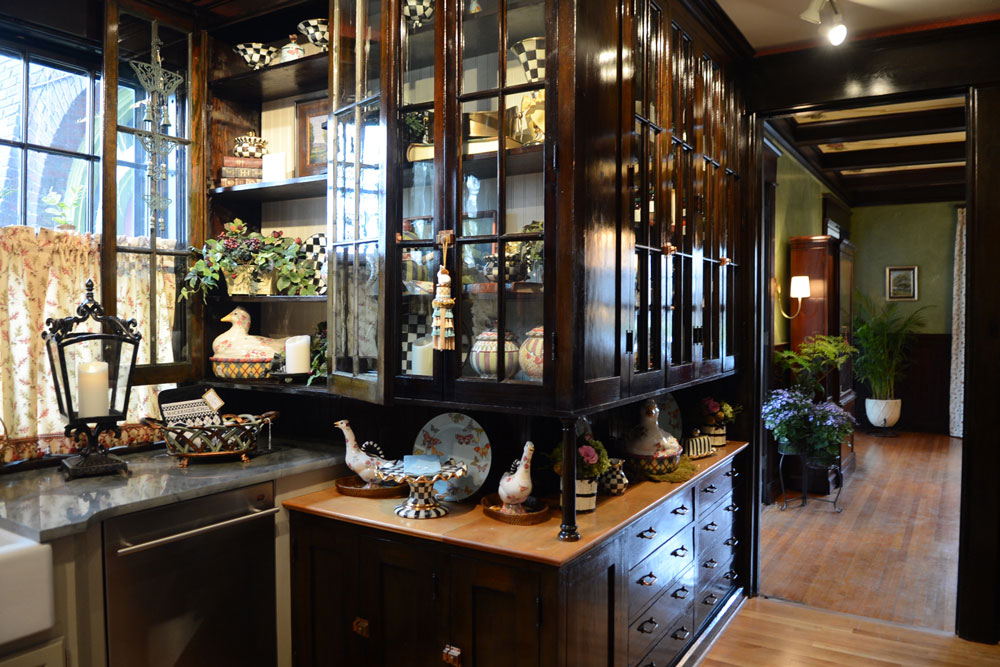 The Webster House redecorated kitchen looking into its dining room.
Dede Webster Kluckhohn, great-granddaughter of Webster, was present for the champagne and opening tour, with lifelong friend Kathy Childs. Kluckhohn, who lives in Florida but keeps a Williamsville home from June-October, says that she grew up visiting the house and was inside it "twelve years ago with a friend of mine who is a realtor. The house seemed so immense when I was little. I can't wait to see how my one favorite bedroom has been redecorated." That room, "A Girl's Bedroom," overlooking the back yard and the Albright, has been tricked out by Pottery Barn Kids (this is their premier Decorator Showhouse), MP Caroll Hardwood, and Schuele Paint Company.
---
Photos by Nancy J. Parisi