Local
Looking Backward: A. Klein & Son
by
/ Apr. 28, 2015 1pm EST
A. Klein & Son, 230 Sherman Street, was one of the East Side's best known makers of sausage and fresh and smoked meats. This 1931 photograph, taken by Hauser Bob and looking at the northwest corner of Sherman and Lovejoy (renamed to Paderewski in 1941), shows the owners and six employees and delivery trucks.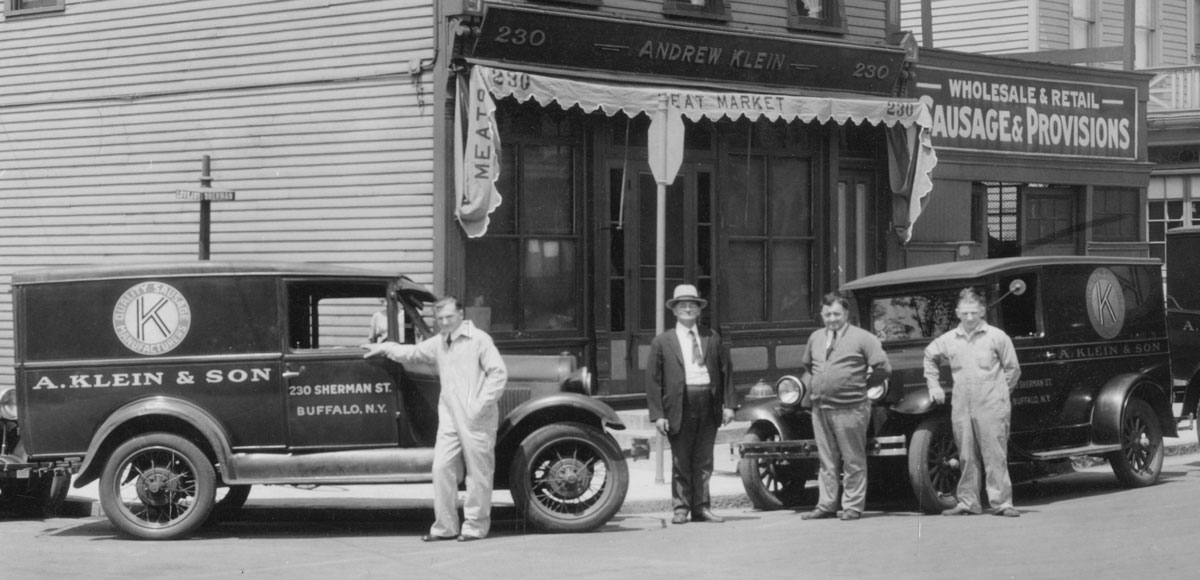 Reproduction by permission of the Buffalo & Erie County Public Library, Buffalo, New York.
At center are Andrew Klein, who established the business in 1887, and his son Carl J. Klein, who assumed the business in 1949. At the time, A. Klein & Son was part of a solidly German neighborhood in the shadow of St. Ann's Roman Catholic Church. Families with names like Wurzer, Schmitt, Wehner, Gulibersuch, and Weber occupied nearby homes. Across the street, and not visible here, Sperry Park and Public School 31 anchored the neighborhood. Klein's "old tyme" wieners were popular, and served at Your Host restaurants after 1944. In 1969, the Klein sausage works were destroyed in a three-alarm fire.
Today, the site of A. Klein & Son is a vacant lot, in character with much of the surrounding neighborhood. Four of seven homes shown on Sherman Street remain.