Food
Spotlight: Lomo, Lomo, Yum, Yum
by
/ Apr. 27, 2016 4am EST
Anxiety was eating away at Sam Geyer. In a few short weeks, Geyer, 27, and his business partner, Matt Pauszek, 28, were supposed to have their new food truck, Lomo Lomo, on the streets. They'd already sunk tens of thousands of dollars into it, along with countless hours of work and worry.
They'd settled on the cuisine—Asian/South American influenced street food—but the truck itself was far from ready. The electrical system still didn't work, the sink and counters were yet to be installed, and permit offices had been slow to respond.
"Things were going a lot faster than we thought," says Geyer. "I would have anxiety attacks in the middle of the night."
When I talked to Geyer and Pauszek, though, their demeanors had changed from extreme anxiety to giddy excitement. They were about two weeks from hitting the street and, with a little help from their friends, it seemed like things were going to work out after all. This turn of events shouldn't have been all that surprising. From the beginning, luck was very much on their sides.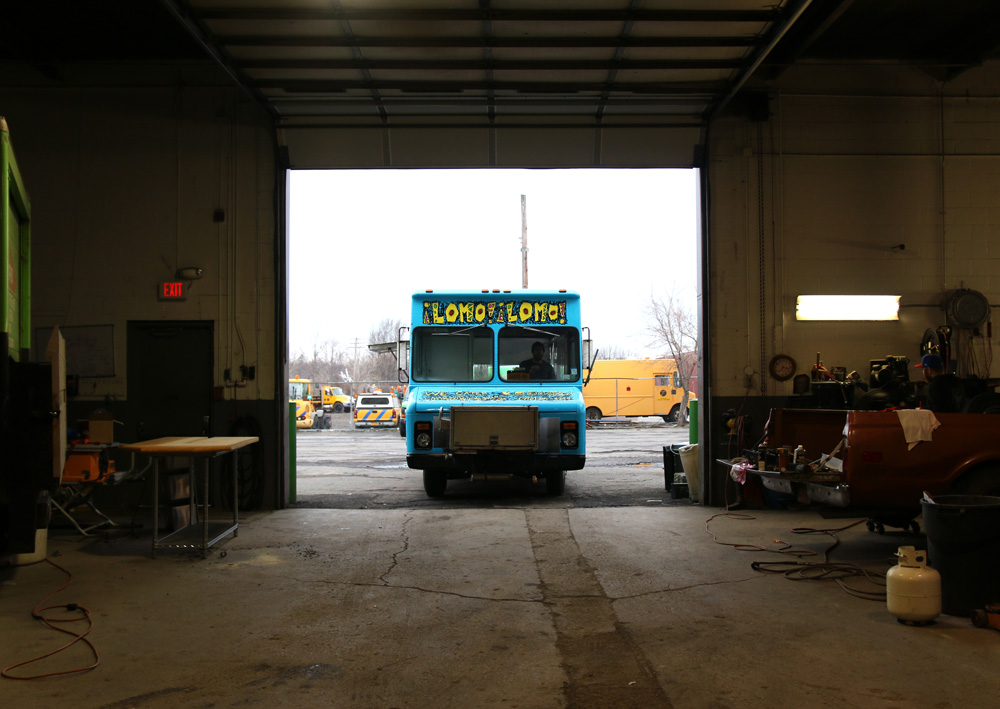 Photo by Shauna Presto
Like so many chance encounters, Lomo Lomo started with a Craigslist ad: food truck for sale near Oswego, gently used. And, like many people browsing Craigslist, Geyer and Pauszek were desperate when they came across the ad. They were, thankfully, gainfully employed: Geyer had done stints in the kitchens of Black Market Food Truck and Marble and Rye, while Pauszek had been a chef at the Lexington Co-Op for seven years running. But they'd been talking about starting a food truck since they met in 2012 and they feared that if they didn't put their money where their mouths were soon that they never would.
The obstacle: Food trucks are expensive, especially if you're not independently wealthy and you're starting from scratch. Building out a new truck can run $75,000 or more, and most used trucks go for at least $40,000. But, like many things on Craigslist, the truck in the ad was a steal: priced to move at $10,000 for the explicit purpose of giving a few young bucks the chance to strike out on their own.
Pauszek and Geyer aren't old, but they were starting to feel like they were. They felt like maybe they were aging past the point where they could take a risk like quitting their jobs and going all in on a business venture. When they saw the ad, they realized they had to make a decision.
"We were like, 'We have to do this or we never will,'" says Pauszek.
That's the moment that Lomo Lomo, Buffalo's newest food truck, moved from the realm of idle party chat to the real thing. As you might imagine, a truck so cheap wasn't street-ready. The former proprietor had been serving out of the back of the truck, so Geyer and Pauszek would have to cut a window to serve on the street in the city. On top of that, the truck's kitchen would never pass a health inspection. Still, Geyer and Pauszek were flying high. To them, getting the truck seemed like the hard part. The rest was just making food. What kind of food was still an open question. They'd been talking for years about a brunch truck and they'd settled on Scratch for the name, but it felt a bit generic. 
"We liked it," says Geyer. "We didn't love it."
So the pair honed in on what they did love: Asian and South American food. They loved the bold flavors and they saw a gap in the Buffalo food truck market. "Lomo" means "loin" in Spanish, but in the context of "Lomo Lomo," it's the name of the dragon on the truck. As newly-minted legend has it, Bethlehem Steel brought Lomo to Western New York to light the fires of their Lackawanna steel plant. Once the plant shuttered, Lomo kept a fairly low profile until Geyer and Pauszek found and recruited him to make local culinary history.
The story isn't just cute: It highlights the dynamic that makes Lomo Lomo, well, Lomo Lomo. Drawn to something outside of their own cultures, Geyer and Pauszek started with something they liked (in this case, the sound of the Spanish word "lomo") and made it their own.
They came to their signature Asian/South American cuisine in the same way. They're careful not to call their food "fusion," instead claiming the cultures as an influence and mashing them up with more typical street food fare.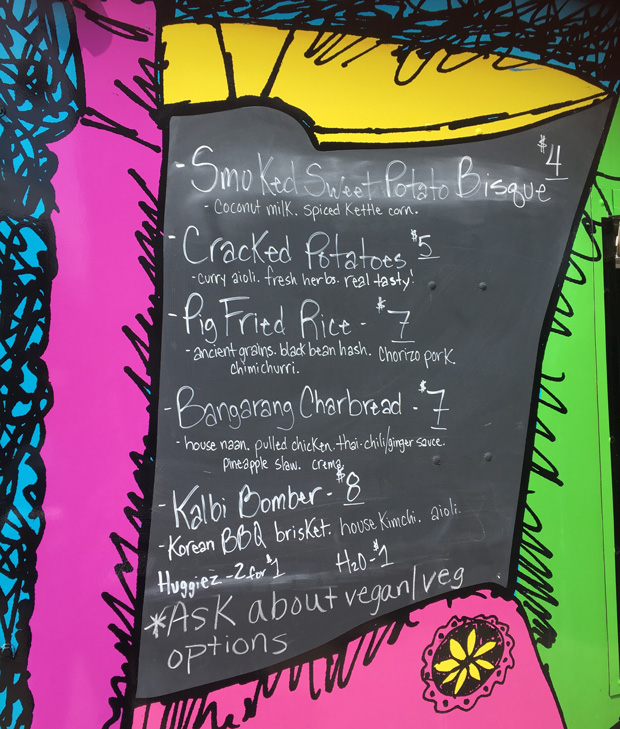 Thus: "Cracked Potatoes," similar to French fries but with curry aioli; "Pig Chaufa," a fried rice dish that nods to Peruvian Chifa cuisine (itself the product of Chinese-Peruvian immigrants); and "Smoked Sweet Potato Bisque," which took home several honors in the most recent Buffalo Soup-Fest (including "Most Unique" and "Best Newcomer").
Great cuisine is only part of what makes a food truck, though—you've got to get your mobile kitchen up and running. That's where Geyer and Pauszek really got lucky. If the Craigslist ad was Lomo's first stroke of luck, here is the second: Geyer's cousin, who worked at Servpro of the Southtowns, offered to cut the serving window of the truck out for free. A third stroke of luck: After Pauszek got an angry letter from the Village of Blasdell chastising him for parking the truck in his driveway for months ("junk cars are forbidden"), Servpro let the pair move the truck into their warehouse. Strokes four, five, six, etc: Geyer's uncles offered to help with the electrical system and the plumbing, Pauszek's friend hooked up the plumbing, and his brother provided the art, showcasing the dragon Lomo spewing fire across the side of the truck. Pauszek's grandfather even released a portion of his will early so that Pauszek's father could give Lomo a business loan. In the end, then, it was a family affair to get the truck up and running without too weighty an albatross of debt hanging on Geyer and Pauszek's necks.
Luck can only get you so far, though. It remains to be seen how receptive Buffalo will be to something this far out of the realm of typical street food. And if it doesn't work?
"That's the beautiful part of this industry," says Geyer. "There's always a kitchen somewhere."
Pauszek: "But we keep saying that if it doesn't work, we'll drive the truck off a cliff."
---
¡LOMO! ¡LOMO!
 lomofoodtruck.com 
 facebook / instagram / twitter