Local
Looking Backward: Washington & Broadway, 1916
by
/ Apr. 27, 2016 4am EST
Washington Street, seen here looking north from Lafayette Square in 1916, was second only to Main Street in urban intensity. At the left is the Olympic Theatre, a motion picture and vaudeville house opened in 1914. Next door is Seames & Zeitler's Park Hof, a German restaurant, beer hall, and cabaret built in 1908. At the right, the New Family Theatre advertises five cent "photoplays," an antiquated term for motion picture. A billboard advertises A Woman's Honor (1916), featuring Jose Collins and produced by the Fox Film Corporation.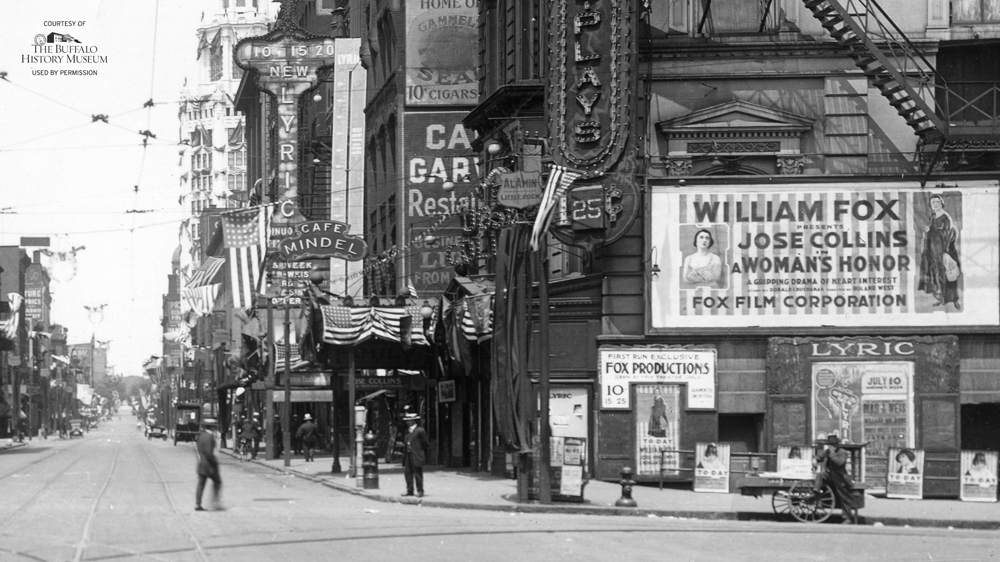 The New Family opened in 1914 in what had been, from 1867 to 1901, the Buffalo Savings Bank. The building was the first location of the Grosvenor Library after 1871, and after 1905 became home to Dr. Hugh Linn's Eden Musée. The museum, according to a Buffalo Times account of its opening, was a "world of wonders" full of oddities, relics, and waxworks, such as the bearded lady, the Irish giant, the smallest dwarf, the man with the iron jaw, and the living skeleton. "All of the latest freaks of nature," reported the Times, "will show in the new museum, and the earth will be scoured to secure new and interesting monstrosities." Electric spectaculars, advertising signs illuminated with incandescent bulbs and flashing in variegated colors, dominate the skyline. This is the City of Light in its prime.
---
Image courtesy of The Buffalo History Museum. Used by permission.