Literary
by
/ Apr. 27, 2016 1am EST
Still going after all these years
Just Buffalo, one of the most respected independent literary centers in the United States, is celebrating its 40th year of presenting readings, performances, and lectures, running free writing classes and workshops, and bringing writers and readers together.
It began in a small space in Buffalo's Allentown Community Center. It then moved to offices above NEO, a furniture store at the corner of Delaware and Allen, and then to the Tri-Main Building. In 2009, it moved into the second floor of the Western New York Books Arts Center, not far from the Central Library.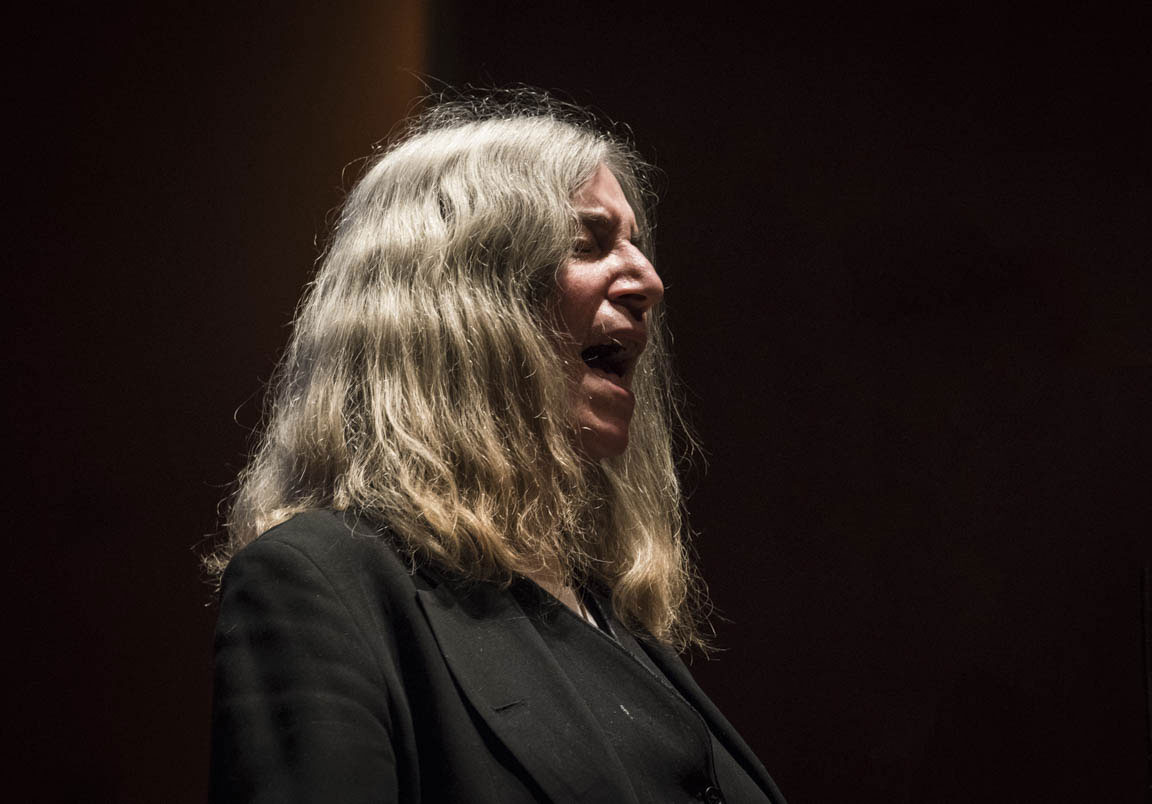 Patti Smith at Kleinhans Music Hall. Photo by Bruce Jackson
Debora Ott
Just Buffalo began the moment a teenage girl in Queens stopped playing basketball, ran inside to get a drink, and heard a poem that transformed her life. The girl was Debora Ott and the poem was "Love Comes Quietly" by Robert Creeley. It was read by an actor as a voice-over to a program her parents were watching on a black-and-white TV about urban environments. This is the Creeley poem:
Love comes quietly,

finally, drops

about me, on me,

in the old ways.

 

What did I know

thinking myself

able to go

alone all the way.
"When I was in school and we had to study poetry," she told me recently, "I thought it was a terrible chore because none of us could relate to what we were studying. The poems were not in in contemporary American idiom, they were not people or situations we could relate to in our lives. When I heard this poem of Bob's, it just talked to me and I turned to hear it, to catch it, and it was over. So I went into the room where my mother was, reading the newspaper with the TV on and I just sat there 'til the credits rolled so I could see what was that. And I found it was Robert Creeley. I'd never heard of him. Contemporary American poetry was not taught in schools. Here was something so new, so fresh. I was 14."
She went to the local library to read some of his work. But the local library had none of Creeley's work. Her father had refused to let her ride the subway alone until she was 16. Two years later she went to the Donnell Library on West 53rd Street in Manhattan (across the street from Museum of Modern Art) and found the books she had been waiting to read.
The story sounds apocryphal but it is true.
When she graduated high school, Ott wanted to come to the University at Buffalo English Department, then the hottest English department for creative writing and critical thought in the country.
That legendary UB English Department of the 1960s had been created by Al Cook, who was its chair for only three years, 1963 to 1966, during which time he hired 25 people, among them Lionel Abel, John Barth, Robert Creeley, Carl Dennis, Irving Feldman, Leslie Fiedler, Dorothy Van Ghent, Mac Hammond, Norman Holland, John Logan, Charles Olson, Bill Sylvester, and me. During his term there was a steady stream of visiting writers: Allen Ginsberg, Robert Duncan, Amiri Baraka, Gregory Corso, Norman Mailer, and Leonard Cohen.
For someone who loved writing, Ott had made the right call in wanting to get to Buffalo. She went to Queens College for two years, and one day in 1968 announced to her parents that she was heading north. Not only did she succeed in meeting and taking classes with Creeley, but the two forged an important and enduring friendship.
In 1974 she and a friend got $10 each from everyone they knew and brought poet Diane di Prima to Buffalo. The reading was at Allentown Community Center. The center then gave her space to do more readings. Then there were workshops. Then there was a school program. There was a bar across the street. "And," she said, "it was in that bar where Bob said to me, 'The power is in your hands.' And that was the beginning of Just Buffalo."
Ott organized poetry readings that brought lesser and emerging poets to people's attention, often pairing them in readings with established writers. "The drive at Just Buffalo," she said, "was rooted in honoring the writer as a member of the community and creating opportunities for engagement and exchange, making sure that the diverse voices of American literature were heard."
She didn't realize that she was starting a major literary entity that would, in time, supplant the vibrant literary scene at the University. During the years Just Buffalo defined itself and grew, UB turned more and more away from the literary arts: First film replaced writing, then STEM pretty much displaced all the arts.
The hot center of literary activity on the Niagara Frontier now is not on the suburban University at Buffalo campus in Amherst. It is in those second-floor Just Buffalo rooms on Washington Street in the heart of the city.
(You can watch Debora tell her story as part of Just Buffalo's "40 Stories" project at justbuffalo.org.)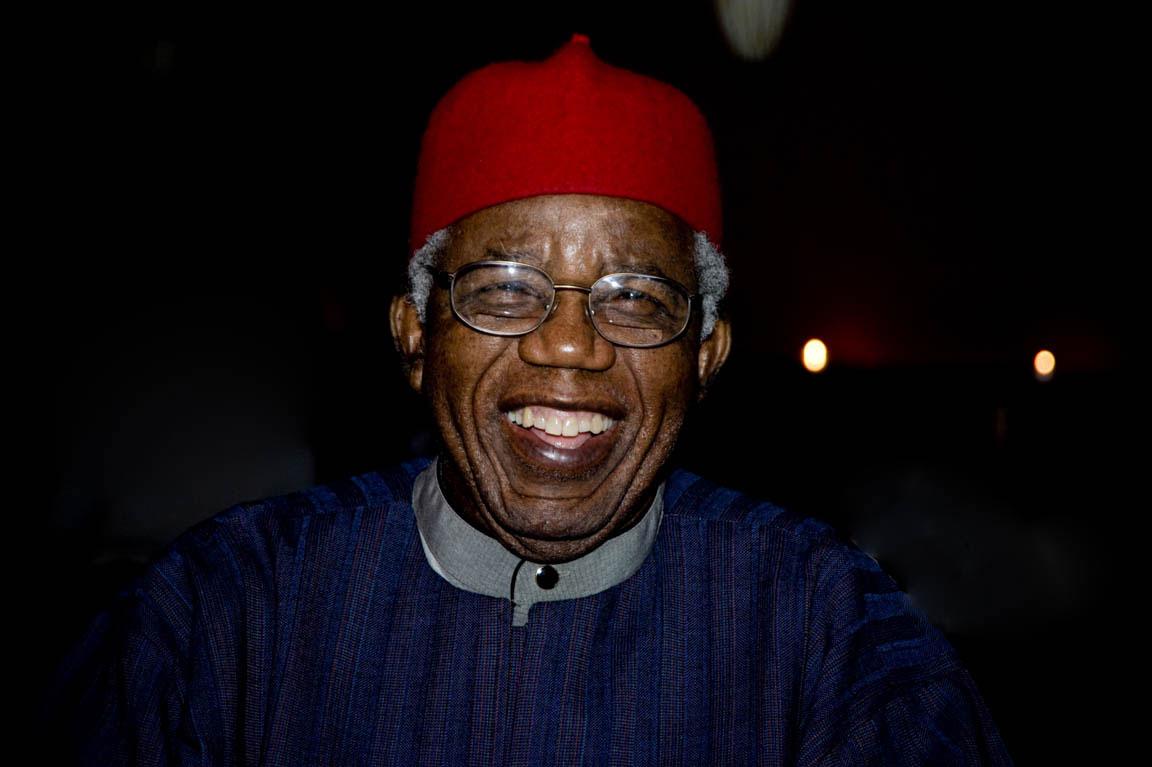 Chinua Achebe / Photo by Bruce Jackson
BABEL
Just Buffalo's most celebrated and best-known program is its BABEL series, which thus far has brought 36 of the world's best-known and most interesting writers (mostly novelists) to Buffalo. The series was started by Just Buffalo's former artistic director, Michael Kelleher.
BABEL came out of a conversation among Kelleher, Jon Welch (Talking Leaves Bookstore), Ed Cardoni (Hallwalls), and Bob Pohl (journalist). "It was," said current Just Buffalo's current artistic director, Barbara Cole, "post-911. The US is bombing the rest of the world and they were saying, 'Where's the protest movement? Life just goes on and we're pretending we're not at war.' They knew that books are a way of giving people a vocabulary to talk about what's happening. Mike said, 'What if we had an international author's series? Let's have people read books, get some information, have a conversation.'" Kelleher, as a curator, realized that no one else was really talking about global literature, and that given the strong immigrant and refugee populations in Buffalo, this seemed the perfect community in which to open that community-based conversation. The Oishei Foundation provided some of the series' initial funding. So did New York State Council on the Arts and National Endowment for the Arts.
The first BABEL series, in winter 2007 and spring 2008, consisted of Orhan Pamuk, Ariel Dorfman, Derek Walcott, and Kiran Desai. The series just completed included Claudia Rankine, Dinaw Mengetsu, Louise Erdrich, and Karl Ove Knausgård. The 2016-2017 writers will be Marlon James, Laila Lalami, Edna O'Brien (described by Philip Roth as "the most gifted woman now writing in English"), and Dave Eggers. Some other BABEL visitors thus far have been Chinua Achebe, Michael Ondaatje, Isabel Allende, A. S. Byatt, Ha Jin, Salman Rushdie, V. S. Naipaul, Maxine Hong Kingston, Amos Oz, Zadie Smith, Russell Banks, Nuruddin Farah, and Patti Smith.
It is a breathtaking list. They are not only superb writers, but they are writers whose works engage the most pressing questions facing us today: gender, race, environment, money, identity, power, and more. The BABEL series is not only the region's most successful and prominent literary forum, it is also the region's most successful and prominent forum for presentation and public discussion of critical ideas and issues. We have nothing else like it. I know of nowhere else in the United States that has anything like it.
The first BABEL presentation—Orhan Pamuk on November 10, 2007—was at Babeville, Ani DiFranco's restored church on Delaware Avenue. That room had a capacity of 900 and it filled to capacity from the beginning. BABEL moved to Kleinhans Music Hall with Isabel Allende on April 17, 2009.
Audiences have ranged from 850 to 1,500 people at each event; few have been below 1,000. As an integral part of the visit, the writers also have a conversation earlier in the day with Western New York high school students.
Ticket sales provide only a quarter of the cost of BABEL. The rest comes from grants (National Endowment for the Arts, New York State Council on the Arts, Erie Country Cultural Funding, City of Buffalo Cultural Funding), private foundations (John R. Oishei Foundation, Community Foundation, and others), private donors, sponsors (Buffalo & Erie County Public Library, Library Foundation of Buffalo and Erie County, the Buffalo News, Hodgson Russ), and educational organizations (such as the UB Department of English, the UB Humanities Institute, Buffalo Seminary, City Honors Foundation, and others). Important events like BABEL don't just happen: It takes a community.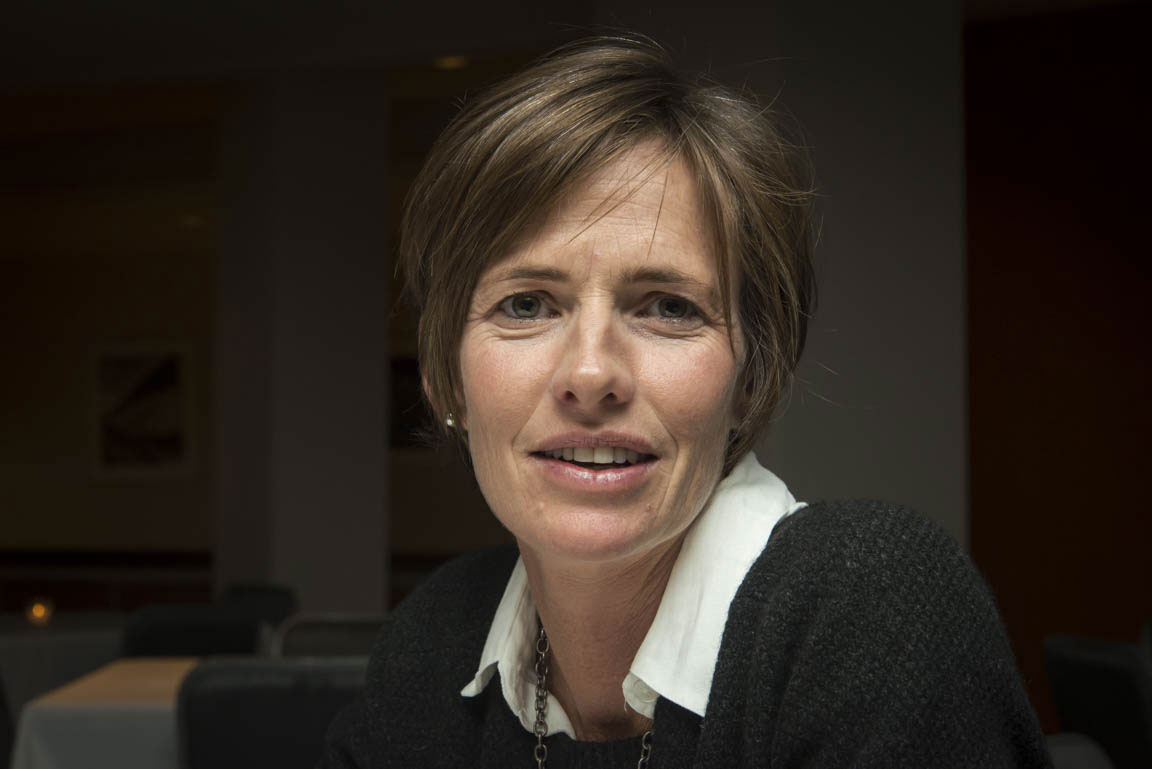 Alexandra Fuller / Photo by Bruce Jackson
The rest of the iceberg
BABEL is the most visible of Just Buffalo's activities but it is only one part. There are only four BABEL events a year. Just Buffalo puts on regular writing events at its own base on Washington Street in downtown Buffalo, at Silo City, and in other venues all year long. It hosts free classes and workshops for high school students, it is bringinging back adult workshops, and it hosts a wide range of readings and performances, including its new Studio Series featuring avant-garde writers and artists.
The upcoming event in the Studio series is a visit April 29 by Maggie Nelson, author of nine books of poetry and prose, many of which have become cult classics. Her most recent book, The Argonauts, received the National Book Critics Circle Award and was named a Best Book of 2015 by NPR, Artforum, The Atlantic, Chicago Tribune, The Guardian, Kirkus, The National Post, Publishers Weekly's, Time Out New York, Irish Times, Los Angeles Magazine, and more. Studio events are usually held at the Just Buffalo Writing Center but attendance for Nelson's visit is anticipated to be so high that this event will be held at Karpeles Manuscript Museum.
The poets, authors, and literary artists Just Buffalo has presented over the years represent a veritable Who's Who among contemporary writers. Some of the writers who have appeared in the more than 2,000 non-BABEL events are Amiri Baraka, Ted Berrigan, Lucille Clifton, J. M. Coetzee, Victor Hernández Cruz, Diane di Prima, Ed Dorn, Emanuel Fried, Allen Ginsberg, Yusef Komunyakaa, Denise Levertov, Bernadette Mayer, Eileen Myles, Joel Oppenheimer, Pedro Pietri, Ishmael Reed, Adrienne Rich, Arundhati Roy, David Sedaris, and Ruth Stone.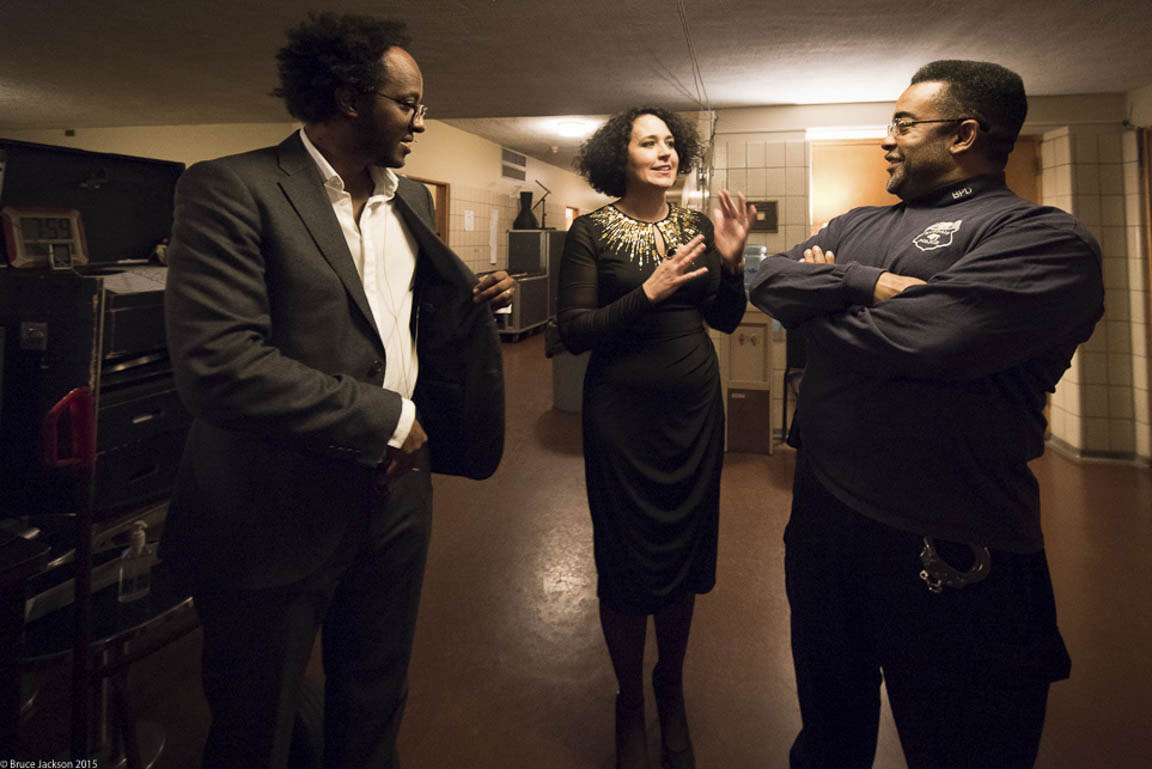 Dinaw Mengetsu, Barbara Cole and Roscoe C Henderson III / Photo by Bruce Jackson
Workers, dollars, and pizza boxes
Debora Ott started Just Buffalo almost without noticing what was happening: She and some friends wanted to bring writers to town and to take advantage of writers brought to town by UB, and they did that. What they did grew.
After a founder transition and some rough financial times, Laurie Dean Torrell became executive director in 2002. "It was a moment for the organization to draw on its historic strength and begin again," she said. The other directors now are Barbara Cole (artistic director; she joined Just Buffalo as education director in 2008) and Noah Falck (education director), and Kristen Pope (recently promoted from a finance position to development director).
There are a few other paid employees and some people who are paid for running specific workshops, but basically Just Buffalo gets a lot done for very little money—well under $1 million a year. Torrell is as likely to clean a toilet or take out the garbage as anyone else in the office.
Cole came to Buffalo in 2000 for the same reason Debora Ott had come to Buffalo 32 years earlier, only her list was longer: It included not only Creeley but poets Susan Howe and Charles Bernstein, all members of the UB English Department. "If you were interested in contemporary poetry," she said in a recent conversation, "you came to Buffalo. And during the time I was here, that activity was slowly dwindling. I thought, 'How can I stay here?' Bob and Susan and Charles were all leaving and it felt a little like hanging on to the Titanic going down. And what Just Buffalo was doing made me feel, 'Well, I can stay here.'"
She started as a teaching artist, because she liked doing it. She worked with a part of Buffalo she hadn't known. "These kids completely blew me away with what they were writing." When she went on the job market in 2005 and 2006, people at interviews told her, "The thing you're most dynamic talking about is your work with Just Buffalo." At the time she was trying to figure out what to do, the education director of Just Buffalo was leaving. Torrell did a full search and hired Cole as education director. When Michael Kelleher left to head up the Windham-Campbell Literature Prizes at Yale in 2012, Cole became Artistic Director and Noah Falck came from Ohio to be Education Director.
"When I came on as education director," Cole said, "we were putting poets and writers in schools all over western New York. Public, private, Catholic, charter. We had a contract with the Buffalo Public Schools to do 20 writer residencies each year, and they were so popular it required selection by lottery. At the programs' peak we were serving 4,500 kids. It was a huge program. Now, between the state drying up that one funding source and grants drying up and the superintendent turnovers, now the work we do in the schools has been much reduced. We still are in a handful of schools and are working each year to increase this. In the majority of those we are getting the funding from individual schools and donors. The education landscape has really changed, which is why it is so important for us now to have a writing center."
With its new Writing Center—overseen by Falck and Writing Center coordinator Robin Jordan—Just Buffalo has created a dedicated space to provide its writing-based educational programs—free after-school writing workshops and other programs for students 12 to 18. The students, Cole points out, want the help. "They come on their own. It's a drop-in center. You've got a parent who brings the child and says, 'My daughter is not really interested in writing. I know she needs help with it for college.' And you watch that fifteen-year-old arrive reluctantly, staring at her shoes, and within two days, she's hooked. She's bringing a friend, coming every time. A month later it's, 'So, I'm working on a story now, working on a novel. I'm writing song lyrics.' It's amazing. It's so satisfying. It's so inspiring. They've got young, cool ideas. Casa di Pizza opened next door and they said, 'Let's put poems in the pizza boxes. You order a pizza, you also get a poem.' So now they're putting poems on pizza boxes."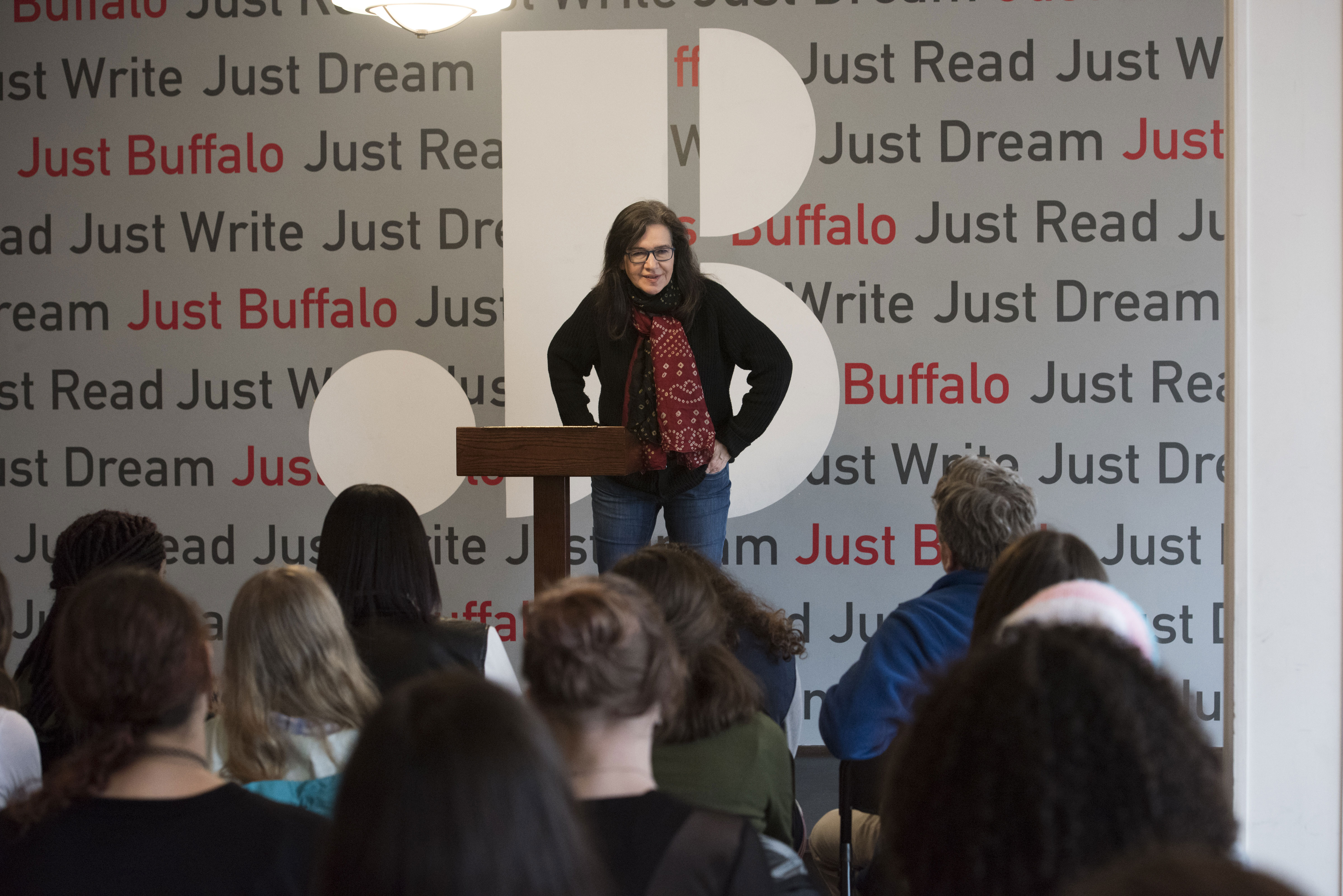 Louise Erdrich at Just Buffalo
What now?
Literature is the least supported of the arts in America: There is more grant money for sculpture, music, dance, film and video games than for writing or the presentation of written works.
Just Buffalo plays a leadership role in statewide efforts to increase support for literary arts, is currently in the midst of its "JB 40" campaign to raise $1,000,000, which will be used for fully establishing the Writing Center, expanding marketing and community outreach, and creating a strategic reserve to help secure BABEL, the Writing Center, and its other activities. Organizations like Just Buffalo often can't get grant money unless they have matching funds. JB40 also helps ensure those matching funds.
In the course of its four decades, Just Buffalo has become as important a part of this region's cultural fabric as the institutions that inhabit the big buildings in Museum Alley on Elmwood or at Symphony Circle.
You want to know how powerful literature is? Think about what grew from the moment a teenage girl heard an actor saying a Robert Creeley poem about love.
You can find out more at the Just Buffalo web site: justbuffalo.org.
Just Buffalo Literary Center 

 468 Washington Street, 2nd Floor, Buffalo /  justbuffalo.org 
---
Bruce Jackson is a Buffalo writer and UB faculty member. He is also editor-at-large of The Public.