Visual Arts
Throwback: Autistic Artists at WNED
by
/ Apr. 26, 2017 12am EST
Works by a dozen or so Autism Services artists are currently on show in the WNED studios building. The title of the exhibit is Throwback. The theme is remembrance of things past, appropriately for this venue, with special attention in many of the pieces to radio and television entertainment. 
Some excellent and delightful works, that additionally shed light on the perennial question: Were things better in the old days? 
Among outstanding works, James Marino's two drawing/painting variations on the theme of classic automobiles. One called Classic Car and Model, featuring a shiny new-edition vehicle and smiley leggy human female model showing it off, as at an annual car show extravaganza. Another called simply Classic Car. As spiffy a little roadster as one could desire, fully loaded with custom options and accessories, it looks like. And Liz Harzewski's portrait of the PBS Kids high-energy feature character Nature Cat, in green and brown Robin Hood outfit and panache note red cap feather.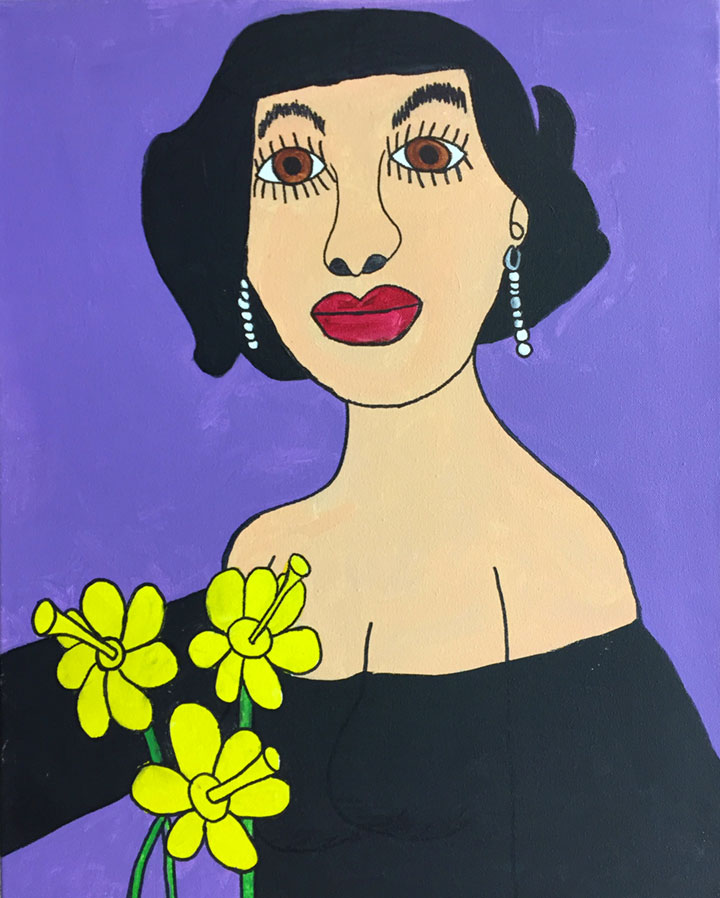 Elizabeth Taylor by Chaz Buscaglia
The evidence that things were indeed better in the old days is from artist Dan Carey, who has two large-format drawing charts of the big three networks' weekly program schedules from years 1968 and 1970. At a glance, much better offerings then than these days, at least on those networks. Lots of actual movies, for example. In 1968, seven movies a week—one a day on whichever of the three networks. In 1970, that number drops slightly, but a new listing on the schedule is Monday Night Football (with a notation, "to be replaced after December 14 by movies"). The rest of the week's schedules peppered with classics like Gunsmoke, Bonanza, Mannix, The Mary Tyler Moore Show, The Jackie Gleason Show, and Smothers Brothers. Along with—to be fair to the other side of the perennial question debate—vast wasteland embarrassments like Let's Make a Deal, The Dating Game, The Newlywed Game, and Hee Haw. 
Whereas—de gustibus—artist Langston Gardner has several painted text works celebrating shows the likes of The Price Is Right and Family Ties. The Family Ties work consists of layers of words or phrases—one thing on another—such that nothing is quite legible. The idea maybe of everybody talking at once at the dinner table.
A somewhat enigmatic text work by Jim Bilger reads: "there it is an ice cream over there an island hey look an icicle."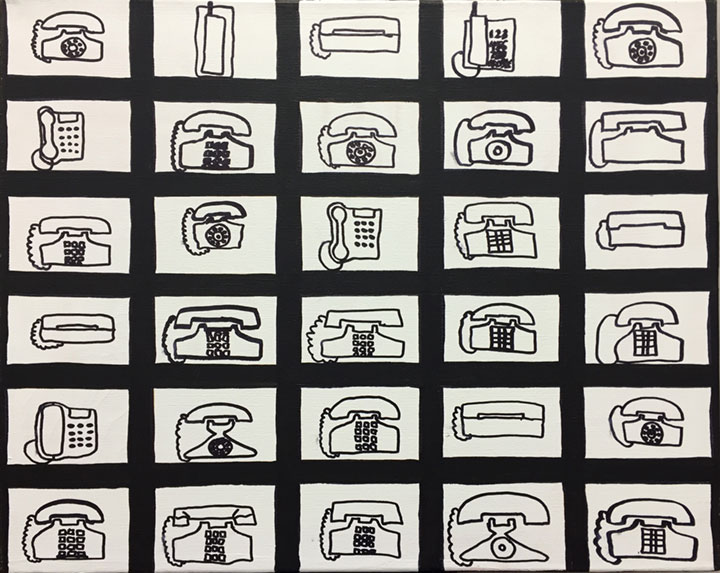 Phones by Erich Haneberg
Among homage caricature portraits of famous entertainers are Stacy Mania's Charlie Chaplin, in top hat and white tie and tails, and Salvador Dali, with signature ridiculous mustache. Also Chaz Buscaglia's Dorothy Dandridge, and Mae West. 
And as if in recollection of an earlier era art world, some abstract expressionist paintings, including an untitled gestural work by Courtney McGovern, another by Bob Banach, and one entitled Flower by Glenn Martin. 
Kevin Krauss has a smudge-effect sardonic portrait of a couple of human female models. The idea possibly that beauty is only skin deep.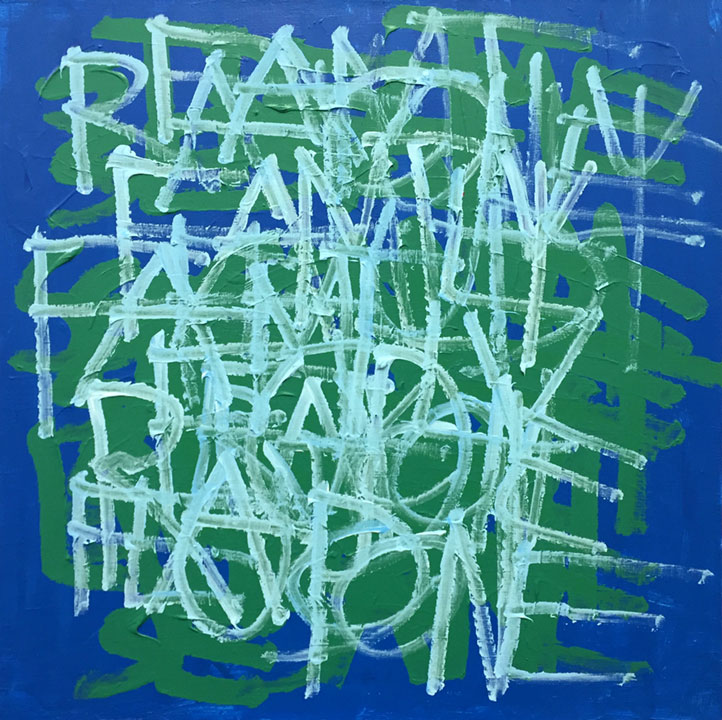 Family Ties by Langston Gardner.
Erich Haneberg has a handsome black marker on white board grid presentation of thirty varieties of telephones, plus a T-shirt painting celebrating Golden Girls and Betty White. Dan Carey—who did the weekly programming schedules—in addition has a group portrait of nebulosity figures around a conference table, everyone happily in accord, it looks like. And an artist who goes by the first name and initial Eddie K, a Spiderman suspended upside down. 
Just to be clear, this is artwork without an asterisk. Not universally excellent, but some of it excellent. These are artists who have autism a lot like some other artist might have a heart condition or diabetes. It's an art show and reiterated lesson in how much we don't understand about what we don't understand, in this case, diversity. 
The exhibit is up through April 28.
 Throwback 
 Horizons Gallery, WNED Studios / 140 Lower Terrace, Buffalo / friendsofasi.org