Commentary
Buffalonian Racist Backlash at Harriet Tubman
by
/ Apr. 21, 2016 6am EST
On the same day that Carl Paladino went on NPR to essentially call President Obama a "raccoon", which he then tried to explain away by saying it wasn't meant to be a commentary on the President's race, but on how he's a dirty thief, the Treasury announced that Alexander Hamilton would stay on the $10 bill, but Andrew Jackson would be replaced by Harriet Tubman. 
What an amazing day for America, to so prominently recognize a female black hero who saved lives, fought for equality, civil rights, and women's suffrage. There's no law that says our paper money has to have dead Presidents or Founding Fathers on it, and honoring achievement in science, the humanities, literature, music, and history makes sense. In contemporary times, Sacagawea and Susan B. Anthony made their way to the seldom-used dollar coin. Twenties are comparatively ubiquitous. 
Harriet Tubman was born a slave, and dedicated her life to freeing slaves via the Underground Railroad; we honor and commemorate the stops peppered throughout the Buffalo area, where people stopped en route to freedom in Canada. She was a spy for the Union during the Civil War.  They called her "Moses", leading her people out of slavery to freedom. She is quite literally one of the greatest Americans who ever lived. 
On Facebook, WBEN posted about it thusly,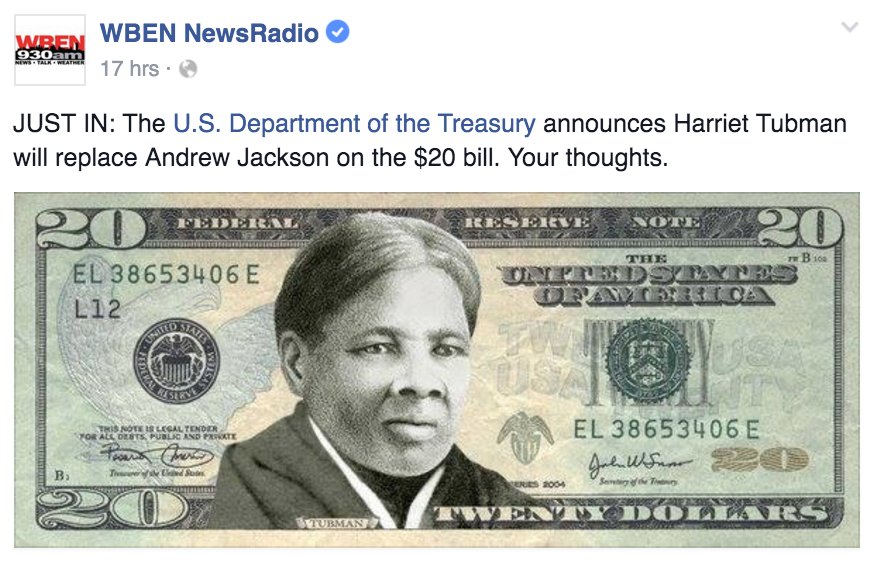 As usual, "your thoughts" is Trumpist shorthand for, "your overtly racist epithets". 
Steve Kirk says, "makes sense when you see the stacks of 20s on the table after a drug bust…" 
Jen Marie says "That is 1 ugly 20, thats scarey lookin ill carry 5,10,50,100s instead…, i wouldn't even be able to look in my wallet, wtf is this."
Erik Rusinek says, "Want to honor her put her on a coin…Bills are for dead presidents and founding fathers". Not, evidently, people who saved slaves.
Peter Benham reacts to a freer of slaves and suffragette with, "Obama's gang just has to s**t on history!"
Dawn Curto, perhaps mistaking Harriet Tubman for Rosa Parks says, "To the back of the wallet, behind the C notes!"
Phil Pantano reacts to Harriet "Moses" Tubman replacing Andrew Jackson with, "America continues it's attempt to cleanse history…"
Timothy Grabowski says Harriet Tubman on the 20 is, "Stupid pandering+"
Stephen Bolt says "Guess I'll just carry 50's", rather than a 20 with a black face on it.
Kimberly Zappia implores, "Omg are you kidding me Why ?"
Richard Besant thoughtfully comments, "I'm surprised it is interesting obama on the new $20". I'm surprised it is interesting, too!
Bill Richards says, "Nice because we have nothing else to spend money on. Yet we owe trillions of dollars. But this def is a must."
Jane Wisnier says, "NO WAY …… She was a criminal .. according to the law of the land"
Harriet Tubman on a $20? Joseph Stephen says, "They should put Tubman on food stamp bills."

George Griffenham adds in a stream of dumb consciousness, "That will be one ugly $20 bill at least it doesn't have Obama on it then it would have an IOU on it." 

Daniel Neu adds, "Shouldn't she be on the fiddy dollar bill?"
Bernie Misura adds, "Protest by not using it accepting 20's…Great use of tax dollars… Smh"

UPDATE: This one appeared today. From the looks of the avi, it's a white supremacist. What a great platform WBEN offers! 

All of this, obviously, is as sick as it is [sic]. 
So, thanks, Buffalo's AM talk radio enthusiasts for your predictably shameless overt racism, and thanks to the powers that be at WBEN and the Entercom corporation for allowing your social media accounts to become bulletin boards for nihilist, eliminationist racism.