Literary
Story: The Interviewer Interviewed
by
/ Apr. 21, 2015 2pm EST
Wrapping its eighth BABEL author/reading season, Just Buffalo Literary Center ended on a soaring rock-and-roll note with Patti Smith appearing at Kleinhans Music Hall on April 17. Smith read passages from her memoir Just Kids and performed five acoustic songs with her longtime friend, guitarist Lenny Kaye. Series attendance records were shattered first with the March 26 reading by Chimamanda Ngozi Adichie and then again at Smith's reading: For the first time BABEL attendees spilled upward into balcony seating.
Smith was introduced by Barbara Cole, who has held the position of Just Buffalo's artistic director since 2012. She was education director at the organization for four years before that and greatly expanded Just Buffalo's educational outreach to area schools during her term, encouraged to do so by then-artistic director and BABEL founder, Michael Kelleher. When she became artistic director, Cole began to book American writers; the series had previously focused on international writers.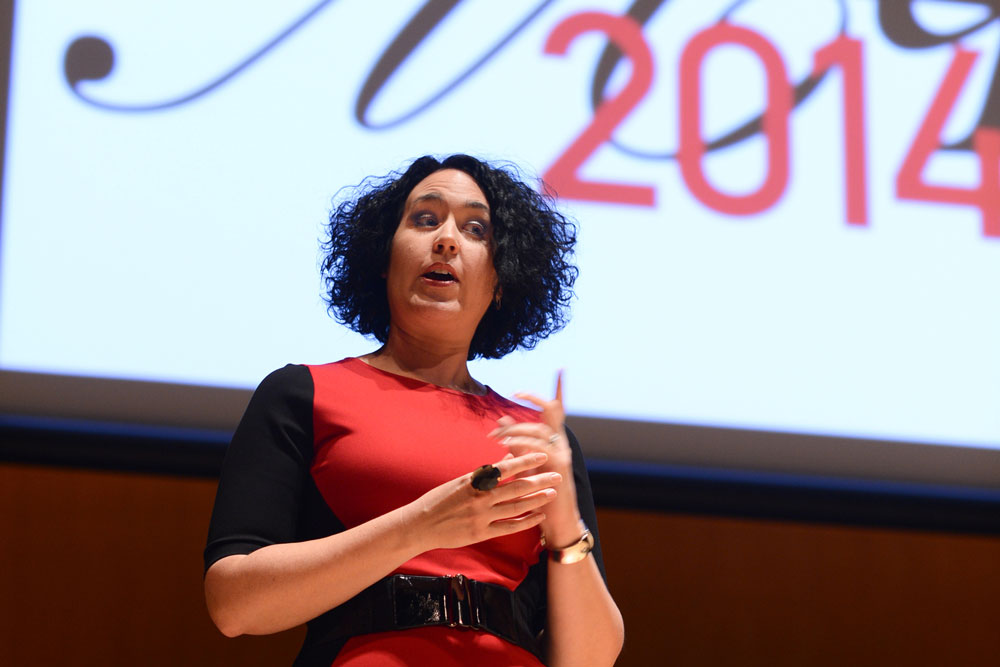 Barbara Cole introduces Patti Smith.
Cole, a practicing poet, is charged with "curating the series and shaping the public face of the organization." A Philadelphia native, she earned her PhD from UB in English with specialization in poetics. She says that she was "a writer before I could write"; at the age of four she began asking her parents to write down her words (in crayon) as she dictated.
"I came to Buffalo in 2000 for my PhD and originally I wanted to study Joyce, language poetry, and long poem projects. Most people think that a poem is super-condensed and left-justified. Long poem projects are the antithesis of that—they're ongoing, epic works that can encapsulate anything. Gertrude Stein worked on one for 20 years off and on. It's just under 1,000 pages, maybe 985. It's considered unreadable by most everyone. Long poem projects are the poetic equivalent of the slow food movement."
What is her long poem project? Cole laughs. "It's entitled "Foxy Moron," she says. "I've been working on it for years. It's in part autobiographical…it's entirely autobiographical; I was copping out. I'm a child of language poetry; it's what brought me to Buffalo. I'm completely steeped in this idea of moving away from the lyric or the person of the poem."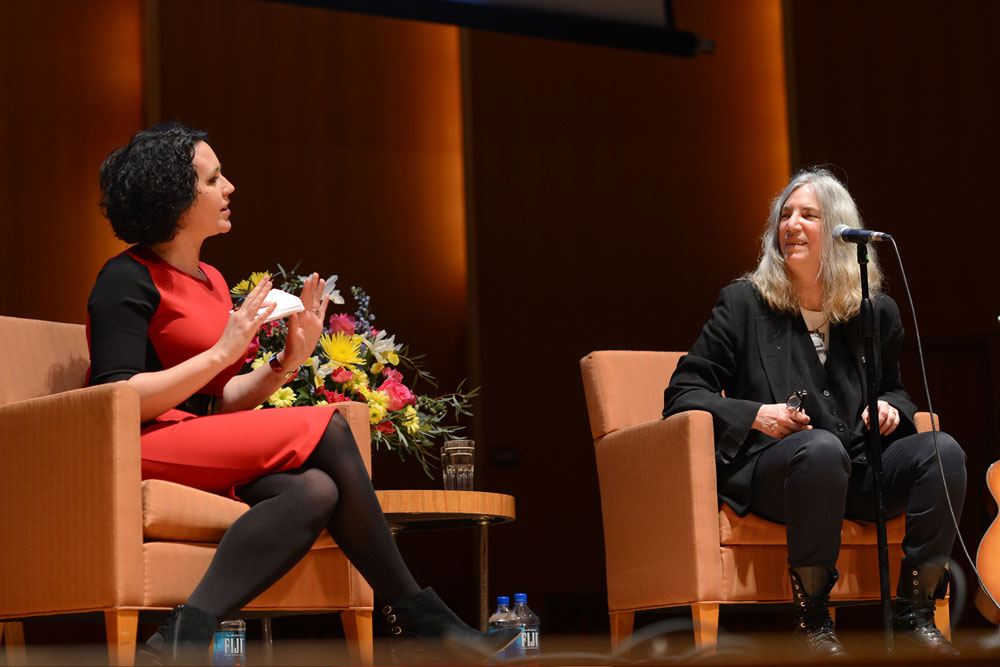 Barbara Cole and Patti Smith onstage following Smith's BABEL reading.
Cole is not only series curator but the deft introducer of readers. She creates biographies of each of the four BABEL writers in a manner satisfying for readers on any level—delivered onstage in under six minutes. And, when the reader's last phrase and ovations are still hanging in the air, she heads onstage again to lead an affable discussion peppered with questions from the audience written on index cards, collected by volunteers working the aisles. It's a balance of preparedness and improvisation.
The Public sat down with Barbara Cole in her lovely West Side home, where she lives with her husband Steven Miller (professor of English Literature at University at Buffalo), two young children, and, unsurprisingly, a massive array of books. She collects artwork, and some depicting elephants because "they are totems of memory, and they're matrilineal."
Asked about her artistic director style and how she books/introduces/interviews BABEL writers, she says: "My style with everything is that I am over-prepared; that's just my approach to life. It's like an illness. I read almost every single book I can by the author; I read interviews with them, watch online interviews with them, and get a sense of how loquacious or concise they are. I draft numerous questions when I'm reading their work and narrow my questions down to five. I ask my questions before I get handed the cards and ask the audience questions."
And how does she manage conversation while shuffling through the question cards? "That training comes from teaching, the skill of being improvisational enough and following what the speaker is saying. I walk out on stage with an expectation of what the audience would like to know, and what they are going to ask. I also look for a question that is surprising.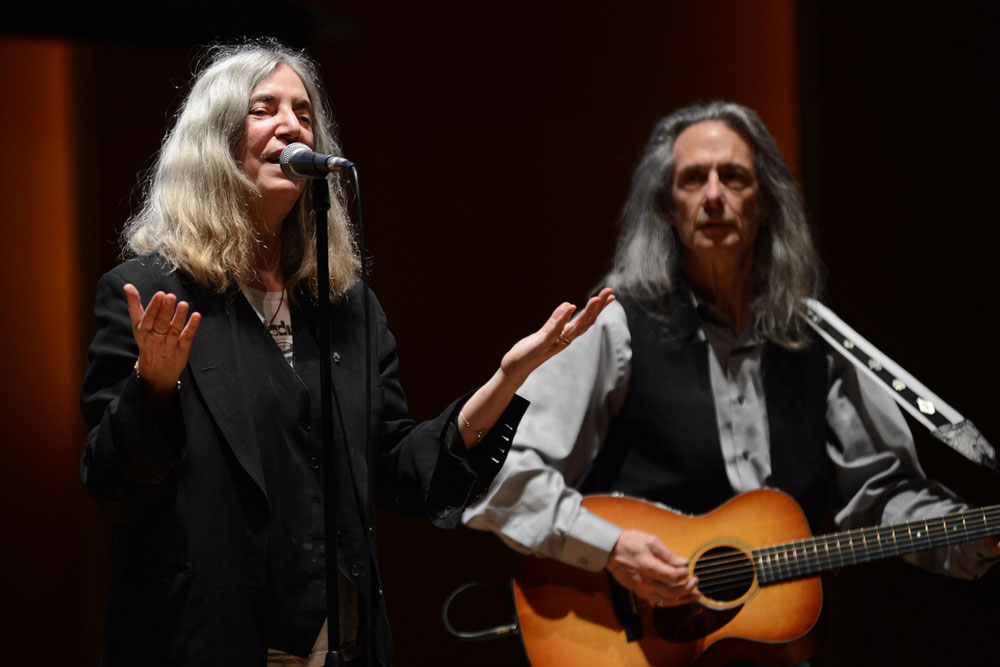 Patti Smith performing with guitarist Lenny Kaye.
"With Patti Smith I read a comment from an audience member who wrote, 'I went to your mother's home and had cupcakes with her at her kitchen table.' I also look for a question that may be comic relief or that's unusual. I will segue so it feels like a conversation. The big surprise with Patti Smith was the greatest number of questions that were about Lou Reed, which I was not anticipating." Smith told the audience that the night after her BABEL reading she would be inducting her late friend Lou Reed into the Rock and Roll Hall of Fame in Cleveland.
"The Q&A is really a thrill and nerve-wracking; I have no idea what is going to happen. The introduction is a safer moment for me because I've written it, and as a poet who's performed a lot I know how to deliver a text to make it sound alive. I don't know what the audience questions will be and how well I will be able to make graceful transitions. I watch the clock a bit. I have 30 minutes to make something happen."