Performing Arts
Spotlight: Travis Widrick
by
/ Apr. 21, 2015 11pm EST
"When I became a tango teacher I was really inspired and wanted to learn more about the culture of tango and bring that to Buffalo and to my students as well," says tango dancer Travis Michael Widrick.
Widrick welcomes dancers from far and wide to join him on the dance floor for this year's ESO! Buffalo Tango Marathon from Friday April 24 through Sunday April 26 at the Dry Gulch Dance Hall at 3145 Walden Ave. in Depew.
"By having this event, it was a really nice opportunity to bring people that were of all levels of dancing together."
The event, founded by Widrick three years ago, was created as a space for local and out-of-town dancers from all over North America to come together to celebrate their love of Argentine tango.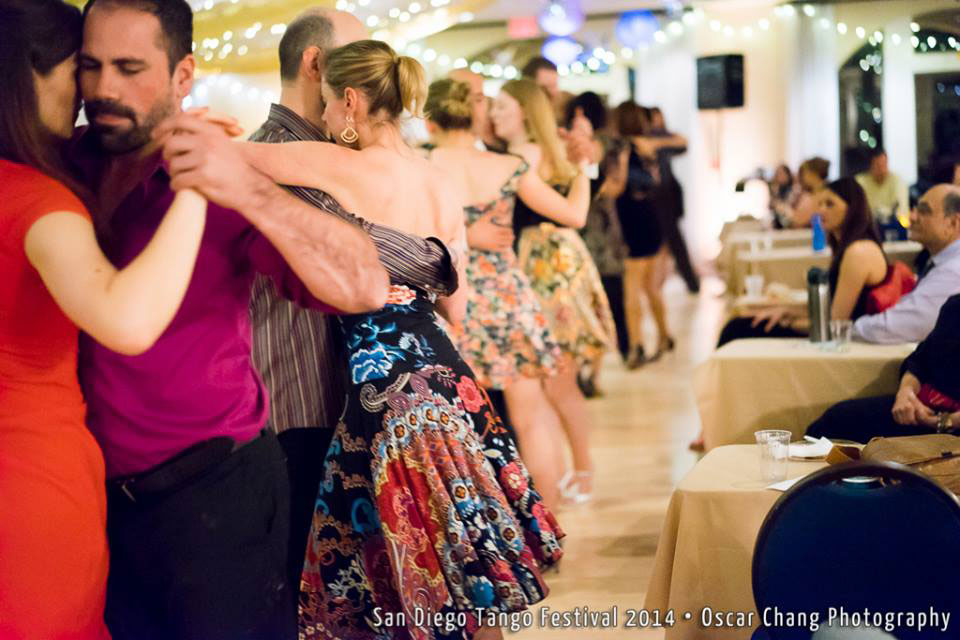 Before venturing into the dance realm, Widrick was a football player and had grown up on a dairy farm in Lowville, a small rural town in upstate New York. His discovery of dance came after taking a few modern dance classes at Hobart College in Geneva, where he studied English and arts education ten years ago. Expanding his horizons, he decided to take a tango class with Joaquin Canay, which is when he found his dance style of choice.
He became a more experienced dancer after immersing himself in the Buffalo tango community, and people started asking him to teach them dance steps.
"It wasn't something I really planned on doing, but it just kind of grew and as a result I decided that I would teach more and more," Widrick said. "Eventually I decided I wanted to do it full-time."
Now he teaches a variety of tango classes of all levels through his business, Travis Widrick Tango, which is located at 782 ½ Potomac Avenue in Buffalo, along with holding his annual tango marathon.
At ESO! there are activities for all dancers of different backgrounds and experiences, from beginners to more advanced movers, and even non-dancers. Widrick tries not to intimidate people who have no dance experience, reassuring them that anyone is capable of learning tango.
"Tango is a really fun dance to get into, to learn and to practice and to spend literally a lifetime doing if you want to," Widrick says.
The partner dance, which originated in the 1890s along the border between Argentina and Uruguay, is also recognized as a social dance, requiring individuals to interact with each other while they dance, and usually pairs well with a glass of wine.
"Tango is a very unique dance because it's really a dance where you can connect with other people through non-verbal communication," Widrick says. "It's a fun way just to get together, to move, to dance, and it can be very therapeutic."
Susan Williams, 66, began regularly taking tango classes with Widrick about four years ago and says she feels dancing has helped rejuvenate her mind and body. Prior to taking tango she had no dance experience.
"I'm in much better shape than I was," Williams says. "It's demanding physically. It gets you limber. It sort of has a yoga-like aspect because you have to stretch. You have to walk backwards in heels and you got to keep it all sort of tucked up and in. Tango keeps you on your toes literally and figuratively."
Williams, who is a volunteer at this year's ESO! event, says each day the dance party continues throughout the day and night into the early morning, with the beginner dancers showing up earlier in the day followed by the more experienced dancers at night.
Each day will feature a "Milonga," in this case referring to a tango dance party, held at certain times throughout the day or night where people can watch, socialize and participate in dancing tango. The first night of ESO! on Friday presents the "Opening Night Milonga," from 9pm to 2am, on Saturday the "Afternoon Milonga" from 1pm to 7pm, and on Sunday the "Afternoon Milonga" from 1pm to 7pm.
Both Saturday and Sunday night, the "Galla Milonga" goes from 9pm to 1am and will feature ladies and gents dressed in elegant evening attire. "The Late Night Milonga," happening from 1am to 6am will close out both Saturday and Sunday.
Music will be provided by an array of DJs, such as DJ Tai Maria, DJ Shorey Meyers, DJ Avik Basu, DJ Rick Kim, and DJ Hernan Prieto.
"I think it's special that there are so many visitors coming," Tiniko Natsvlichvili, Widrick's fiancée, says. "I think people really feel that they're coming to see Buffalo and the local community and I think the Buffalo crowd really appreciates it and is proud of it."
Natsvlichvili and Widrick met in Toronto about three years ago at an entertainment festival where Widrick was DJing and bonded over their shared love of tango. Originally she began learning tango five years ago in Ottawa, but recently decided to make the move to Buffalo from Canada to teach classes with Widrick.
"He relates to his students," Natsvlichvili says. "He teaches the material in a fun way that people can understand. His teaching is clear and he also makes sure that people have fun with each other."
She also will be helping run this year's ESO! event, which she says has something for everyone.
In addition to all the dancing opportunities for trained tango dancers, there will also be a beginner boot camp on Saturday and Sunday from 11am to 1pm, for non-dancers or beginners who want to learn tango basics.
There will be specific themes for participants to get involved in each day, especially when preparing their attire. On Friday will be "ESO! colors," which are yellow, black and white, "Hipster Milonga" on Saturday, and "Come as You Are" and "Disco Milonga" on Sunday.
Food options will be made available each day, with the ESO! Potluck! happening on Friday from 9 to 11pm, the Lloyd Taco truck stopping by from 5pm to 7pm on Saturday, and also a special brunch on Saturday and Sunday from 1pm to 2:30pm. Ashker's will also be refreshing the crowd with fresh juice on Sunday.
To find out more information or order tickets for the ESO! Buffalo Tango Marathon go to ESOBUFFALO.com. For more information about taking classes with Travis Widrick Tango visit traviswidricktango.com.