Music
by
/ Apr. 19, 2017 6am EST
On Columbus Parkway—previously Seventh Street—across from the Niagara River and deep on the West Side of Buffalo, New York; in the murky attic of an old house there was a mountain of forgotten records. Seventy-eights, forty-fives, and LPs crammed in boxes and laying loose on the floor; many were cracked, some were moldy, but the majority were playable. My friend Tom Rizzo and I carried a dozen or more boxes down three floors and Tetris-ed them into the trunk of my Prius, which, incidentally, was not built to haul hundreds of pounds of now brittle records. Accelerating in a Prius is normally slow, but this ride home was painfully scenic.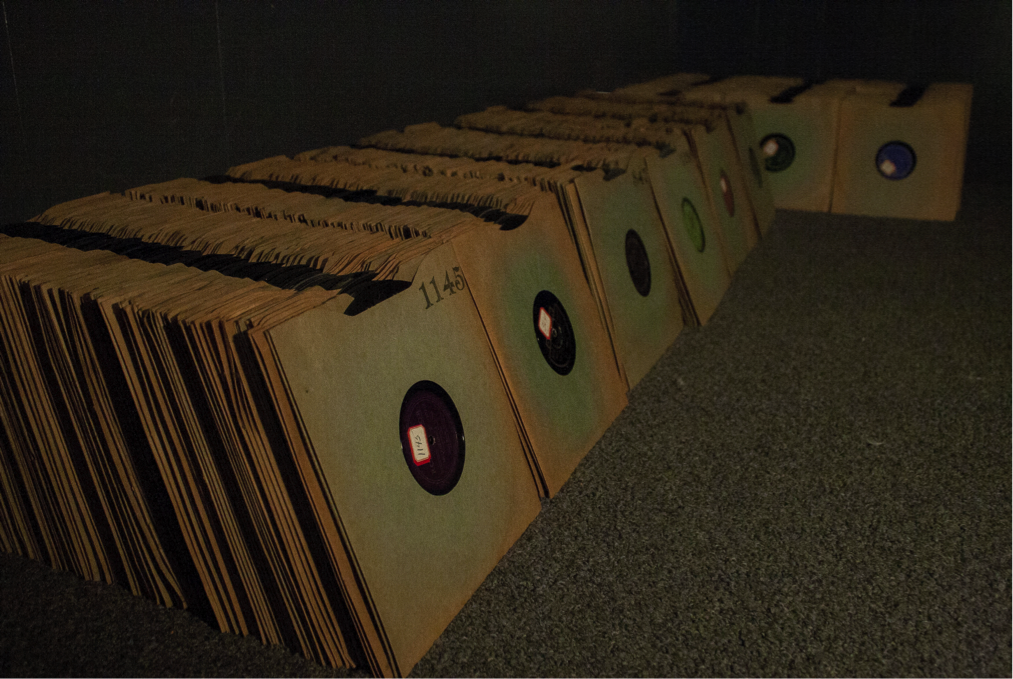 Tom's father's co-worker Cliff was renovating a house he owns and the mountain of records were in his way; Cliff offered the records to Tom for the low price of carrying them out from whence they were stored. Tom called me to help, and now we are sorting through them. Slowly. It's been just over a year since we first brought the records to Tom's house; we've spent days in his basement drinking coffee, beer, whiskey, or all of the above while organizing, listening and talking about the myriad of directions the discs spiral in.
The bulk of the collection consists of 10-inch records, the majority of 78-RPM shellac variety. Seventy-eights were standard for the early- to middle-20th century, but they only had enough space for a few minutes of music on each side. This archaic format was ideal for singles, however, for the most part there are only two tracks on each of these albums. But before I get into the 78 RPMs, what first caught our eyes were the 10-inch jazz LPs with picture sleeves. In the late 1940s and 1950s, labels began experimenting with long playing records in a few different formats and, for a short time, labels released 33-RPM albums on 10-inch vinyl. I can't even explain without boring 90 percent of the people on the planet how rare and wonderful these albums are. There is music by Elmo Hope, Sonny Rollins, Wynton Kelly, Miles Davis, and Charlie Parker, to name a few. As a jazz fan, I was literally yelling as I looked through these albums. If you don't believe me, you can ask Tom or his wife, Rachel. Of course these jazz records are all incredible, but much of it has been re-released since, so the fascination is more about the rarity of these specific pressings. Even with all of that being said, there are even rarer items within this collection that may not be worth as much monetarily as a Charlie Parker 10-inch, but are just as rich historically.
One of the more interesting finds is an LP released by the Contemporary Jazz Ensemble through Fine Records in 1953. It was tough to find information on this group, but their music is well worth a look and listen. The group was from Rochester and the music is arranged beautifully—think MJQ meets Birth of the Cool. I e-mailed Tom Kohn at the Bop Shop in Rochester, this record store is one of my favorite haunts and whenever I stop in, Kohn is more than happy to share his encyclopedic knowledge. Kohn replied to my e-mail about the record: "I have that record! I only found about it this year too. I'm going to burn it to CD soon. But it's on Prestige as far as I know." This is why I couldn't find the record anywhere online: I was searching for Fine Records, but it was officially released later on Prestige. Tom Rizzo is lucky enough to have multiple copies of the pressing on Fine Records with the address of 33 Madison Street in Rochester, NY on the label.
On top of these ultra-rare long play jazz records, there are hundreds of 78-RPMs of bop music from the 40s and 50s. There are sides by Gil Melle, Art Farmer, Thelonious Monk, Coleman Hawkins and Lester Young. We started with the jazz records because we love jazz music, but Tom and I soon found out that the majority of the albums—between 1,500 and 2,000 of them—were 78s of Italian music on labels like Columbia and RCA. Even more intriguing than the larger releases are the ones on Fonit, Italdisc, and Cetra with music by Renzo Speziali, Nino Taranto and Eva Nova with the Mario Festa Orchestra. The arrangements are lush, beautiful and dramatic. And imported from Italy with care.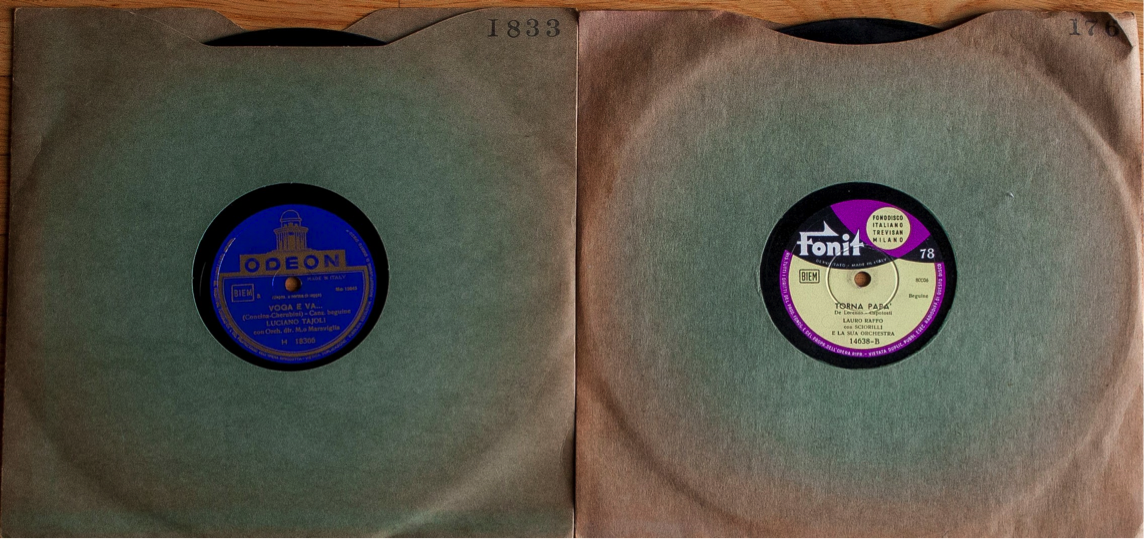 Currently, almost everything anyone wants to hear is on YouTube. Most of the time I want to find a song, someone in a random place like Salt Lake City or Des Moines or Buffalo with a name like JoeyTots479 or ButterflyEffect666 has uploaded what I'm looking for. Often, someone will upload a video that says: "very rare performance by  ____." The minute that music is available on Youtube it ceases to be rare, but in an era in which not much is rare anymore, these 78s are quite unique. Good luck finding any of these tunes streaming online. For instance, I tried to search for information about a song called "Donna, Madonna," by Luciano Tajoli and of course the pop singer, Madonna, kept coming up. After refining my search, you can actually find "Donna, Madonna," on YouTube and it's a lovely tune. Tajoli himself was a huge star in Italy. He sold 35 million copies of his single "Al Di La" in 1961. We haven't gone through all of the Italian records, so "Al Di La" certainly may be in the collection. This is the game we play with these records: sometimes we are able to find information, other times, we aren't so lucky. Either way, history unfurls at every turn.
In the collection there is a global and American history of music found on the records, but the local history found in this collection is just as enticing. There are a multitude of local recordings made at Howell recording studio, which was located at 2703 Delaware Avenue, and a trio set recorded in Niagara Falls at WHLD by the Collie Ramsey Trio that plays from the outside, inward! Oddities abound: a promotional record with commercials for Tops Super Markets read in both English and Italian, a commercial for Burnham's price-smasher sale produced by Barber and Drullard, inc. Any of these records or names produce an entire history and I look forward to digging into them further down the line, but for now, it's important to note that these records remained in the attic of the address found on dozens of yellowing handwritten notes, documents and envelopes hidden between records with one name appearing over and over: Rico.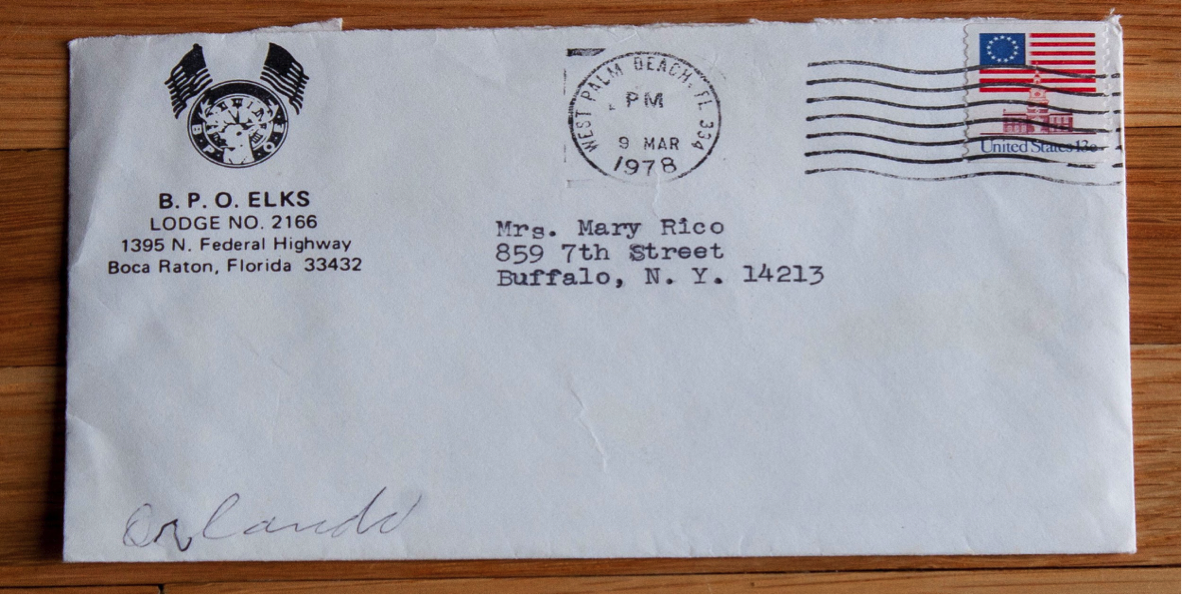 For many Italian-Americans, the name "Rico" will ring familiar, but if you're like me, I had never heard the name and was unfamiliar with the importance, mostly because of my age, but also partly because of my family's assimilation into suburban life before I was born. Either way, I am now fully aware of the Rico family.
Looking through the bits of paper—with a bit of help from the internet and Joe Giambra—Tom and I began to piece together a story. The patriarch of the family, Emelino Rico, was born in Italy and moved to New York City when he first came to America. Mr. Rico ended up in Buffalo in 1922. He imported Italian films and directed a few silent movies before turning to radio. Rico was on the air for decades every Saturday and Sunday morning playing the rare Italian records mentioned above; his sets were presumably broken up with his own advertising copy as well as the commercials recorded at places like Howell Recording Studios. Rico's wife, Mary (AKA "Mama Rico"), would frequently co-host or host when Emelino was unavailable.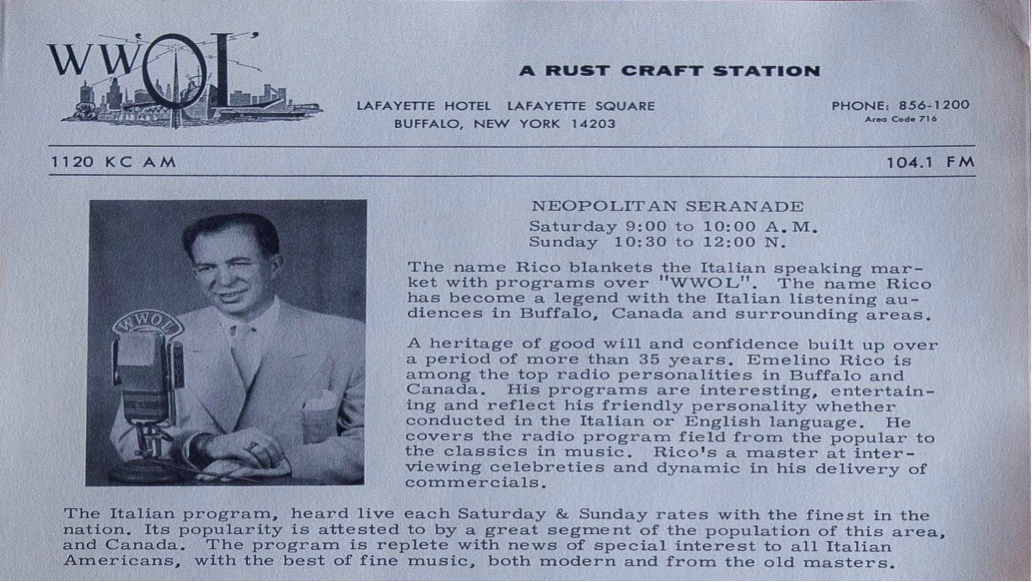 As a team, they wrote their own advertising copy and skits—as witnessed by handwritten scripts—and sold spots to dozens and dozens of advertisers—as witnessed by hundreds of receipts. Judging by WWOL station notes and the receipts for advertising spots, you can see that this was not some "mom and pop" local show with a small following. There are hundreds of receipts from from all around the area; places like Metro Plumbing in Buffalo, Discoteca Celentano in Rochester, Grisfari Brothers Grocery in Fort Erie, and Castle Court in Niagara Falls all had deals with Rico's Radio & TV Advertisers.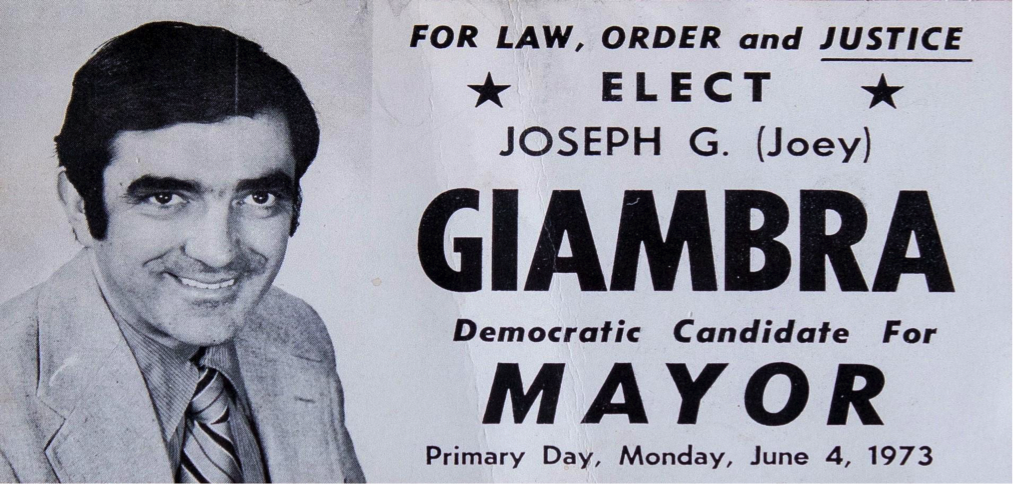 The Ricos were also heavily involved with the Italian-American community. There are countless hand-written notes from random people thanking the Ricos for personal help as well as notes from musicians thanking the Ricos for playing their band's music on air. The Ricos were involved politically as well: There are notes on interviews with local politicians and fliers for a number of candidates. All of this culminates with an award from the office of Erie County Executive in 1975 commemorating the Ricos' "outstanding contributions to the advancement of Italian culture in the Western Frontier." Emelino and Mary Rico were aware of the importance of continuing Italian culture here in America. This is a key lesson to remember: we are all here, but most of us come from somewhere else and the Ricos seem to have understood this duality that exists.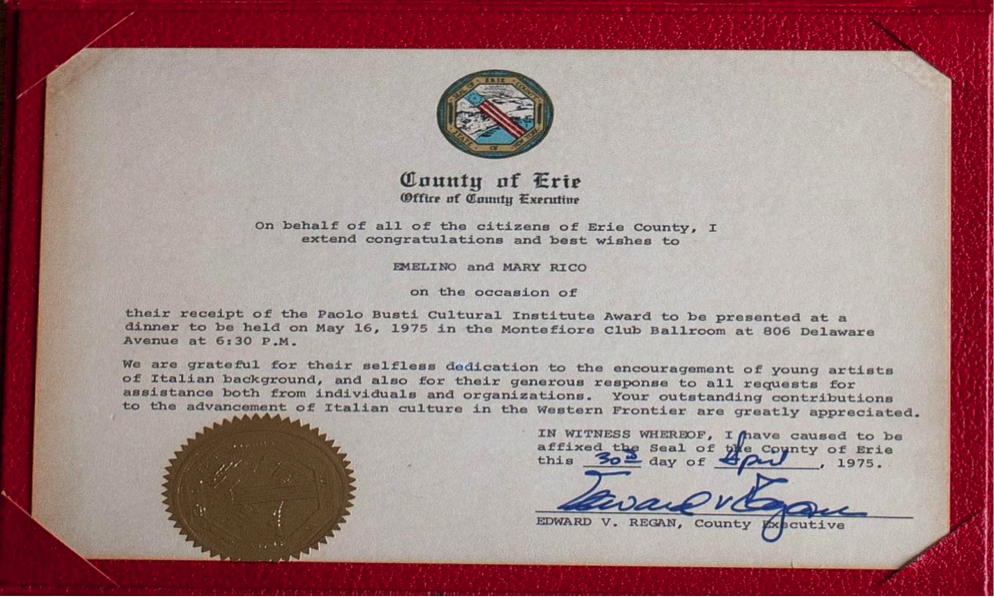 Sometimes when I go out to buy records, I imagine the journey that a piece of vinyl has taken. With your average record, it's almost impossible to trace the history outside of the music contained on the piece itself. The ability to understand the story of this pile of records Tom was given is an unparalleled experience and we are not wasting a moment neglecting these facts. As it stands, we are still logging and reviewing the collection. Tom is considering, ultimately, donating the records to the Buffalo Broadcasters Association or the Buffalo and Erie County Historical Society so that this history will be properly preserved. But for now, we will continue to enjoy bourbon in the basement at Tom's house while blaring these old records.
---
**Special thanks to Cliff Washington for recognizing the importance of this particular collection and not throwing the records away as I am sure countless others have done in the past. And a special thanks to Thomas Rizzo III (Tom's dad) and his respect for Italian-American heritage and his pride in his son's obsession with records; without both of these traits, Cliff would not have known who to turn to and I would not have been able to write this essay.