Local
Eden Schools Considered Violating Testing Protocol
by
/ Apr. 17, 2015 2pm EST
In effort to motivate children to perform better on New York State assessments, the Eden Central School District has been considering including a rubric that would give students who put an effort into state tests a participation grade that would benefit their overall GPA.
As the opt-out movement grows, schools like Eden, which had 38 percent of its student body opting out, are finding it hard to get students who do take the tests to take them seriously.
"I had multiple students zip right through the ELA assessments in like 15, 20 minutes, when they're supposed to be 90-minute tests," one local middle school teacher (not with Eden Central Schools) told The Public.
School officials confirm that the rubric was developed but deny that it was ever implemented. Anonymous sources with knowledge of the situation say the following rubric was put into use this week but that district officials backtracked over objections from members of faculty and community: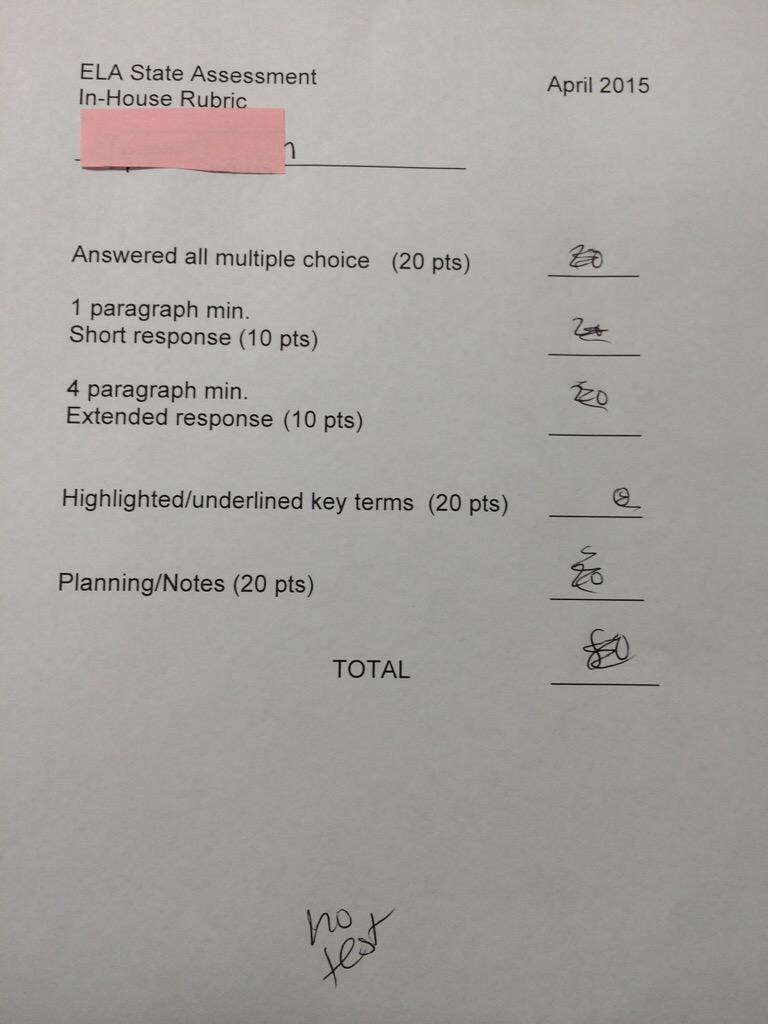 Reached by phone on Friday, Eden Superintendent Sandra Anzalone said that the school has not used the above rubric as a reward for children who were taking the test. "At the regional level there's been a conversation about how to motivate students on all assessements, But Eden did not use a rubric on the state assessments."
Another school official, Kelly LaRosa, told The Public that once the tests are completed that they are collected, ordered, and stored in a vault. Asked whether it would lawful to review the tests to complete the above rubric, LaRosa stated she believed it would be as long as no one read the tests. She added that she would never do that without consulting the State Education Department and the local BOCES.
The state's own regualtions on the matter include no provision for teachers to evaluate a student's engagement with the assessment. 
LaRosa also denied that this rubric was used, but stated that the school has discussed doing something like this to encourage engagement in all testing situations. 
The New York State Education Department issued the following statement on the matter: "The department's policy is not to comment on allegations of testing irregularities that may have been received, unless they are verified through investigation."
---
Alan Bedenko contributed to this report.