Drink
Public Espresso Raises the Bar
by
/ Apr. 15, 2015 1am EST
Public Espresso + Coffee, the brainchild of Sam Scarcello and brothers James and Matt Rayburg, began when the three would roast coffee for dinner parties and friends. After honing their craft, the three turned the hobby into a business and began offering espresso roasted beans and single origin coffee, as well as pour-over coffee, at the Winter Market at Horsefeathers on Buffalo's West Side. Public Espresso + Coffee developed a cult following and slowly began to expand as word spread. 
The company is now preparing to open a shop on Grant Street in Buffalo. "Progress is coming along pretty well," Scarcello said recently. The company will use the space as a roastery first, then eventually a café. The Grant Street location is "in a residential neighborhood," said Scarcello, "so we have to put a stack in that goes through the three floors of the building." The renovations should be complete in the near future. While no official opening for the café has been announced, Sam is hopeful that it will be operational sometime in the summer.

In the meantime, Scarcello and the Rayburgs just began a new endeavor at the Hotel Lafayette, at the invitation of Rocco Termini, the hotel's owner. Only open for about five weeks, the pop-up coffee and espresso bar is of a sort not previously seen in Buffalo and has brought additional life and vibrancy to the hotel's lobby. Scarecello said that the five weeks have provided a good "snapshot of how it's progressing" and they're excited by how well it's been received.
Public at the Lafayette is located behind the old check-in counter at the Hotel Lafayette. The bar went through a soft opening over several weeks at end of February and early March and then held a grand opening on March 27. They've installed a custom-made Modbar Modular Brewing System (four of only 100 machines in existence in the country) to make pour-over coffee, espresso, and a full menu of other espresso-based drinks. They also offer flights where you can see how the same coffee bean makes three different drinks—espresso, an espresso-based drink with milk, and a pour-over coffee.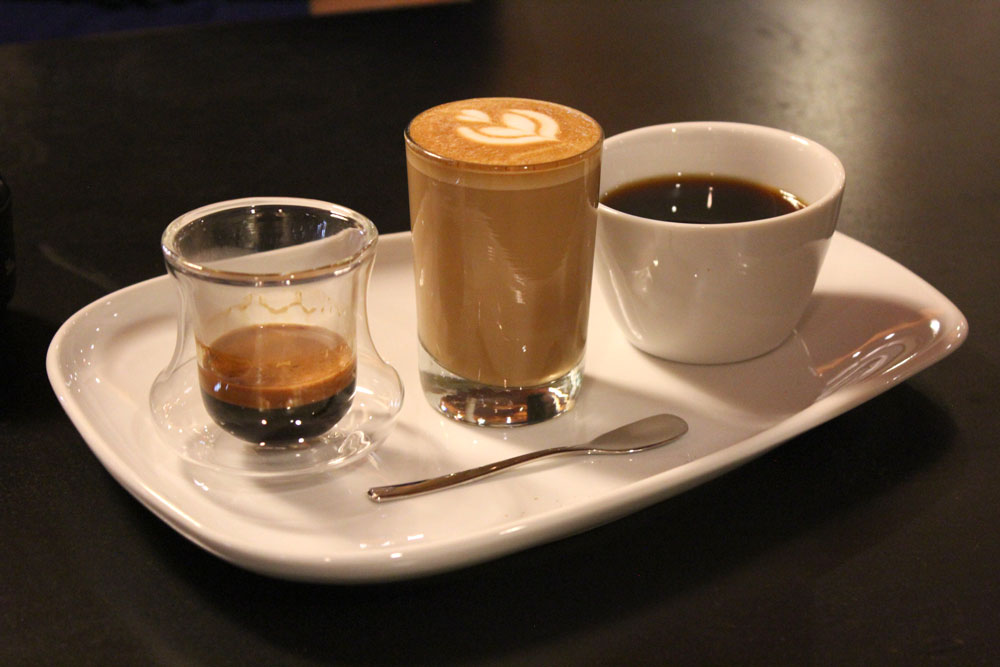 Scarcello and the Rayburgs also offer food with local sources, like bagels and bread from Breadhive Cooperative Bakery and fresh baked goods from Elm Street Bakery. In the future, Public Espresso hopes to offer a short wine and beer list, including beverages made with Public Espresso's coffee. This would include its collaboration with Community Beer Works, the Espresso Whale brown ale.
Over a year ago, Ethan Cox and Rudy Watkins of Community Beer Works approached Public Espresso with an idea to enhance their brown ale,  The Whale. Together they experimented with various roasts and beans, starting with Public Espresso's Revolution Espresso blend. The initial batch of the Espresso Whale was made from "30 to 40 shots of espresso that [Rudy] pulled one at a time," Scarcello said. They later used Public Espresso's cold brewing technique, which allowed them to make larger quantities. "At the time, we were just a small operation working out of Horsefeathers," Scarcello said. Since then, Public Espresso coffees have been featured in beers by Big Ditch Brewing Company and Pearl Street Grill and Brewery.

Hand-pulling each shot of espresso, though labor intensive, works very well for the Espresso Whale."I think the reason that it works that well is because the coffee is that good," Cox said. While the Espresso Whale marries two high-quality, handcrafted beverages, it's still true to itself. "The beautiful thing about the marriage of those two ingredients is that you still have a beer," said Cox. "It doesn't taste like fizzy alcoholic coffee. It retains its Whale character, this really lovely brown malt." 
Although the Espresso Whale isn't brewed on a regular basis, Cox hopes to put it on a regular schedule so that it's available more regularly.
Public at the Lafayette is now open 7am-8pm, Monday to Saturday, and 8am-6pm on Sundays. They will be at the South Buffalo Farmer's Market on Sundays and feature cold-brewed coffee at Food Truck Tuesdays in Larkinville this summer.
 Public Espresso + Coffee 
 368 Grant Street, Buffalo 
 publicespresso.com 
 Public at the Lafayette 
 391 Washington Street, Buffalo