Visual Arts
Brendan Bannon: Landscape and Memory
by
/ Apr. 12, 2017 12am EST
"[The report] establishes that the international community, so anxious to absent itself from the scene, was in fact present at the genocide."
 —Alison Des Forges, Leave None to Tell the Story: Genocide in Rwanda, report for the Human Rights Watch organization, 1999. 
Photographer Brendan Bannon's current exhibit at the Nina Freudenheim Gallery is called Rwanda: Landscape and Memory, a work in progress. It consists of a score or so of photos he took as part of a project he facilitated and participated in for King's College, London, that sent a dozen or so photographers to Rwanda to photograph the people and the country twenty years after the genocide. More than a half million people were killed, including an estimated three quarters of the minority Tutsi ethnic group, at the hands of the majority Hutu group, while the rest of the world by and large looked the other way. 
The genocide commenced on April 6, 1994, after Rwandan President Juvénal Habyarimana was killed when his plane was mysteriously shot down—responsibility for the matter has never been established—and continued for 13 weeks of murder, rape, and pillage. April is genocide remembrance month in Rwanda.
Bannon refers to the present exhibit as a "status report" on a larger scope book project that would include memories of the genocide and aftermath, but also "stories that went beyond the genocide…love stories and myths and folk tales and simple reminiscences and reflections about life." 
A project about memories in particular and memory in general. And so, notably complex and difficult. For the artist—he says—involving delving into his own memories, of love and of loss. But for the audience too, memories of love and loss, but also of Rwanda and the genocide. For we were present there too. Precisely in our deliberate absence. Per Alison Des Forges's indictment report.
The photos are the landscape portion of the project, and they are lush and beautiful. (Loving portraits of a lush and beautiful land.) Landscapes and some vignettes, suggestive of stories, to be supplied verbally in the final version.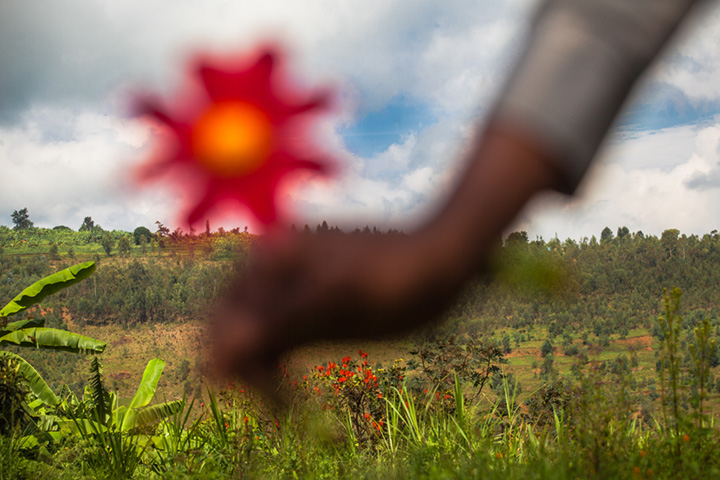 Photo by Brendan Bannon
One photo of two kids at play in a field, near a mysterious dug hole in the ground. A well? A mine entrance? Another of a complex of fishing boats on a river, connected together by long tree branch poles—somewhat like outrigger poles on Pacific islander oceangoing canoes—to produce a kind of community multi-vessel, more apt and efficient no doubt somehow for the fishing enterprise.
The name Norbert appears in several photo titles. Bannon said on his first trip to Rwanda, Norbert was his driver—instead of renting a car on African trips, he said, it was usually more useful to hire a car and driver—and on subsequent trips became "a guide and friend and lyrical interpreter of Rwandan history and culture." 
Norbert was a survivor of the genocide, but his parents were not. One photo shows Norbert's forearm and hand plucking a flower—so out of focus that the flower with red radiating petals around a yellow center looks at first glance like a rising or setting sun, until we connect it with the hand, and realize, no, a flower—against a background green meadow and blue sky and white clouds, in focus. The story from Norbert is that every day when he and his sister saw their father—who ran the community medical clinic, but was also a photographer—returning home across the meadow, they would pick a flower to greet him with. A flower and a song. 
Another photo is of a short piece of torn and muddied 35-millimeter film Bannon said he pulled from the dirt of Norbert's garden, on property that was originally family property that years later—post genocide times—Norbert was able to reclaim ownership of. But a relic of a genocide victim. 
Another Norbert photo shows a hand and forearm—in a reciprocal pose to the hand and forearm in the flower picture, so that the two photos seem related—holding a carpenter's hammer as if about to strike and smash a plaster wall. 
Among the pure landscape pictures, one of what at first glance looks like mud rut car or truck tracks across an otherwise grassy field. But then you realize, not vehicle tracks at all. Roughly parallel, but not actually parallel. They turn out to be a double cow path. What a wonderful magic land, Rwanda. Where cows proceed not in disorganized herd fashion, but mannerly, two by two.
The Landscape and Memory exhibit continues through April 26. Bannon will give an artist's talk at the gallery on April 20, 6-8 pm. Talk to start at 6:30pm.
 Rwanda: Landscape and Memory, a work in progress 
 Nina Freudenheim Gallery, 140 North St, Lenox Hotel, Buffalo / 716-882-5777