Literary
Just Buffalo Writing Center Turns Three
by
/ Apr. 11, 2017 4pm EST
In a loft overlooking downtown Buffalo, a group of young writers record a pre-apocalyptic summit set in the year 2666 to discuss solutions to the problem of the Earth's inhabitability for an episode of their podcast, This Buffalonian Life. (Solutions include ejecting humanity into the sun, developing condos on the exclusive Luxury Planet X, and, in a last-ditch effort by a lone environmental scientist, saving our faltering planet.) 
A few weeks later, this same group of teenagers turns each other's fears into comics and dreams into poems:
Once I dreamed

the sky was red

The red sky

came creeping in

staining white cotton

blue. 

–Eden, JBWC young writer
Celebrating its three-year anniversary, Just Buffalo Literary Center's Writing Center (JBWC), is a free, after-school creative writing center for young writers ages 12-18. Whether exploring poetry, comics, songwriting, spoken word, or the intersection of writing and activism, the JBWC shows the young people of Buffalo how literature can alter the way they see and interact with the world.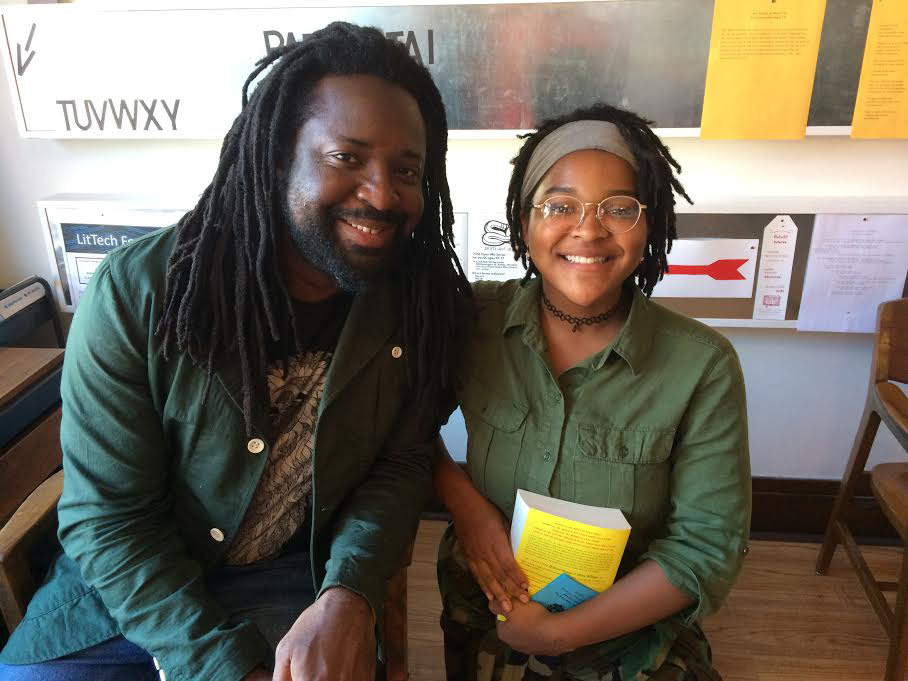 Award-winning Novelist and BABEL author, Marlon James with JBWC young writer, Birch, after she introduced him at our BABEL student event at the JBWC.
Building on Just Buffalo's successful 35 years of programming in local schools, the results have been extraordinary. Along with the quick development of their writing, creativity, and critical thinking skills, after visiting the JBWC, many young writers become passionate about the ways they can use their writing to better their community. They have been all over the city voicing their hopes and concerns, using their writing to support local non-profits and community-building efforts. JBWC students have even spoken at the Erie County Legislature Cultural Funding Public Hearing for the last two years, urging our legislators to continue to support the literary arts. In her speech, Hannah, a JBWC youth ambassador and City Honors student, said, "Before coming to the center, our writing was only ours. Now, we acknowledge that our voices are important in the world's ever-going conversation." 
One of the greatest perks for young writers participating in the JBWC is the opportunity to meet the award-winning authors brought to the city four times a year through Just Buffalo's acclaimed BABEL series. Before their evening lecture, each author makes a special visit to the JBWC to talk candidly with students about craft. 
The next author to visit the JBWC, aligning perfectly with the Center's three-year celebration, will be literary powerhouse, Dave Eggers. Along with his series of bestselling novels and publications, Eggers is known for his philanthropic venture 826 Valencia, a writing center supporting under-served students with their writing skills. The initial San Francisco center has expanded to include numerous 826 centers throughout the US. When speaking about the centers in his TED Talk, "My Wish: Once Upon a School," Eggers implored others to create similar programs: "The schools need you. Students and parents need you. Some of these kids just don't plain know how good they are: how smart and how much they have to say."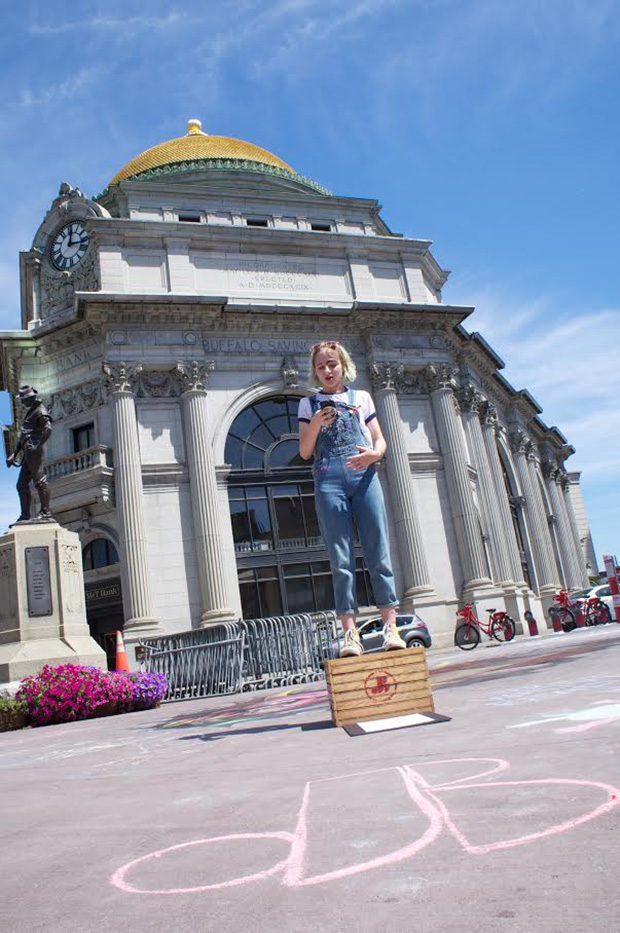 JBWC Youth Ambassador, Sage, at one of our downtown Pop-Up Soapbox Readings
The same can be said for the young writers in Buffalo. As Sage, a JBWC youth ambassador, says in a testimonial video you can find on the center's webpage, "The first few times I came to the center I wouldn't even read my writing out loud. That was over three years ago." She ends the video asserting her newfound confidence, "I have a voice, and it's loud and powerful, and I have lot to say." 
Hear Sage and other JBWC young writers share more about the center before Dave Eggers's BABEL talk at Kleinhans Music Hall on Thursday, April 20 at pm. The event marks the conclusion of the series 10th anniversary season and, following tradition, audience members in attendance will be the first to learn of the 2017-18 BABEL season lineup. 
The JBWC is open year-round, each Tuesday and Thursday, as well as certain Wednesdays. For a full schedule of workshops, visit justbuffalo.org.