Literary
The Public Questionnaire: Charmagne Chi
by
/ Apr. 7, 2015 1pm EST
Quick-witted character actress Charmagne Chi has racked up an impressive roster of memorable performances in town. A lot of them have been at MusicalFare, including Kitty, the sassy gal who dates the producer in The Drowsy Chaperone; Christmas Eve, the sassy gal married to the unemployed comic in Avenue Q; and Jacqueline, the sassy gal who owns the restaurant in La Cage aux Folles. She played Beverly in Tom Dudzick's Miracle on South Division Street (her "Queen of Heaven" speech was hilariously unforgettable and Helena Landless in The Mystery of Edwin Drood at the Kavinoky. 
Famed for her love of dogs and her cheerful world view, Chi's glorious voice and quick wit have helped her land numerous plumb roles, each of which she imbues with fresh originality. Along the way, she has landed a couple of Artie nominations and her appealing personality has made her an excellent host at the Artie Award ceremony.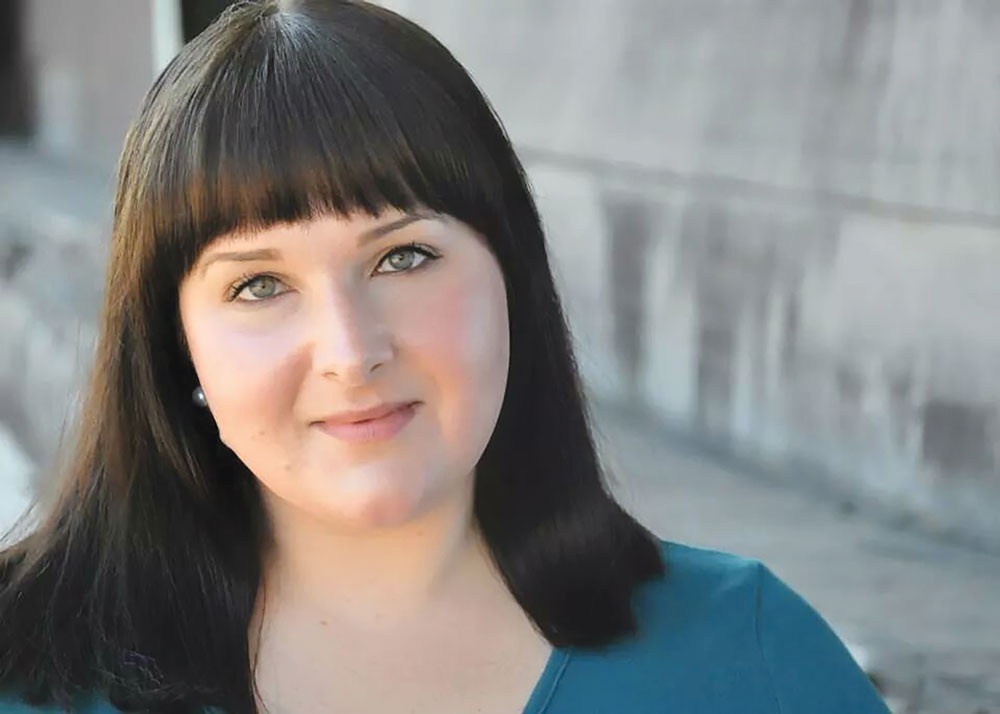 Soon, she'll be Madeline True in The Wild Party at Second Generation Theatre, but in the meantime, she's wise and nurturing Nettie Fowler in Rodgers and Hammerstein's Carousel at MusicalFare—an uncharacteristically maternal role for an actress best known for cynical, wise-cracking dames. Nettie sings two great R&H numbers, "June Is Bustin' Out All Over"—famed for its impossible-to-remember lyrics (Google Leslie Uggams); and the inspiring, if saccharine anthem "You'll Never Walk Alone." Or, as Charmagne herself describes the character, "Nettie is super into the month of June and encourages others to walk with a buddy."
Here, clever Ms. Chi submits to the Public Questionnaire.
What word would your friends use to describe you?
Social media confirmed that my friends are divided on this topic. If I ever go missing, do not ask any of them to describe me if you want me to be found. Also, going forward I will totally be that girl who turns to Facebook to crowdsource her self-esteem. Thanks, The Public!
What quality in your current character is most unlike your own personality?
Nettie Fowler is not funny. Like at all. 
What quality in your current roles is most like your own personality?
She gets very excited about life's simple pleasures. Like clambakes. Both of us could sing about clambakes all day. 
When and where were you the happiest?
Here and now. 
What is your idea of hell on earth?
Learning how to play a board game. I have zero interest. Let's just play one fake round and figure this s*** out on its feet. 
What is your greatest fear?
Adopting a dog that won't live forever. So far, so good. 
Which talent do you most wish you had?
I wish I could play an instrument. Musicians and what they do is a total mystery to me. 
What superpower do you most wish you had?
The ability to heal myself and others. 
What would you change about your appearance?
Nothing. My outside is great. It's my insides that are rotting. Can you see those? Can I change those? They need to get it together. 
What trait do you most dislike in others?
I don't like it when people are unreliable. So "unreliability." Is that a word? Google says it is but it sounds made-up. 
What do you most value in your friends?
Trustworthiness. 
What quality do you most value in a good director?
Patience. I develop during the rehearsal process. God bless those actors who can show up ready to open. Or who can read the script before the first table read. 
What is your guilty pleasure?
Animated films. 
Who is your favorite fictional hero?
Jane Eyre. I'm pretty sure no one else will pick her. 
Who is your real-life hero?
Ragen Chastain.
What do you consider to be the most overrated virtue?
Temperance.
On what occasion do you lie?
I lie about my age all the time. Lie up, people. By a decade at least. We all look amazing for someone who is 10 years older. 
What was the subject of your last Google search?
Virtues. Did you know there are seven?
If you come back in another life, what person or thing would you like to be?
If I have to come back, I want to be one of those six-year-olds who is on the news because I remember every detail of my previous life. I don't want to waste a moment of my next life re-learning how to play even one board game. 
What role, in which you will never be cast, is perfect for you?
I have been cast in the role of Sarah in 100 percent of the productions of Ragtime that have taken place in my car. 
What is your motto?
"There is no secret ingredient" –Po Ping.