Reviews
ABV: Music, Whiskey, Burgers, Beer
by
/ Mar. 31, 2015 9am EST
Buffalo's ever-resurging bar/restaurant scene welcomed its newest addition last week, when Allen Burger Venture officially opened its doors.
Inspired by hipster havens in New York, Chicago, and Montreal, owner Mike Shatzel's latest venture is the realization of an idea that had been brewing long before he opened Blue Monk or Liberty Hound.
"This is something I've been wanting to do for a long time," Shatzel told me. "[Chef] Dino DeBell, my partner, and I—we've been talking about this for probably 10 years." 
Shatzel, who had long dreamed of owning a place on Allen, was notified that the building had become available and knew that the time had finally come for ABV. 
But timing, it seems, is never ideal.
"I definitely wouldn't repeat opening two spots at the same time again," he admitted, referring to Moor Pat, a craft beer bar he just opened in Williamsville.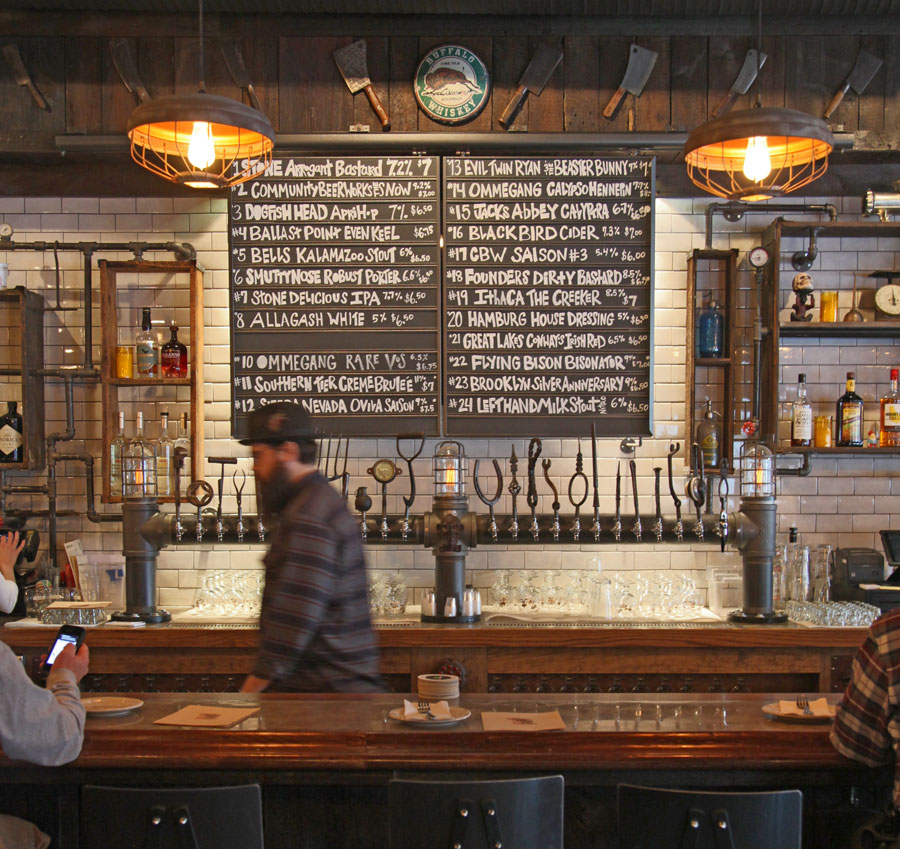 For a concept that remained in park for decade, it's hard to imagine a better time for ABV to have finally burst onto the scene. ABV adds new depth and flavor to Allentown, offering a swagger-rich destination that will appeal as much to the 20-something weekend warrior as to the most particular craft beer or whiskey enthusiast. But despite its refinement, ABV aims to embody a certain edge that puts it right at home on Allen Street. Music—namely punk rock—will be as central to the place as craft beer or whiskey, says Shatzel.
"It'll be like, 'Can you turn the music down? No, we can't.'"
Having made my visit in the afternoon prior to last week's grand opening, I admit feeling somewhat deprived of what I can only imagine is an incredibly vibrant atmosphere when filled with patrons. Even as an empty bar, with chairs upside down on the tables, it's easy to imagine.
The interior is dark, industrial, and rustic. It's also meticulously put together and budding with unique idiosyncrasies – from tap handles resembling old iron farm tools to a vintage Pepsi machine that previously belonged to Home of the Hits on Elmwood. The white subway tile behind the bar grabs my attention first, invoking big-city grit. The tile is surrounded by expansive paneling of bucolic wooden planks, old and weathered but also uniform, as if all from a single generous source. 
"We bought an old barn somewhere in the Southern Tier," Shatzel said. "Our general contractor went for a ride and found some beat-up barn…it was quite a process." 
Directly behind the bar hang two large chalkboards, which list the 24 beers currently on tap while completely covering up the large flat-screen TV. The TV apparently remains hidden except to show Bills and Sabres games. 
For a dimly lit burger bar, the food offering is deceptively sophisticated. 
DeBell, whose resume includes head chef at Blue Monk and Cole's (another Shatzel establishment), has created a menu centered around 18 creatively diverse hamburger styles ranging from a classic cheese-and-trimmings to the "Chicken Chorizo Burger," one of nine ultra-eclectic choices from the "Alternative Burgers" section of the menu.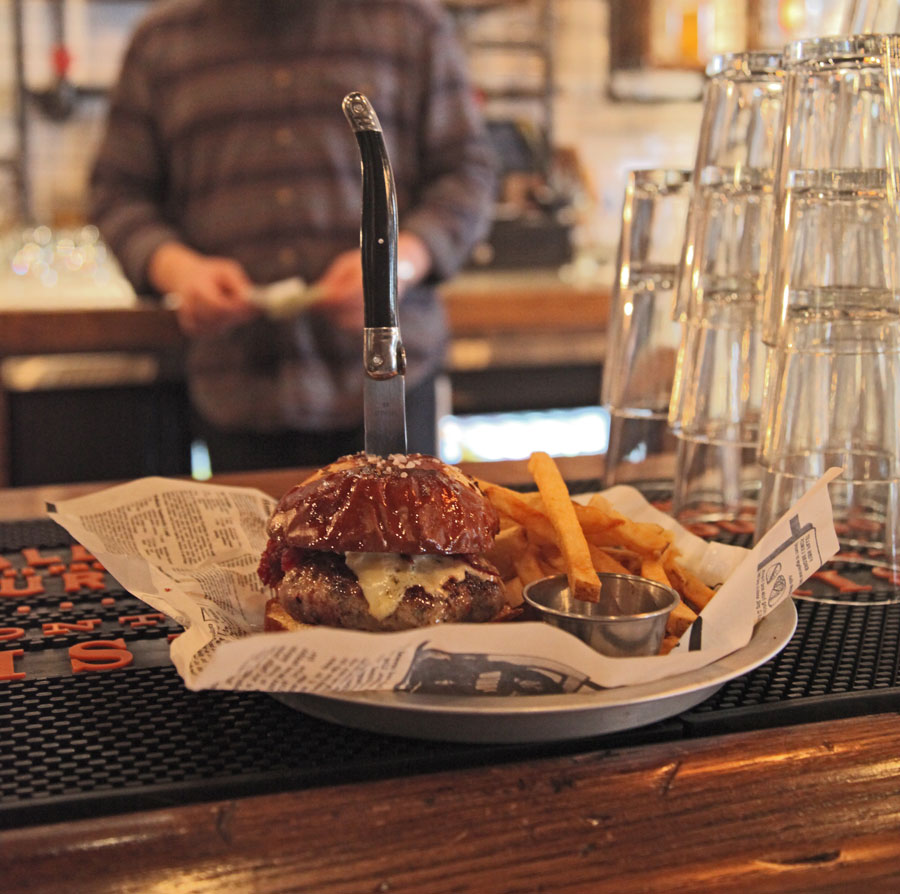 The dry-aged, grass-fed burgers are billed as "hormone and antibiotic-free, sourced from verified humane and sustainable ranches to ensure the highest quality and flavor." 
A few different side options round out the menu, including salads, skillet mac and cheeses, and "shared plates" (fries, wings, and the like). 
The drink selection satisfies many different tastes. Like any of Shatzel's venues, craft beer abounds; there are 24 taps and more than a dozen cans. But equally impressive is the whiskey wall, packed with an expansive (and still growing) lineup of bourbons, single malt scotch, and other whiskeys. 
ABV is also one of the only bars in Buffalo to offer wines on tap. Inspired by the tap wine setup at a friend's bar in Bushwick, Shatzel notes that, compared to bottles, wine taps greatly reduce spoilage, are better for the environment, and actually lower the price point. On tap currently are a chardonnay, a pinot grigio, a pinot noir, and a petite sirah.
ABV has been up and running since last Wednesday, but there are still new elements to be added. They're working on expanding the patio, which they hope to have completed next year. They also aim to embrace Allen Street's lack of parking options by incorporating bicycle-friendly features such as bike racks, a tire repair station, and even a "bike valet" system.
I ask Shatzel, somewhat sarcastically, if he's already working on plans for his next venue. He lets out a sigh. "I think I'm finally at the max right now. I'll probably call it quits after this for a while."
After bringing to life a vision that was over ten years in the making, I'd say he's earned the right to relax.
Allen Burger Venture
175 Allen Street, Buffalo
Facebook / Twitter
---
ON TAP LAST WEEK AT ABV:
Stone Arrogant Bastard • Firestone Walker Wookey Jack • Dogfish Head Aprihop • Ballast Point Even Keel • Bells Kalamazoo Stout • Smuttynose Robust Porter • Greenflash Imperial IPA • Allagash White • Kulmbacher Eku Pils • Ommegang Glimmerglass • Southern Tier Choklut • Unibroue La Fin Du Monde • Evil Twin Sour Bikini • Stillwater Stereo • Jack's Abby Calyptra • Downeast Cider • Founders Dirty Bastard Ale • Ithaca Flower Power • Hamburg House Dressing • Great Lakes Conway's Irish Red • Flying Bison Bisonator • Brooklyn Silver Anniversary • Guinness Stout
---
The Public's weekly beer column is produced in collaboration with the Buffalo Niagara Brewers Association.