Sports
Getting Even at the Golden Gloves
by
/ Mar. 30, 2015 2pm EST
The long tradition of rematches in boxing owe their cache largely to the elements of drama that a certain style matchup provides. In prizefighting, it usually has a lot to with a mutual sacrifice that fighters are willing to endure for money because boxers are different kind of people. 
In amateur boxing, the calculus is largely dependent on geography and weight class. A young lightweight coming up in one of the gyms that feed the I-90 corridor will do battle with the same half-dozen other lightweights until they either stop competing or turn pro. And as is the case in most things, one side of the equation usually separates itself as being dominant and the story gets written a certain way. Two weeks ago at Buffalo's FLARE Center gym, Elon DeJesus bested Joe Reed in a heated but evenly-matched contest that still left little doubt for DeJesus to achieve the points victory.
What a difference 14 days makes.
The rematch Saturday Night at The Tralf was a horse of a different color for FLARE's Joe Reed. Reed worked an inspired and energetic three rounds, darting in and out on DeJesus yet still stopping to plant his feet to launch devastating head-hunting hooks. Where two weeks ago he let fatigue creep in, here he pushed on and kept pushing DeJesus in reverse.
When the final bell sounded, his chief second and coach Terry Williams jumped onto the apron with his hands in the air. 
What was different this time? Williams praised his aggressiveness and work behind his jab. "Everything behind that jab: upstairs, downstairs. Cut him down, cut him down!" Williams repeated. "He fought hungry."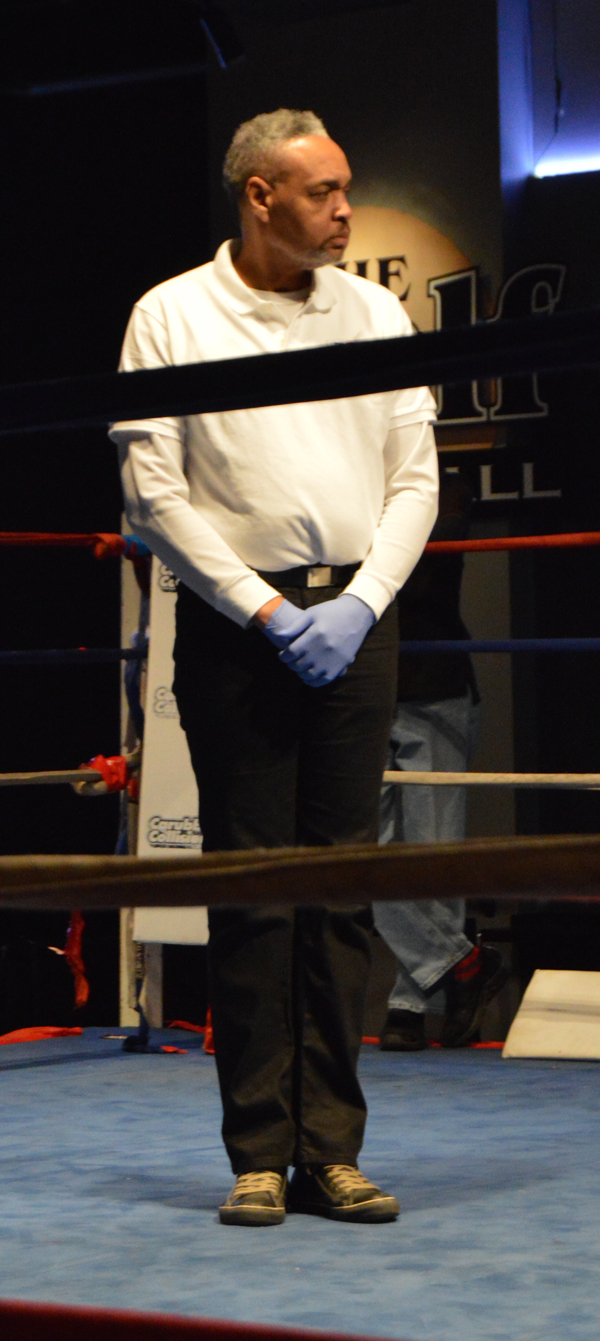 Kevin Thurston
The evening's first fight between Buffalo PAL's Desmond Webster and Shamir Lutchman found the young fighter exchanging bloody noses and fighting with red splotches on the white scoring sections of their sanctioned gloves. Webster seemed to get the better of the action timing his left hook perfectly as Lutchman tried to come inside, but it was Lutchman who received the 3-2 decision.
The last fight was a bit of head scratcher in that the judges score cards couldn't have added up to the announced decision win for Erik Rogers. Rogers was downed in the first round by a sneaky-as-hell left hook from Alex Dedovets. Dedovets spent much of the fight luring Rogers in, with his hands low and apparently fatigued. Whether being tired was part of the shtick or not, it seemed to work as Dedovets landed heavy throughout the fight, earning at very worst a draw. The amateurs now, like the pros, are scored on a ten point-must system. Even if rounds two and three were scored 10-9 for Rogers, the 10-8 first round for Dedovets should have pushed it towards a draw.
In other action, Mike Stevens TKO'd Dantrell Morris, Kendric Duncan decisioned Andrew Irizzary, and Jarred Nosewicz out-boxed and out-worked Tracy McGruder. Liam Grogan defeated Terrence Houston, and the slippery Alex Jean counter-punched his way to 3-2 decision over UB Boxing's Timi Akeredolu. Two "junior Olympics" bouts saw the 85 pound Ire Eaglin defeat Quincy Bostic and Destyn Hopkins won a medical stoppage over Gregory Williams in the first round. Doctor Margaret Libby at ringside explained that she noticed a dazed look on the Williams' face and wanted to examine him but couldn't get the referee's attention so she was forced to request a stoppage by the time she did.
On the other end of the spectrum, Salamanca's Brad Stahlman defended his masters division amateur heavyweight title by handling Jamestown's Chip Swanson.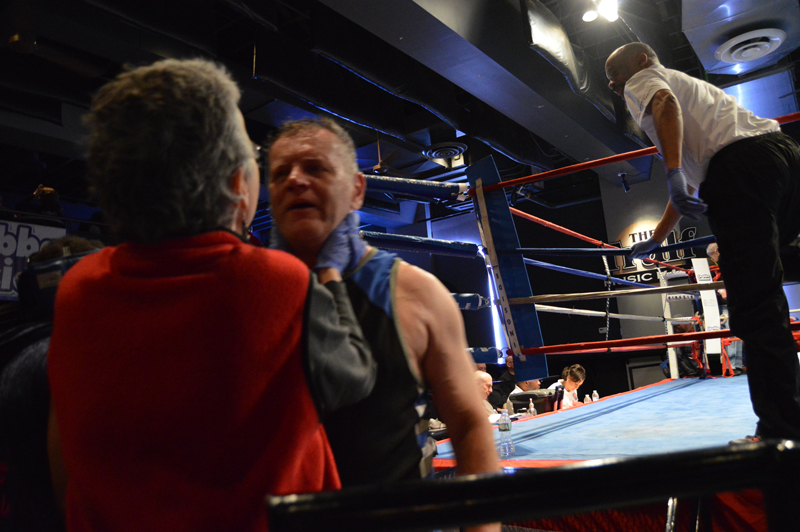 Chip Swanson gets evaluated by Dr. Libby (Kevin Thurston).
The climax of the evening came, however, in the penultimate 20-pound limit bout between Joe Taylor of WNYMMA and Joshua Brown of Watertown Boxing. The shorter Taylor was built like a house a bricks with an upper body atypically large for a boxer, who traditionally eschew weight-training for endurance and speed training. The longer and leaner Brown looked far more the part, but it took all of ten seconds for him to come completely undone. As Brown approached Taylor at center ring, Taylor threw a place-finding jab and buried a right cross behind it into Brown's chin, knocking him flat out. It took some effort for Brown to get to his feet and out of the ring, suffering a serious injury to his right knee.