Visual Arts
MIllie Chen at Anna Kaplan Contemporary
by
/ Mar. 28, 2019 2am EST
"Now get you to my lady's chamber, and tell her, let her paint an inch thick, to this favor she must come…"
—Hamlet
How does one mourn? Artist Millie Chen's works currently on show at the Anna Kaplan Contemporary gallery are Chen's way. And a meditation on mortality precisely in the vein of Hamlet's meditation.
The title of the show is Matter. We mourn absence, but absence is literally nothing. The occasion of mourning is likely more often presence. The presence of relics. Things the absent person left behind.
Relics in this instance—after the death of the artist's mother—consisting of cosmetic make-up items—face cream, foundation powder, eyebrow liner, blush, and lipstick—her mother applied assiduously daily. "My mother never went out or received visitors without putting on, at the very least, lipstick and eyebrow liner—these tools allowed her to create an optimistic public face," Chen says in an artist's statement accompanying the artworks.
Which are paintings and drawings for the most part using the make-up materials her mother left behind as the paint. Some occasional use of egg tempera admixed with the make-up materials, as a binder.
The paintings are generally in an appropriate to the mortality topic and message minimalist mode. And patterns that represent or reproduce the mother's actual procedures in applying the make-up materials. (So works that appear abstract, but are in fact representational.)
A piece called Foundation I, in a cosmetic foundation material ("Hydrate & Smooth"), applied in concentric circles. Another called Foundation II, in a different foundation material ("Matte & Poreless"), applied in swirls. One called Blush I, in egg tempera and blush material ("Blushing Glow"), and one called Blush II, in egg tempera and a different blush ("Medium Beige, Pink Blush"), both in overlapping concentric wave patterns—as if you throw two stones into a quiet pool of water, the way the emanating different wave patterns overlap and interfere—and gradations of depth of color, of tone. Most of the works are on 10-inch-by-10-inch-by-¾-inch-thick clayboard, little hardboard panels.
Also some larger-format "calendars" featuring each one about a year's record of the mother's day-by-day selection and application sequence of make-up materials, in a unique color-coded data notation system using the actual make-up materials.
Also some pencil drawings—against monocolor backgrounds of make-up materials—of non-make-up items related to personal embellishment. Such as a hand mirror—traditional vanity symbol, memento mori symbol—and a hair brush, and an unusually elegant-form scissors. What would have been a family heirloom.
Plus three drawings showing the scissors in use. In two cases, manipulated by aged hands—presumably the mother's—in one cutting chives, in the other cutting a fingernail. In the third case by younger hands—presumably the artist daughter's—cutting hair—presumably the mother's.
So a bit of a self-portrait of the artist. Implicating the artist as well in the mortality meditation. (As if this were a question.) Implicating us all. To this favor we will all come.
The Millie Chen exhibit continues through March 28.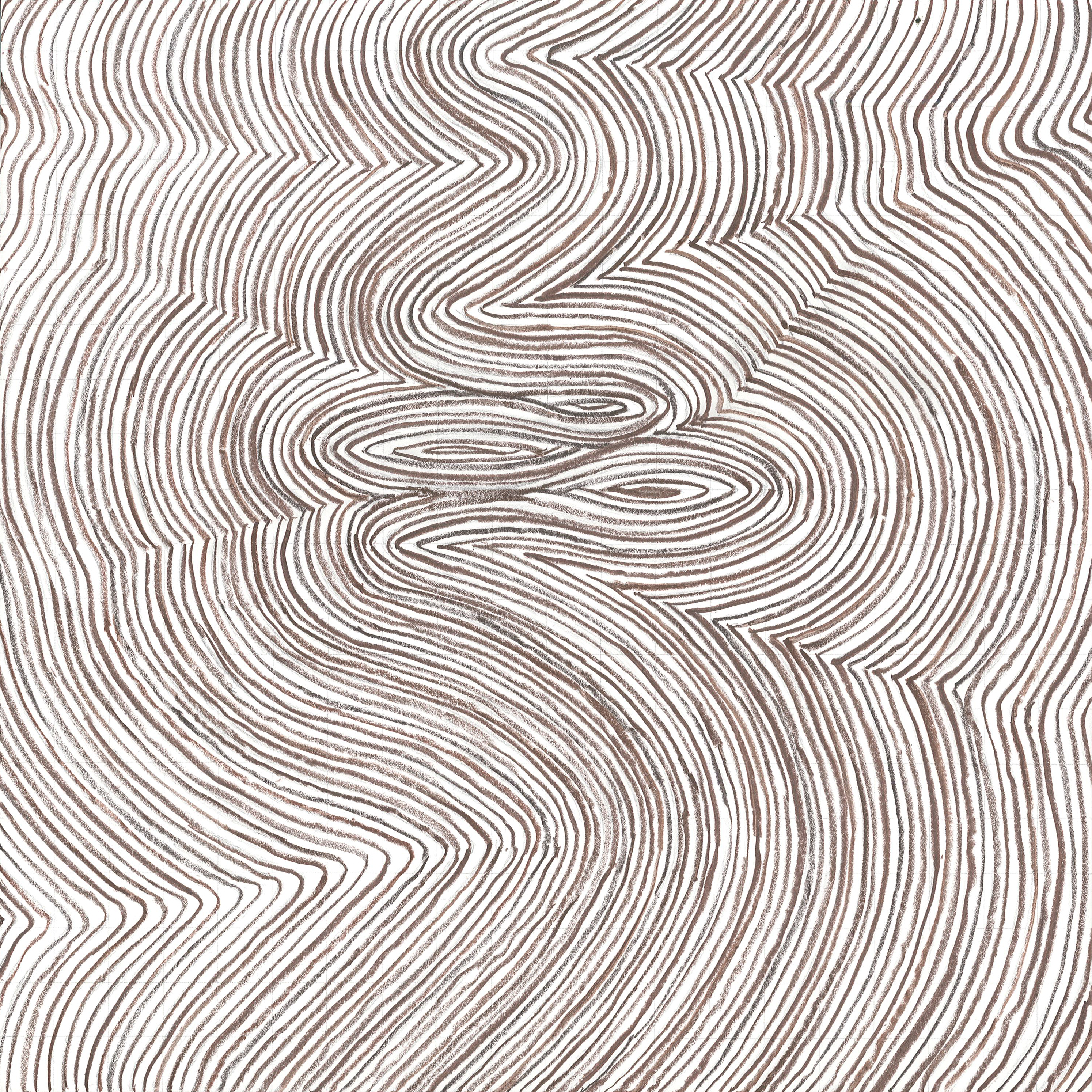 Eyebrow Liner, Millie Chen.