Film
Film Reviews: Hotel Mumbai, Meme
by
/ Mar. 27, 2019 4pm EST
I wouldn't disagree with any superlatives that will be applied to Hotel Mumbai, the new film that recreates the terrorist attacks on that Indian city in November 2008. It is gripping, first-rate filmmaking, emotionally involving, thought-provoking, and as realistic as you would want a movie to be. For what it is, it's flawless.
But that's not to say that I'm recommending that you go to see it. 
For those of you who may be saying: Remind me, just which of the dozens of unthinkable atrocities that have occurred in the past few decades was this one? On November 26, ten young men trained in Pakistan arrived by boat in Mumbai to carry out a terrorist mission. They struck at 12 locations, most notably the five-star Taj Mahal Palace Hotel, a favorite destination for foreign visitors. The police of that city were unprepared for an assault like this, and it was several days before Special Forces troops from Delhi were able to end the siege.
The film, an Australian production written and directed by a debuting filmmaker named Anthony Maras (who also co-edited) focuses on the events inside the Taj. In the standard disaster movie formula that has been with us since the 1970s, we follow the perspective of multiple characters, among them Arjun (Dev Patel), a Sikh waiter with a young family to support; David (Armie Hammer), an American architect visiting Mumbai with his Muslim wife Zahra (Nazanin Boniadi) and their new baby; Oberoi (Anupam Kher), the hotel's head chef, who lives by the motto "guest is god"; and Vasli (Jason Isaacs), a thuggish Russian investor who was formerly a Special Forces operative in Afghanistan.
That list of dramatis personae would be perfect for a Die Hard variety thriller: You can imagine the callow American and the brave Sikh joining forces with the deadly Russian who needs to expiate his past sins. That is not remotely what you will find here. Yes, there is heroism, but it is in small doses, and such attempts often lead nowhere.
More than anything, Hotel Mumbai is a horror movie, and one that can be hard to watch. It could have been worse: We're spared the sight of the attackers torturing some of their victims, which in reality happened. But the sight of armed young men turning automatic weapons on strangers whom they know nothing about is not an easy thing to look at.
And while you could never accuse Maras of being sympathetic to the terrorists, he reminds you several times that these are really boys, unsophisticated, whose ignorance has been manipulated and weaponized. They are guided throughout by a voice on a cell phone, the mastermind of their operation, who eggs them on to treat their victims as animals and to show them no mercy. A closing title tells us that while the hotel was restored to its full glory, the men who planned this operation have never been brought to trial. I came away from the film with conflicting thoughts about humanity: hope that we are a species that comes to each other's aid when faced by terrible situations such as this; fear that we are one that grasps for reasons to dehumanize the "others" that we have been persuaded are our enemies. Now playing at the Dipson Amherst and Eastern Hills.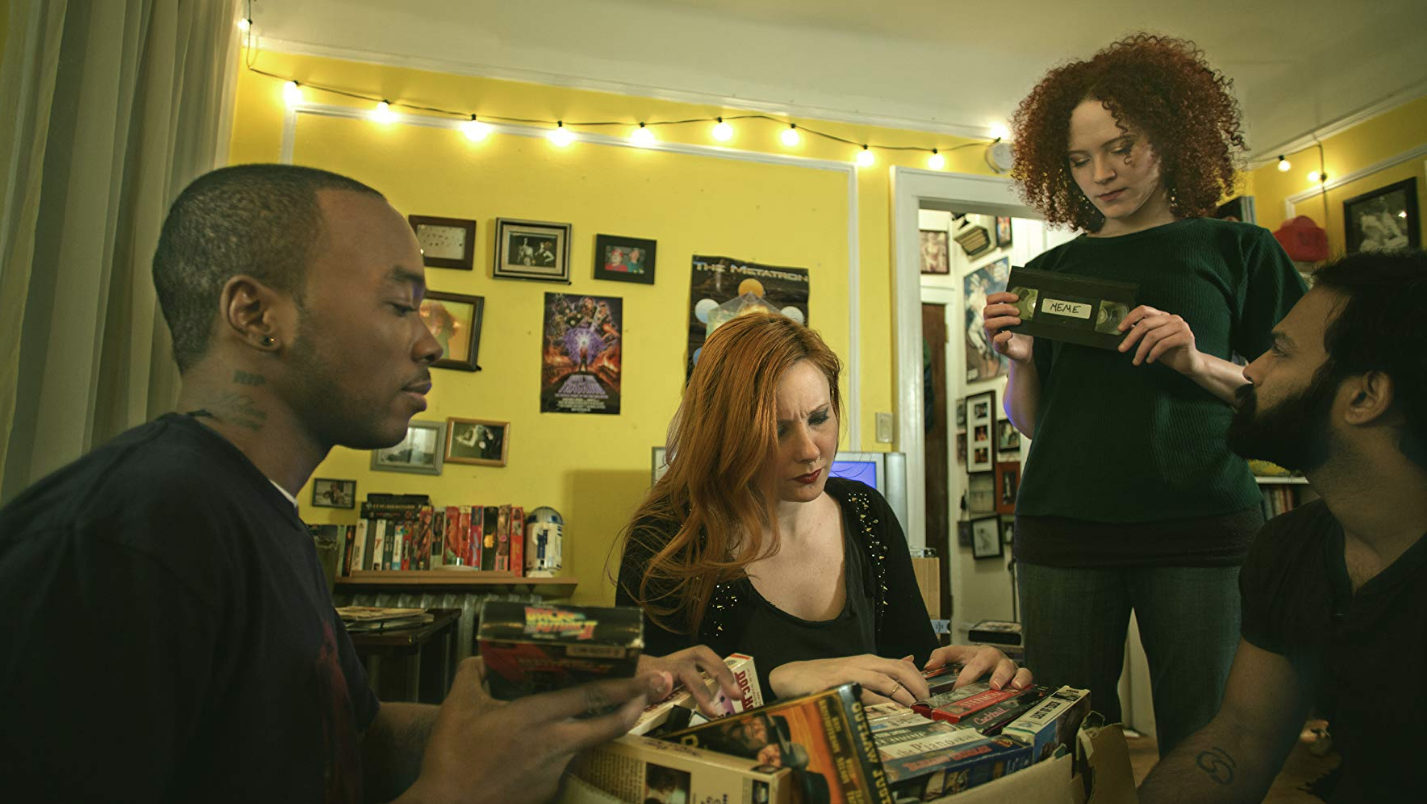 If you're like me (god help you), you probably thought that a "meme" was one of those ubiquitous humorously-captioned photos that infest social media. If not, you already know that it's actually a term coined by Richard Dawkins to define (quoting the Oxford dictionary, here): "an element of a culture or system of behavior that may be considered to be passed from one individual to another by nongenetic means, especially imitation."
The knowledge will stand you in good stead when watching Meme, a fascinating independent feature that will have one local screening Friday night, March 29, at the Screening Room. Written and directed by Sean Mannion, the film looks at Jennifer (Sarah Schoofs), a young Brooklynite who of late has been finding that neither her job (as a freelance graphic designer) nor her relationship (with a hipster obsessed with collecting obscure VHS tapes) is giving her any kind of satisfaction. She becomes obsessed with a homemade video tape that mashes together different bits of information, including the kinds of theories of reality that fascinate inebriated college sophomores late at night. As Jennifer's life spirals downward into chaos, she looks to the tape (labeled "MEME") to offer her a clue—or is she only attracted to a mystery that (unlike life) she might actually be able to solve? The elaborate editing of Mannion's film, which freely shifts around time frames and bits from the mysterious tape, makes the trip feel a bit more subversive than it ends up being, though more involving than it might otherwise have been.