Music
Honest Life: An Interview with Mary Gauthier
by
/ Mar. 25, 2015 10am EST
Singer-songwriter Mary Gauthier is much more focused on the art of making music than she is on anything happening in the music industry. After all, it's never been clearer that the art and the business of music are two distinctly different things.
"I don't pretend to be in the music business, I'm in the Mary business," she said with an audible grin over the phone during a recent tour stop in Virginia. Gauthier performs at 189 Public House in East Aurora this Thursday on a split bill with fellow songstress Allison Moorer, who also happens to be Shelby Lynne's sister and the former Mrs. Steve Earle.  
"I've always been an entrepreneur…at one point I had three restaurants. But I always worked from my gut and just carved out enough to sustain myself. Now I apply those skills to my songwriting."
A Louisiana native now based out of Nashville, Gauthier spent her years as a budding restaurateur in Boston between getting sober in 1990, (a necessary measure following years of drinking and drugging), and going full-time with her music nearly a decade later.
After a rocky start as a wayward teen fleeing her adoptive home at 15, she honed some serious cooking skills at the Cambridge School of Culinary Arts and opened the Cajun-themed Dixie Kitchen—also the title of her 1997 debut—in Boston's Back Bay, just down the street from Berklee College of Music. Eventually, she sold off her share of the business.
"It might seem like I was getting a little old to write my first song at 35, but sobriety reveals things to you that you didn't know were there," she said. "Anything is possible when you're sober… there's an awful lot we can accomplish."
It's no joke. Gauthier, 53, doesn't write music for people in search of good times and dancing, but she found an audience to appreciate her unwavering musical honesty before long, growing a loyal fan base over a series of indie releases. Eventually, Universal's Lost Highway imprint (Ryan Adams, Lucinda Williams) signed her in 2003. The deal raised her profile considerably, and 2005's Mercy Now remains a benchmark disc for what we might call "new-world Americana." Her songs have since been recorded by artists as disparate as Blake Shelton, Bettye LaVette and Jimmy Buffet, and she's become a regular at the Grand Ole Opry.
But Gauthier (pronounced go-shay) is back in the indie pocket, releasing Trouble and Love on her own last year. It's a full-circle pattern we see time and again: career artists that have a major-label tryst and then return to their indie roots, reclaiming complete creative control and the business hassles that come with. It's a far cry from the artists she grew up hearing between hits on the radio.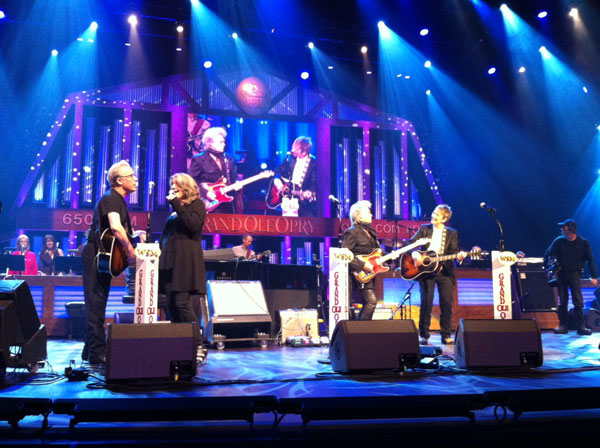 PHOTO: A night at the Grand Ol Opry
"I come from a time when Springsteen was all over the radio, and after all these years he's certainly maintained an impressive level of integrity," she said. "Joni Mitchell, Bob Dylan—these were artists existing outside specific radio formats, but they sold enough albums to stay in business, keep their record deals and transcend the rest of it."
"Things are more fragmented now," she continued. "In my world, I know hundreds of exceptionally talented artists making wonderful music, but they run in smaller circles… and every now and again, they might get picked up by a label. To me, though, not being caught up in all that is a blessing—and it beats the hell out of running a restaurant. I don't feel that sense of responsibility for all those other peoples' lives, and I'm certainly not rich, but I make a great living. I get to do this my way, on my terms, the way I want."
Like much of her catalog, Trouble and Love is devastating. Through it, Gauthier bares her innermost self going through a difficult breakup. The set aches with a brokenhearted vibe so strong, it can leave you feeling genuinely winded. The arrangements are sparse and the singing is meant to connect with something well beyond whatever your aural barometer gauges as "pretty"—closer to a female version of Neil Young.  
While the songs may be written from a lesbian perspective—Gauthier is long out and proud—she strives for a connection with listeners that cuts through all of that peripheral information to get at something deeper and, hopefully, of greater value.
"It's not just about my life anymore," she explained. "People don't care about personal songs, they want the deeply personal, which is the universal. I'm trying to get down to what connects us as human beings. I'm trying to write songs that people will be singing long after I'm dead."
Gauthier says she aspires to contribute to what she thinks of as, "the new American songbook," making a careful distinction between pop music, escapist entertainment—which she falls prey to sometimes just like the rest of us—and art, which tends not to make money but more often leaves a lasting impression.
"What I do with my music I do with intention," she said. "It's deliberate and real, but in order to get there I have to try and stay vulnerable. I go with my gut and listen carefully to my instincts, looking for truth and resonance in my writing."
One might assume that given the emotional nakedness of Trouble and Love, Gauthier would be reliving the trauma of her breakup every night she performs in support of the disc, but she says that's not so. On the contrary, in her pursuit of the "deeply personal," she bypasses herself and the details of her own experience—now four years in the past—in favor of delivering a message to someone listening who might need some help.
"The thing about singing the blues is that it makes you feel better," she said. "And the only thing painful about writing songs is how hard it is to experience these things and then make a beauty out of the beast, to take something that on the surface isn't beautiful and make it so by putting language and melody on it. That's how I get through it. Frankly, I don't know what people who don't write songs do to work through their pain. Living life is painful… trying to love and be loved. But I know it's not just my struggle."
Mary Gauthier and Allison Moorer perform on Thursday, March 26, at 189 Public House, 189 Main Street, East Aurora. $27-$30, 7 p.m.