Visual Arts
Jack Edson at Nichols School
by
/ Mar. 22, 2017 12am EST
A score of fabric works of uncommon artistry and beauty by Jack Edson are currently on show in the Nichols School Gallery. Quilt and collage versions of portraits, sometimes of other artists, sometimes by other artists. Famous artworks in some cases, not so famous in others. But the Edson versions all quite spectacular. 
Representing one way or the other—in quilt or collage—a small pantheon of some of this artist's favorite artists: Bernini, Caravaggio, El Greco, Vermeer, Seurat, Sargent, Eakins, Klee, Burchfield.
A large quilt Bernini looking fierce to the point of combative. With huge wreath of jet black hair and semi-profile-view single black eye staring down the observer. 
A fabric collage version of an El Greco formal portrait of a man in black tunic and white ruff collar (a larger quilt version of which was a most memorable feature of the last Art in Craft Media show at the Burchfield Penney). 
A piece Edson calls The Musician is a detail—the torso back and shoulders and back of the head—of one of the figures in Caravaggio's painting The Musicians. A background regular array of quilt blocks morphs into oversize irregular blocks in the head area and more or less free-form patchwork strips and swatches in the shoulders and torso back area. Appropriately—the progression toward irregularity—for this notorious artist outlaw figure.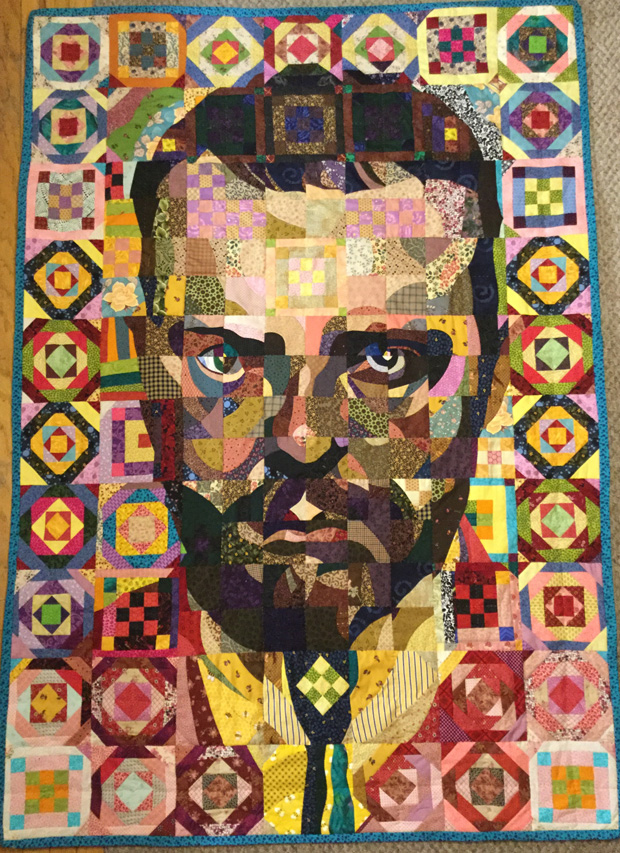 The Vermeer is a detail from that artist's painting Lady Writing a Letter, showing just the lady—a companion or servant in the Vermeer work is omitted from the Edson work—at a writing table, head down, intent on her composition.
Three works based on photos by painter Thomas Eakins, who was also much given—more as amateur than professional—to the practice of photography. Also much given to gambol occasions in remote bucolic settings with male friends, everyone nude. A quilt and a collage depicting friend and fellow artist, Samuel Wallace, and a quilt depicting another friend and fellow artist, Frank Schrenk, and Eakins' horse, Baldy. Essential nudity obscured in all cases, human and equine. 
Two quilts based on paintings by Seurat—a self-portrait and a portrait of his mother—that make a variety of references to pointillism, the dot painting technique Seurat was an inventor as well as most notable practitioner of. Ironic reference in the predominant gray scale in both works (versus extreme coloristic character of pointillism historically, and in contrast to the variegated character of so many of the other Edson works on show). Unironic reference in the construction technique dot-like visible sewing machine stitching in both pieces (and thus patent meticulous workmanship aspect of both pieces, versus skillfully concealed workmanship in most of the other works on show). 
The Seurat self-portrait shows the artist writing, head down, bent over his composition (a little reminiscent of the Vermeer piece). The artist's mother portrait shows her reading (reminiscent of the famous Whistler's Mother painting, which is properly entitled Arrangement in Black and Gray, which could be the title of either or both of these gray scale pieces). But in a posture that she could as well be sewing—as a further pointillism reference, and reference to Edson's needle artwork in general. The sewing—versus reading—idea is further suggested by several quasi-curlicue-form bits and pieces of string or thread sewn onto the work—with no apparent explanation or rationale as to what or why—in roughly the area of the subject's concentration. 
One work is a fabric collage self-portrait of Edson. Reminiscent of a well-known painting self-portrait by the artist Chuck Close, whose emphatic pixilation painting technique—come to think of it—notably evokes the art of quilting. 
The Jack Edson show is called Pieces. It continues through April 3.
 PIECES; THE FABRIC ART OF JACK EDSON 
 Nichols School, 1250 Amherst St.,  Buffalo