Visual Arts
Reflections: Buffalo Public School Students and Teachers at El Museo
by
/ Mar. 21, 2016 12pm EST
The current offering at El Museo is a kind of art show and art game in one. It's the annual exhibit of works by Buffalo Public School art teachers and their students. But without names or other identifying labels on any of the works. So you get to look and try to figure out who's who and what's what. Which works are by teachers, and which are by students, and what students go with what teachers.
There are some cheat sheets—or maybe better, answer sheets—to let you check your conjectures. One of thumbnail photos of the artworks, plus numbers. The other with names attached to the numbers, and coded to indicate who is a teacher and who is a student, and connect students and their teachers.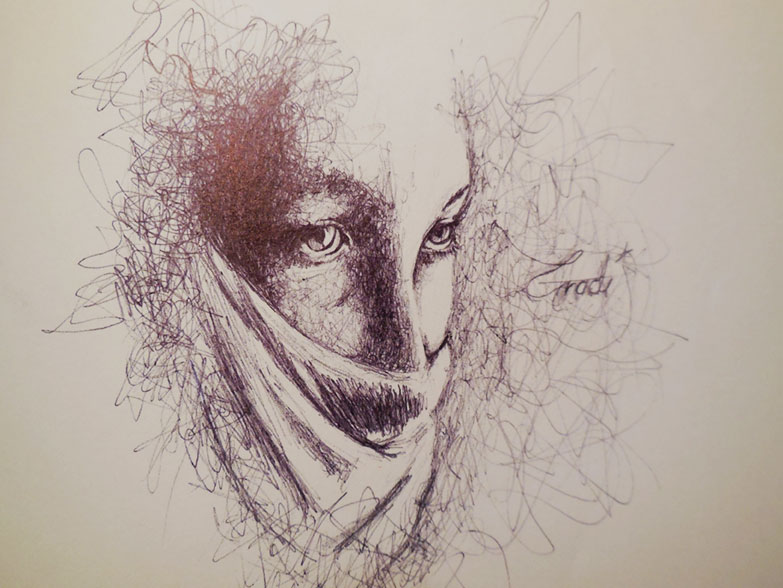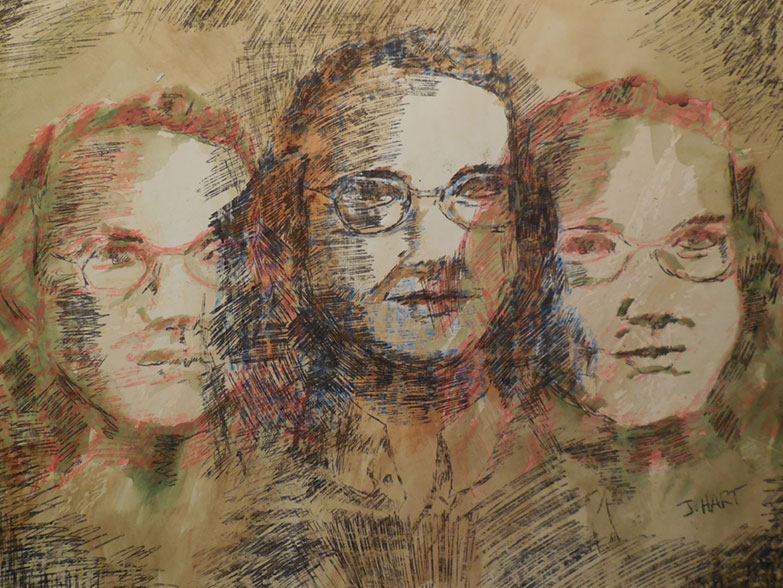 Top: student Gradi Bigati's work. Bottom: teacher Jackie Hart's mixed-media portrait (Leonardi Di Vinci High School).

Not so easy to tell student from teacher—the student work is of such high quality—in the case of student Gradi Bigati's three separate ballpoint pen scribble portraits, and teacher Jackie Hart's mixed-media triple portrait in somewhat the same pictorial style. Or student Thalia Serrano's mixed media portrait intense young man amid aggressive garden ambience, and teacher Tanya Chutko's paint enamel woman with floral form actual jewelry hair ornaments. Or student Louange Theopiste Mizero's demure block print heart and decorative surround, entitled Je T'aime, and teacher Jan Dylewski's more voluble and effusive mixed media work featuring heart-shaped cut-outs and bands of heart-reference clichés such as "heart to heart," "half-hearted," and "heart of stone," entitled They Make Me Happy.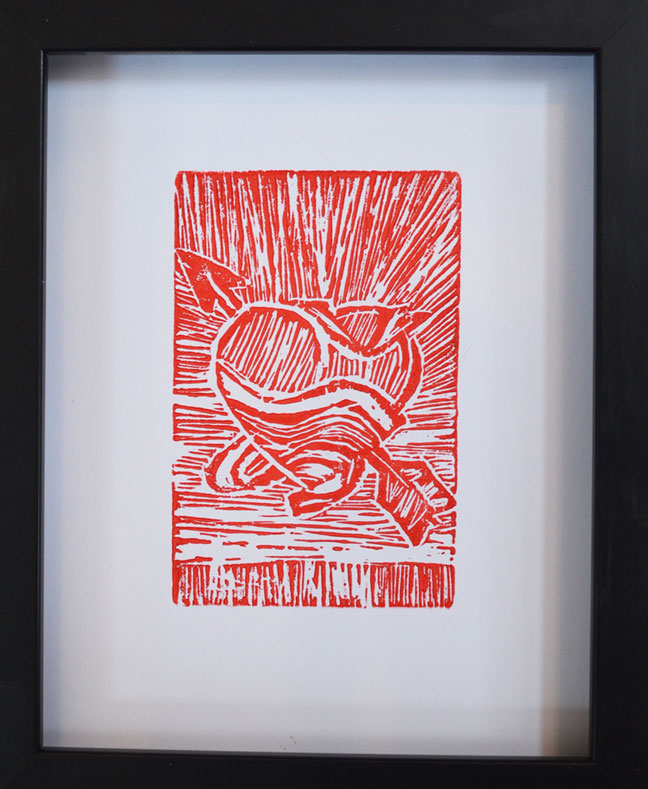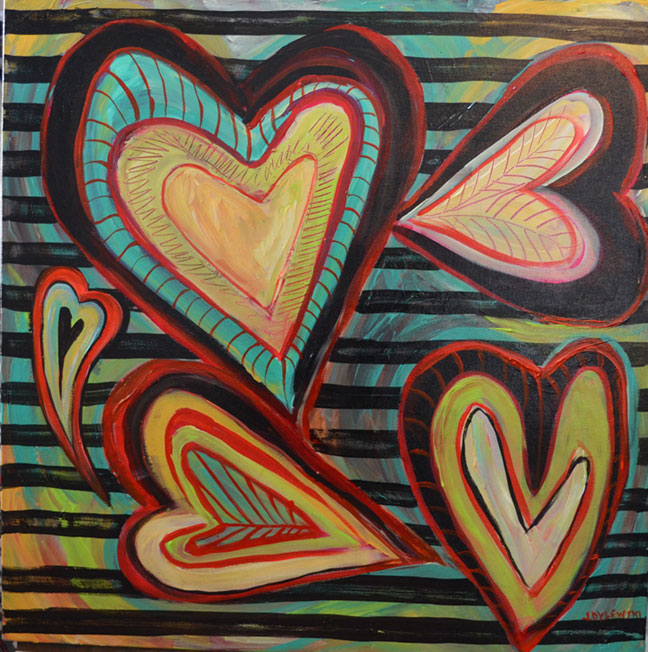 Top: student Lovange Theopiste Mizero, Je T'aime. Bottom: teacher Jan Dylewski's They Make Me Happy (BPS #79 Grabiarz Campus School).


Among outstanding teacher works is Michelle Schroeder's lovely enigmatic mixed-media piece called Stitches and Veins. The accompanying student piece is Abby Schroeder's wide-angle photo view from Prospect Point, Niagara Falls.
Among outstanding younger student works is Anthony Agosto Benedetto's poignant My Family is a Reflection of Me collage, comprising a photo of the artist on a kind of clock image with movable single clock hand variously pointable at any of numerous family members—these identifications presumably—crowded around the clock face. The accompanying teacher work, by Michele Agosto, is a puddle reflections photo, called Reaching.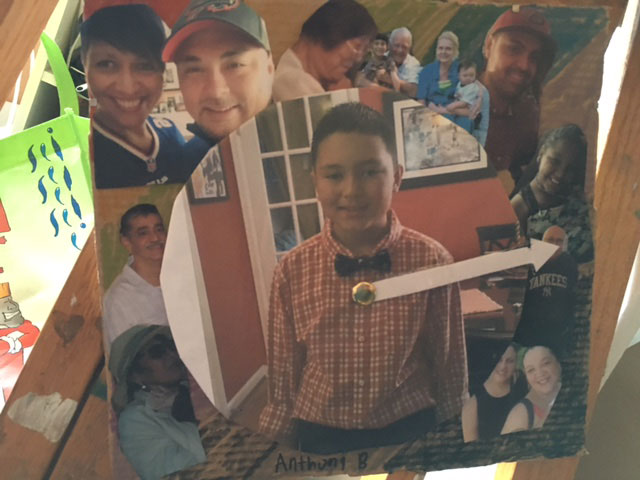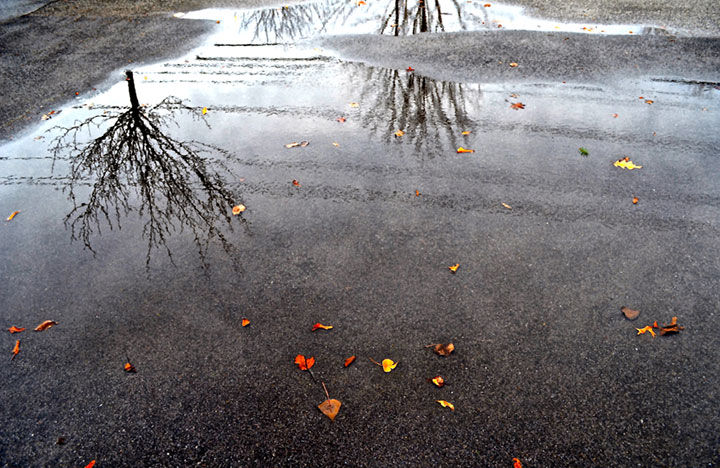 Top: student Anthony Agosto Benedetto's My Family is a Reflection of Me. Bottom: teacher Michele Agosto's Reaching (Hoover Middle School).

So some family connections in addition to the teacher and student connections. One more of note, teacher Sean Witucki's superb still life vase and flower in subtle shades and shadings of red, yellow, and blue, entitled Grandma's Vase, together with Meadow Witucki's similarly superb bold monotones version of the same subject, entitled Great Grandma's Vase.
Teacher Karen Alvarez's piece entitled Lifesaver—a necklace of Lifesaver candy size and shape semi-precious stones—is displayed amid a dozen or so paintings and drawings and one collage and one sculptural work by her very young charges. Among the student works, Haley Madigan's delightful Pony Lisa watercolor showing Lisa—again presumably—posing in profile amid a corral full of companion ponies in frolic attitudes; Jolianna Olivera's excellent action portrait of a Girl Going on a Walk; Sydney Ufland's My Starry Night, based on the Vincent Van Gogh masterpiece, but more boldly colorful by half than the original; Onari Banks' Batman's Starry Night, again based on the Van Gogh painting, but with sky projection bat image; Damien Demers' color pencil drawing My Sarcophagus, modeled on King Tut's, and similarly equipped with accessories for a happy afterlife, including in this case crayons, a bottle of pop, and little red envelope of McDonald's fries. The sculptural work—soft sculpture, sewn gray fabric, a cat with one eye, called Izzy—is by Alyssia Randazzo.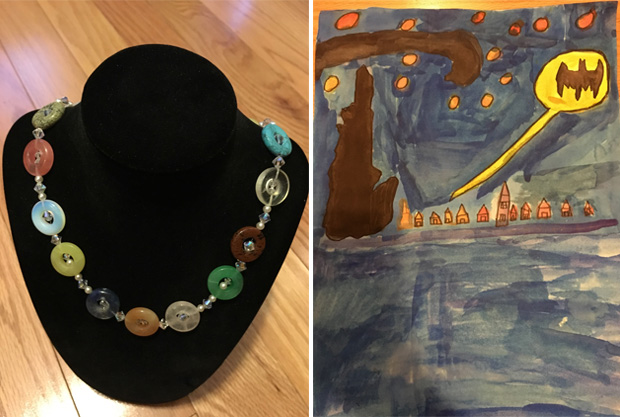 Left: Teacher Karen Alvarez's Lifesaver. Right: Onari Banks' Batman's Starry Night (PS 72 Lorraine Elementary).
Other fabric art includes a series of colorful some abstract and some figurative needlepoint panels by teacher Cassie Lipsitz and students Samantha DeJesus, Eh Ku Wah, Paola Berrios, and Doris Noh. Lipsitz's piece is entitled WTF (where they from).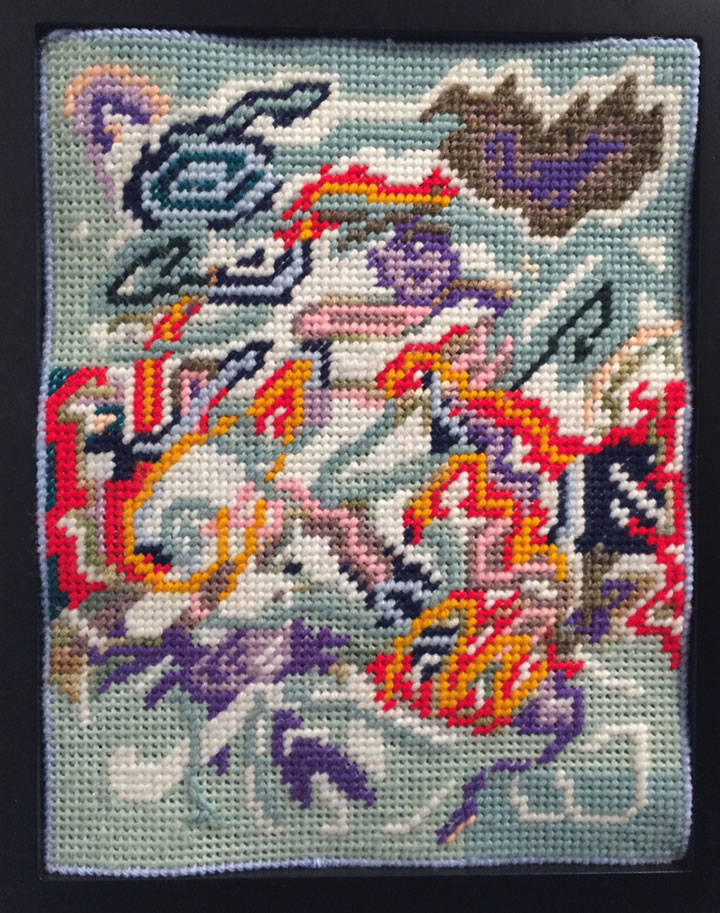 Student Samantha Dejesus's Can't Stop Dancing (Lafayette High School).

Nearly a hundred works in all in the exhibit, called "Reflections." It continues until April 9.
 Reflections 
El Museo / 91 Allen Street, Buffalo
elmuseobuffalo.org
---
To see more artwork made by Buffalo students, click here and follow #bpsartWorks on Facebook, Instagram, and Twitter.