Film
by
/ Mar. 20, 2018 5pm EST
Argentine director Pablo Solarz was inspired to write The Last Suit based on two things in his life. The first was his memories of his grandfather, a Jew who escaped Poland in 1945 and was so devastated by his experiences that he demanded that the name of the country where he was born never be spoken aloud in his house. The other was hearing a story about a Jewish man in his 90s who, despite poor health and against the wishes of his family, journeyed back to Hungary on a seemingly impossible mission to find the Christian friend who saved him from the Nazis.
The popular Argentine actor Miguel Ángel Solá stars as Abraham Bursztein, a retired tailor with a bad leg that bothers him so much that he has named it "Tzures" (presumably a Latinization of "tsuris"—trials and tribulations). A widower, his daughters have sold his house out from underneath him, his doctor wants to amputate his leg, and even his favorite great-grandaughter blackmails him before she'll pose for a photo with him. Before he can be moved into a retirement home, he dresses himself in his best suit (a striped number that looks like something you would wear to run a string of hos on the Deuce in 1972) and sets out for Poland. His goal: to find the childhood friend who nursed him back to health at the end of the war and present him with gift, the last suit he ever made.
The Last Suit is essentially a road movie, as Abraham makes his way from Buenos Aires to Spain and on across Europe. This is not an easy trip given that he can barely walk, that he loses all of his money, and that he's not the most pleasant person in the world. But he manages, aided by people along the way who see some good in him. (One of these is a hotel clerk/nightclub singer played by Ángela Molina, the Spanish star whose career goes back to Luis Bunuel's That Obscure Object of Desire and includes starring roles in two Pedro Almodovar movies.)
Solá commands the screen as a character several decades older than himself, but the script doesn't delve very deeply into Bursztein. It's not clear if his crankiness began after the death of his wife, or if it stems from his painful experiences during the war. Nor does he seem changed by the exceptional kindnesses he is shown by strangers on his journey. And while the heart-tugging finale is exceedingly unlikely. Solarz may be able to claim that it is based on a true story, but drama requires more than that.
***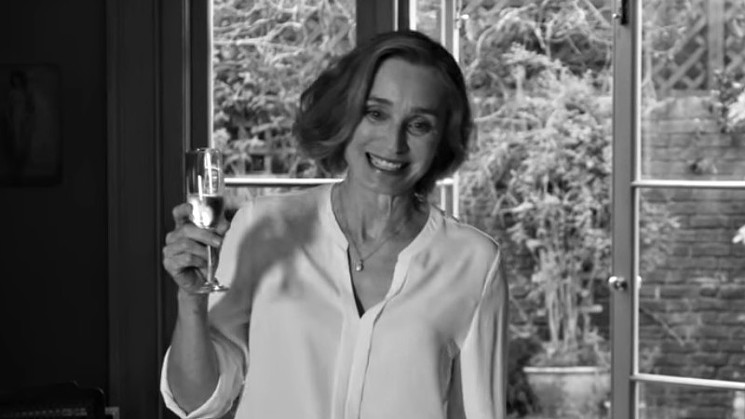 Sally Potter has not, to my knowledge, claimed that the characters in her new film The Party are based on people that she knows, But I'd be surprised to earn that they aren't, at least in part, and I hope they're thick-skinned enough to take this satire with good grace.
This acidic comedy from the filmmaker who has followed a generally experimental path since her worldwide hit Orlando some 25 years ago takes place in real time, more or less, during a party attended by seven friends. The occasion is the election of Janet (Kristin Scott Thomas) to a political post she has been pursing for years. Her usually supportive husband Bill (Timothy Spall) seems out of it as the guests begin to arrive: April (Patricia Clarkson), Janet's long-time friend, a former idealist who now misses no opportunity to mock the values of others; her friend Gottfried (Bruno Ganz), a New Age therapist; another college friend, Martha (Cherry Jones), and her lover, Jinny (Emily Mortimer), who is expecting triplets; and coke-addled Tom (Cillian Murphy), a financial advisor whose wife is the evening's no-show.
That's quite an ensemble, no doubt attracted by the gleefully barbed dialogue Potter has provided for them. It's not something that has been part of her work in the past, but she has always made a point of trying to do new things in each new film. To reveal the fissures that set this bunch at each others throats would be to spoil the fun for you of experiencing them first hand; suffice to say that while Potter's goal was to explore cracks in modern British politics, she has done so with characters you can enjoy even if you don't know Jeremy Corbyn from Patrick Brown. Filmed in harshly lit black and white, The Party is over in a trim 71 minutes. It could and probably should have been longer, and the ending feels like the punchline to a sketch—but it is a corker.
---
TRAILERS: