Local
Story: The Emerald Parades
by
/ Mar. 18, 2015 8am EST
City plows and trucks worked hard to scrape away snow berms that would create obstructed sightlines and uneven ground for watching Buffalo's sibling Saint Patrick's Day parades this past weekend. The 22nd Old Neighborhood parade, wending through the historic and residential Old First Ward, took place on Saturday, March 14; the venerable downtown parade, traveling north from City Hall along Delaware Avenue, happened on Sunday, March 15.
The weekend officially welcomes the beginning of porch party season, as those on and adjacent to the parade routes round up friends and plastic cups. Over an hour into the Delaware Avenue parade, revelers in various shades of green were still arriving to stake out their vantage/sipping points.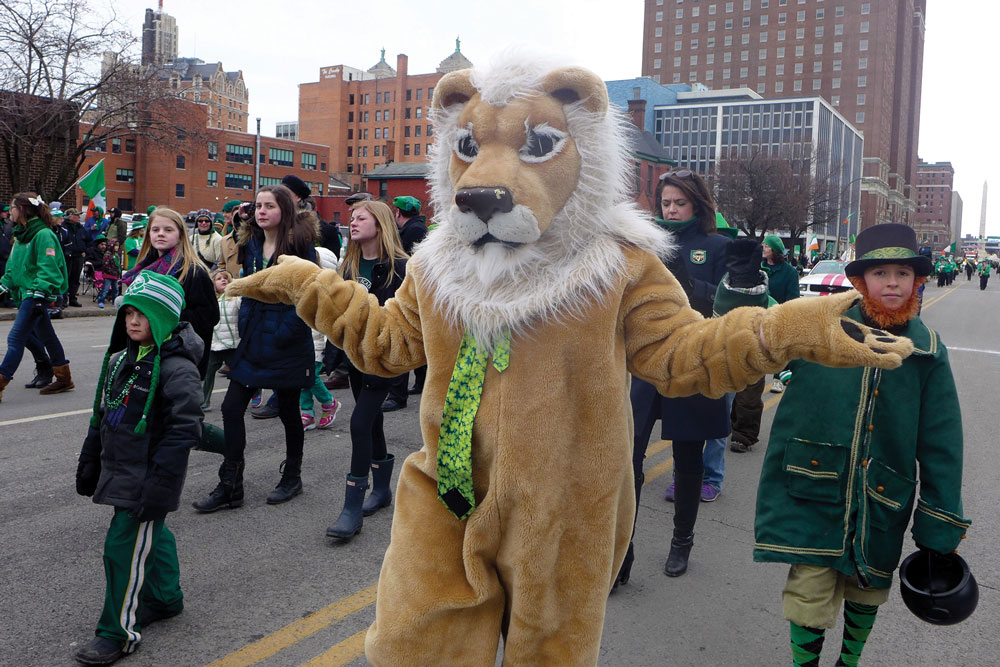 Members of Buffalo City Guard Gordon Highlanders drums and pipes corps, a 178-year-old organization, left the annual second-floor party room at Vinal and Vinal law firm on Delaware Avenue and marched south to City Hall, making music. They encircled 2015's grand marshal, Denice Morrison, to "pipe her in" for the honor of leading the parade.
The Public stopped to talk to a flag-bearer carrying the tri-colors of Ireland. Ryan Lakamp, age 12, is a student at Saint Mark's school and a proud member of Boy Scout Troop 42. When asked how he was selected to march with the very heavy flag, he said, "This is what we do. I did this before, when I was a Cub Scout, and now I'm a second-class Boy Scout."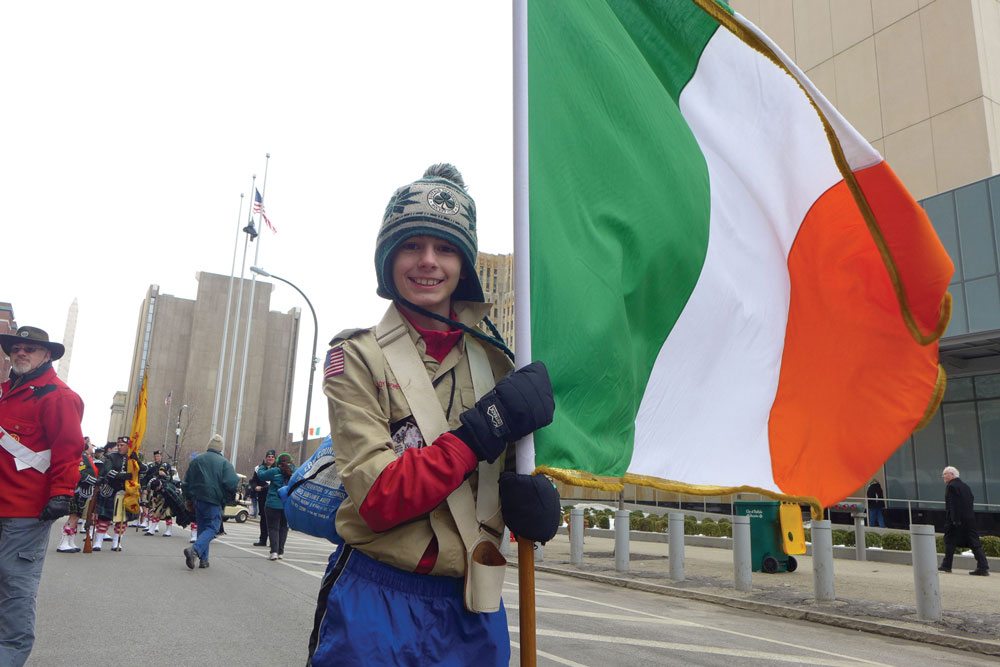 Further along the parade route, The Public spotted Tim Herzog of Flying Bison Brewing Company. He had, he said, just come from the Lexington Food Co-op, where he'd held a beer tasting of Flying Bison wares.
Tim asked if Amherst Gaelic League had marched by yet. They had not. He was there, in dress coat, ready to march with the philanthropic group that he's been a part of for five years. About 15 minutes later he found them and marched along.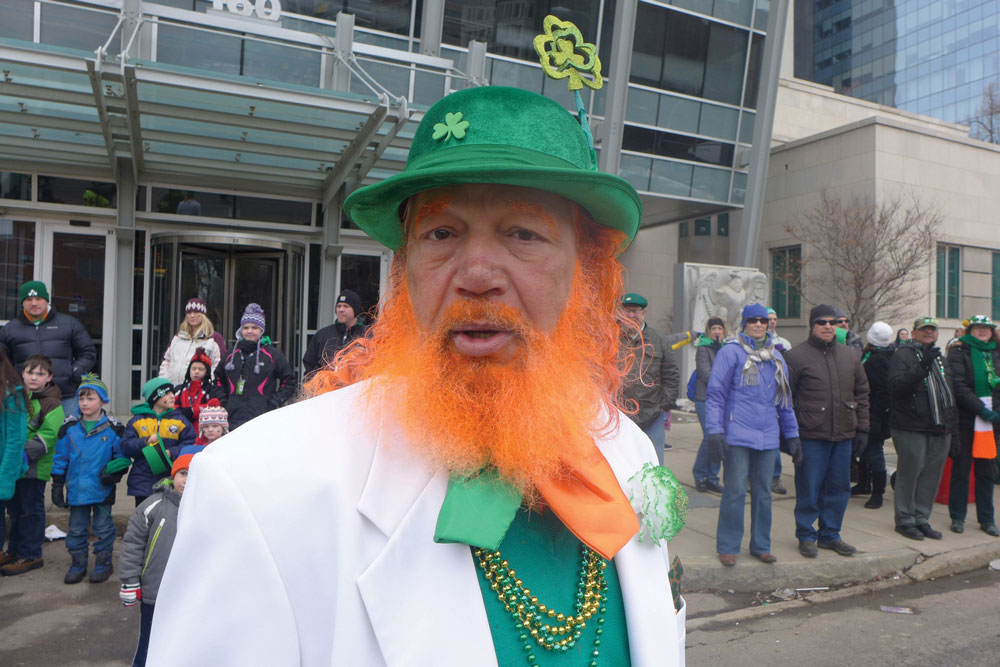 The Old First Ward parade features all the Saint Patty's amenities: politicos, festive dogs, floats, Gaelic dancing schools stepping by, and marching bands. The main difference between the two parades, besides duration, is that the Old First Ward parade usually features one Saint Patrick, whereas half a dozen saints march in the Delaware version. One of those six on Sunday was Stephen Caruana, wearing realistic vestments and a not-very-convincing beard-and-mustache combo. Caruana spoke to The Public, reporting that he's been marching as Saint Patrick for 14 years. In his hand was a staff that he hand-carved himself, a lovely work of art.
Peg Overdorf, executive director of Valley Community Association, the producers of the Old First Ward parade, marched along Delaware Avenue, waving to many shouted hellos. She marched alongside John Nostrant, grand marshal of the Old First Ward parade.
When asked if she had a parade favorite, and how long she's been part of the weekend festivities, Peg said, "I have been in the downtown parade for about 45 years. As young kids we used to build 40-foot floats depicting the various successful people that came from the Valley and the Ward, and other themes. We worked long and hard on them but we were proud as peacocks when we walked the parade. I work [during the Old First Ward] parade so I ride the route in a golf cart, monitoring."