Commentary
by
/ Mar. 12, 2015 9am EST
It's 2015. 
Last week at a commemoration of the march on Selma, President Obama said, 
We do a disservice to the cause of justice by intimating that bias and discrimination are immutable, or that racial division is inherent to America. If you think nothing's changed in the past fifty years, ask somebody who lived through the Selma or Chicago or L.A. of the Fifties. Ask the female CEO who once might have been assigned to the secretarial pool if nothing's changed. Ask your gay friend if it's easier to be out and proud in America now than it was thirty years ago. To deny this progress — our progress — would be to rob us of our own agency; our responsibility to do what we can to make America better.

Of course, a more common mistake is to suggest that racism is banished, that the work that drew men and women to Selma is complete, and that whatever racial tensions remain are a consequence of those seeking to play the "race card" for their own purposes. We don't need the Ferguson report to know that's not true. We just need to open our eyes, and ears, and hearts, to know that this nation's racial history still casts its long shadow upon us. We know the march is not yet over, the race is not yet won, and that reaching that blessed destination where we are judged by the content of our character requires admitting as much.
Look at Ferguson, Missouri. The Michael Brown shooting did a great job in dividing Americans along racial and partisan lines. The Justice Department investigated and issued a report on the city. While it found that there was no utterance of "hands up, don't shoot", and cleared Darren Brown of any wrongdoing, there were bigger, structural, endemic racial animus and discrimination in Ferguson that went far beyond one tragic episode on a city street. 
Anyone with even a passing interest in the notion of justice should be appalled at what was going on in Ferguson, Missouri. 
As it turns out, Ferguson was a shakedown racket. The conservative response to this governmental overreach, incidentally, is anemic. If the issue had to do with, say, the ability to buy a particular type of bullet that can pierce body armor, conservatives would be screaming bloody murder about Obama's totalitarian dictatorship. But when an investigation reveals that a city had devolved into a corrupt, oppressive banana republic, there's almost complete silence. Either you believe in your central political ethos, or you're a disingenuous liar. Or worse. 
Because Ferguson is run like a white mafia that exploited its largely Black citizenry with petty harassment and excessive fines for things like jaywalking and parking violations. It is a domestic kleptocracy. If you wonder why its citizens might have erupted in violence and anger in response to the Michael Brown shooting, consider that these people were being treated by their government as an occupied colony. 
Ferguson officials repeatedly behaved as if their priority is not improving public safety or protecting the rights of residents, but maximizing the revenue that flows into city coffers, sometimes going so far as to anticipate decreasing sales tax revenues and urging the police force to make up for the shortfall by ticketing more people. Often, those tickets for minor offenses then turned into arrest warrants.

Police officers were judged not only on the number of stops they made, but on the number of citations they issued. "Officers routinely conduct stops that have little relation to public safety and a questionable basis in law," the report states. "Issuing three or four charges in one stop is not uncommon. Officers sometimes write six, eight, or, in at least one instance, fourteen citations for a single encounter." Some officers compete to see who can issue the most citations in a single stop.

In one email, the police chief, who also oversees the municipal court, brags to the city manager about how much revenue it is generating. Ignoring that conflict of interest is a recipe for a justice system that bleeds the powerless of their meager resources.
The city's judge was evaluated by the city council that appointed him, and they found that he was really bad at the whole "justice" part of his job, but he was outstanding at the "shakedown" part of his job. 
He's gone. So is the city manager. So is the police chief. So are a bunch of cops who sent Paladinoesque racist emails around. The city is a powderkeg, and somebody shot two cops last night. It goes without saying that violence is not the answer, but when America's gun nuts go on and on about how the 2nd Amendment is about fighting governmental tyranny (it isn't), I half expect the NRA or tea party to come out in defense of the shooter. 
That sort of rhetoric, of course, is as dangerous as it is wrong. 
But what's going on with racism in this country? We've had a barrage of "nigger" coming out of white people's mouths lately. A notable recent example came from some young idiot at the University of Oklahoma. It was heartening to see the rapid, strong, unwavering response from the school's administration and the fraternity's national governing body. The frat was shut down within hours, the students in question were expelled, and the school implemented its no tolerance policy properly. 
What about locally? In the last year, we had the woman screaming "nigger" outside a dollar store, and the truck driver yelling that word at a woman who called him out for improperly using a handicapped spot. But this mentality isn't rare in our segregated region. 
Look no further than the WBEN Facebook page. Open and public, Operations Manager and Director of "Digital Strategy" Tim Wenger unapologetically encourages his station's racist listeners to display their ignorance. Stuff like this: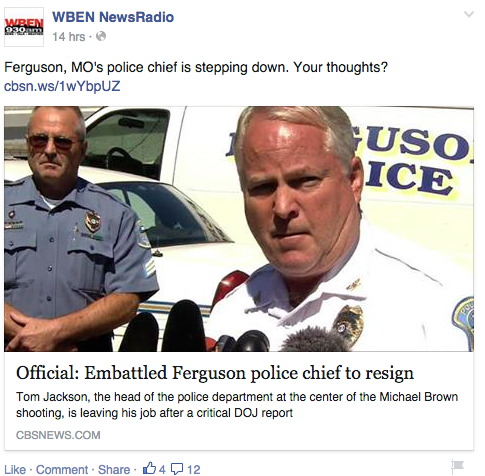 or this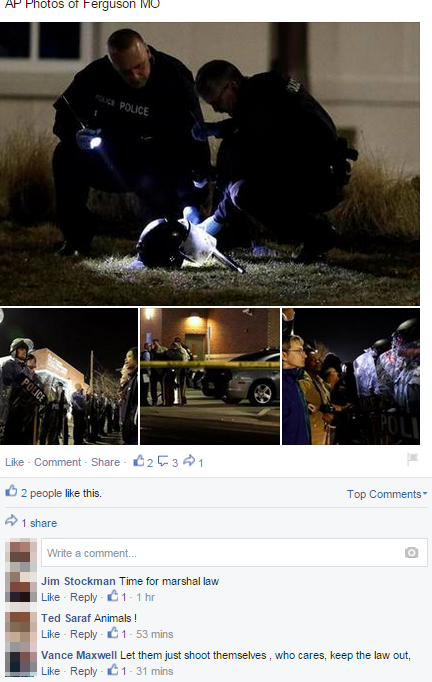 It can more subtle and easy to miss, of course, than the public rantings of WBEN's oppressed white listenership. It can be blatantly obvious to the point of parody…
What role, if any, did racial politics play in Bennett's demise? School Board member Carl Paladino is sure it did. Peoples-Stokes, Heastie and Collins are all African-American, but that alone doesn't prove anything. Bennett and many of his supporters are white and no one has claimed a racial component there. Still, race does seem to be playing a more dominant role in education, at least in Buffalo. It's an important issue to resolve.
…like the Buffalo News taking cues on race relations from notorious forwarder of racist images and videos Carl Paladino. 
I suppose we should be grateful, in a way, that all of this previously sub rosa racism is becoming more public. We can no longer pretend it doesn't exist, or that it's a problem that's been rectified. It's most definitely a serious problem in western New York, which is very segregated along racial and class lines. It's hard to change people's hearts and minds on these sorts of things. The comments at WBEN's Facebook page or on Buffalo News stories are replete with racism — some anonymous, some from people who aren't ashamed of their own ignorance. Social media seems to be an important factor in bringing episodes like Janelle Ambrosia or Oklahoma's SAE racist bus song to light. In the past, it would have been rumor. Now, we have proof. The racism can be fleeting, like a casually thrown "nigger" during a parking lot dispute, but it's the tip of an iceberg that the Ferguson report laid bare. 
Racism remains not just a personal problem for many people, but a systemic one that does actual harm under color of law. We've come a long way in 50 years, but we still have a long way to go.