Visual Arts
Abundant Connection: Alixandra Martin's Paintings at Canisius College
by
/ Mar. 10, 2015 8pm EST
Philosopher-author Simone de Beauvoir wrote: "In order to create you have to be deeply rooted in the society." Alixandra Martin seems to embrace this notion. She brought a flavor of contemporary art to East Aurora when she established the Redfish Art Studios and Gallery, now a hub for creative activity. An array of her colorful expressionist paintings and illustrations are regularly on view to the public in her open studio during gallery events. Her resume is long—a traveler, muralist, and award-winning children's book illustrator, Martin's work has been featured on posters for local events, such as the Elmwood Arts Festival.
A selection of her work is currently view in the small gallery stationed in the back of the Andrew C. Bouwhuis Library at Canisius College. Curated by Katherine Sehr, this lesser-known art space may be the tiniest gallery in town. We have heard that less is more. In this case, the exhibiting artist is invited to carefully choose just a few pieces to highlight her larger body of work.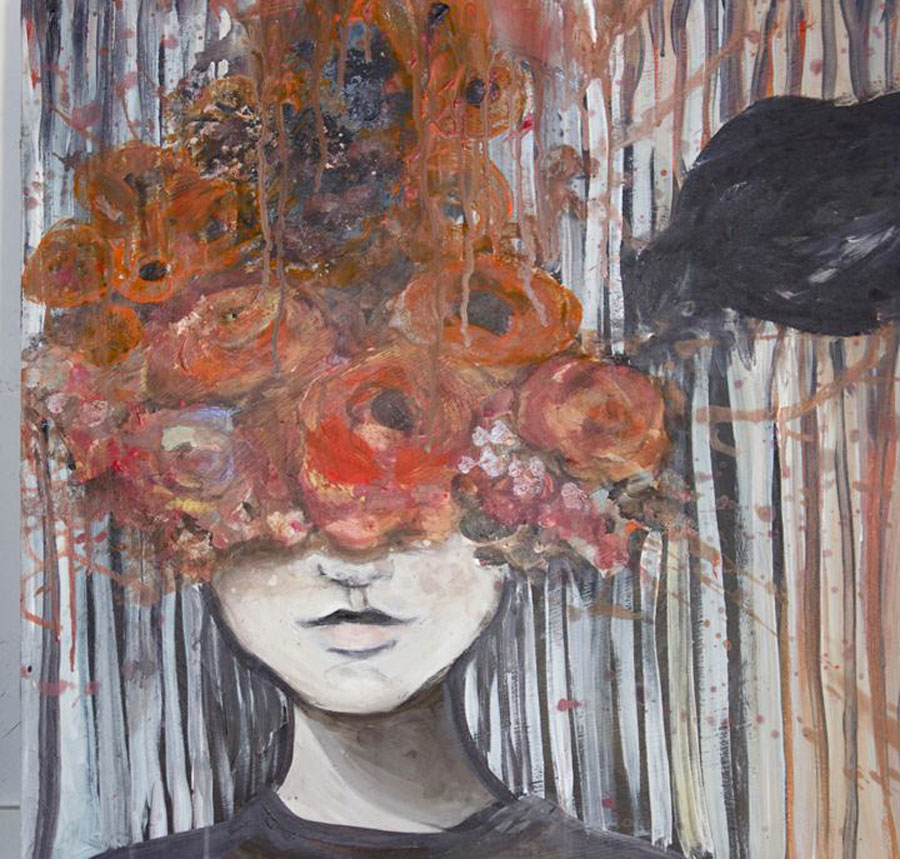 The imaginative explorations reflect Martin's sense of hopefulness. Her exhibition statement suggests that this time of excessive connectedness and information may be an era of heightened humanity that possibly offers the necessary impetus for change and restoration. There is a collective energy in participating in our region's revitalization—an intensity of awareness. Revisited Spaces, a triptych of familiar industrial architecture, connects with the city's history and the resurgence. A practiced portrait painter, the artist represents her subjects with ease in a loose brushy manner. Crowned with Crow shows a fanciful young woman with a provocative black bird intervening on the floral headgear that nearly obscures her face. The abstract works, Afterglow 1 and Afterglow 2, appear to be more studied and experimental.  
I noticed several quotes of interest on her website. Poet Walt Whitman wrote: "Happiness, not in another place but in this place…not for another hour, but in this hour." An ancient Chinese proverb, tells us this: "I hear…I forget. I see…I remember. I do…I understand."  Both passages point to being and doing. This time and place is our only chance for truth—the trueness found in connections through making and sharing art or reviving a city.  
The show will remain on view through April 3. Enter the gallery through the Canisius Library at Main and Jefferson.