Local
Buffalo State Holds 7-Hour Hackathon
by
/ Mar. 6, 2015 12pm EST
To the uninitiated, a "hackathon" might sound like a televised fundraising event for butchers or an annual social event for international criminals. In reality, it is neither. Instead, it is a competitive sport (of sorts) in which teams of programmers develop apps for prizes (cash and otherwise), possible acquisition, and technological street cred.
Co-sponsored by Doolli and The Department of Computer and Information Systems at Buffalo State College, February's event included five teams of three-to-five students from both Buff State and UB. After registration and a brief introduction, the meter clicked on seven hours of furious coding fueled in equal parts by Tim Hortons and adrenalin. For the casual observer, however, the competition itself resembled a haphazard final-exam-in-progress with about 20 people hunched over keyboards in front of flat-screen monitors on a cold Saturday afternoon on the second floor of the sleek Technology Building.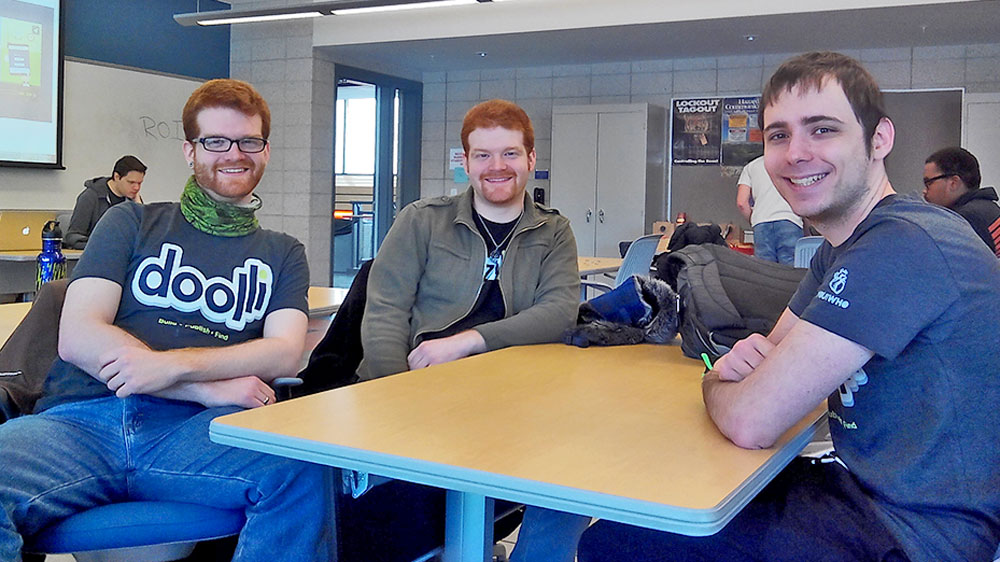 Photo: three quarters of the victorious Code Simians (left to right: Andrew Wagner, Chris Wagner, and Cameron Laderer. Out of frame: Adam Ruda).
Founded by Scott Baxter (a Buff-State Alum) roughly three years ago, Doolli is a cloud-based platform for storing and managing data with impressive image, video, and audio capabilities. The company now has 16 employees split between offices in both New York City and downtown Buffalo, many of whom were on hand to consult with participants and to serve as judges (alongside Barbara Sherman, Chair of the CIS Department).
At the end of the day, each team was given five minutes to present their respective entries, which included a Chinese-language tutorial (complete with pronunciation and calligraphic instruction) and a collaborative Evernote knock-off. Four students from Buff State (team name: Code Simians) took the top honor with a multi-player video game login authentication application that also stored users' avatars and high scores, with each team member walking away with a $125 Amazon gift card and a leg up on the competition when it comes to applying for positions at Doolli (and similar companies) in the near future.
---
Michael Allen Potter is a laptop nomad with degrees in English and writing from three different time zones.