Commentary
by
/ Mar. 5, 2018 6am EST
The elephant is scared of the mouse. 
Don't you unhinged leftists know? Like his predecessor Dale Volker, Demented Dave DiPietro thinks he — not the electorate — gets to decide when his Assembly tenure is complete. Nothing sends the local right into a bigger frenzy than Facebook activism (no coincidence, the most preternaturally annoying and unreasonable right-wing trolls I've ever encountered are white men over the age of 50 on Facebook.)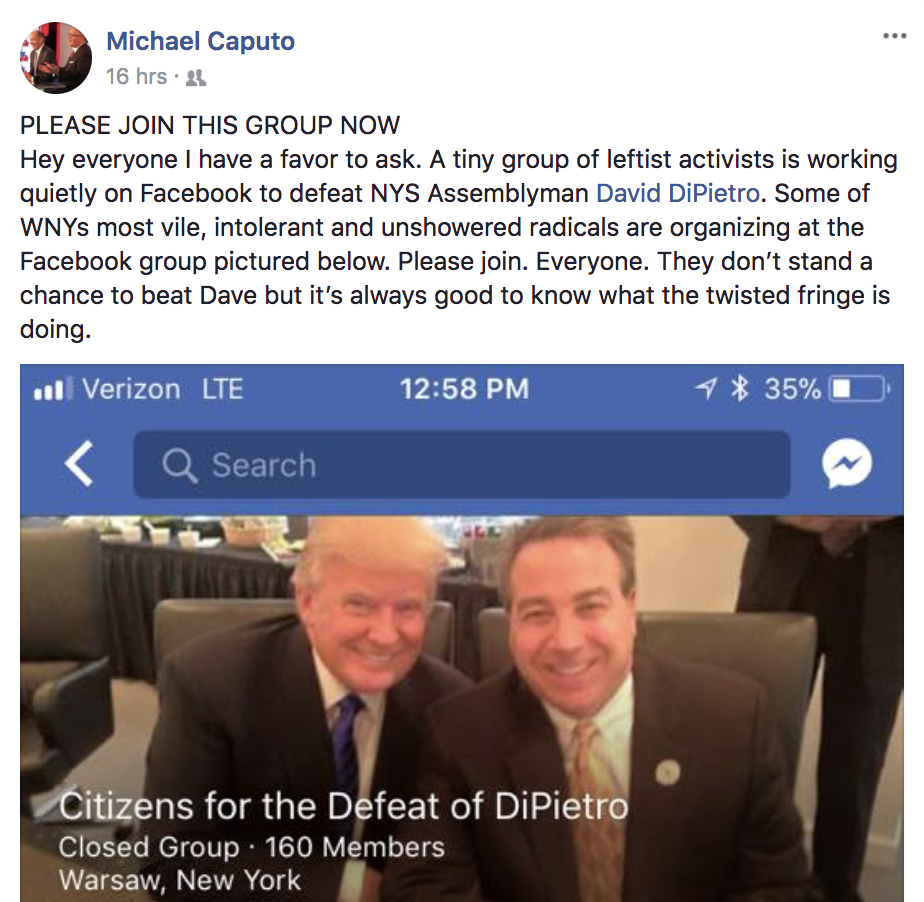 Sure, it's a "tiny" group by most measures, but I'm a member and from what I can gather, everyone's showered, tolerant, and not remotely vile. Compared to, for instance, the crusty, faux-alpha freaks who show up to DiPietro's gun raffle fundraisers, where they vie for the chance for them or their family to be the latest homicide or suicide statistic, we're downright responsible and reasonable. 
If these "leftists" "don't stand a chance" to beat "Dave", then surely this "tiny" group would hardly merit a mention from his attack dog. This is an example of a special kind of aggressive snowflakeism that is a hallmark of the MAGA radical set. 
The anti-Trump left may not have — or ever have — its shit completely together. I mean, who does? Certainly not the West Wing. But it's motivated af, and it's coming for guys like Demented Dave and Creepy Chris Collins because the y're Trump lieutenants, and they're complicit in the rapid erosion of American democracy and values, which has motivated millions of people who had until recently taken these things for granted. 
Like DiPietro, Collins also wears his public office like a title of nobility. Days ago, his endorsed Democratic challenger, Grand Island Supervisor Nate McMurray, bumped into Collins. McMurray wasn't rude to him — he didn't angrily confront him or anything else we vile, unshowered, intolerant leftists are wont to do. He merely introduced himself and invited Collins — who has never once held a town hall meeting to listen to constituents who may conceivably disagree with him — to a debate. 
Here's how it unfolded at the Pride of Wyoming County Agricultural Dinner:
Guess who I ran into tonight? Collins. I asked him for a debate. He said no. Actually he said never. Essentially, he said he's too big for that. Does that seem right? It's not.#natewantsadebate pic.twitter.com/YsX7j7Sn0b

— Nate McMurray for Congress (@Nate_McMurray) March 4, 2018
Collins laughed. He refused. He told McMurray he's too big of a deal to "debate". It's the same thing as when County Executive Mark Poloncarz invited Collins to hold a public discussion about gun violence. Collins and DiPietro think that elections are mere formalities they have to endure every couple of years. They think they're entitled to their seats in Congress and the Assembly. Even the tiniest suggestion of a credible challenge — regardless of how credible or organized it is — drives them to apoplexy. 
Maybe Collins and McMurray can debate at DiPietro's church, since that seems to be the fashionable new venue for overtly partisan political events. 
Sure, unseating DiPietro and Collins may be an uphill battle, but elections aren't mere formalities. These two need to stand up before the voters and defend not only their own scant accomplishments, but the degradation of American democracy under their leader, Trump. 
No wonder they're terrified.