Film
East Meets West and Back Again
by
/ Mar. 4, 2015 6am EST
A Girl Walks Home Alone at Night
If you ever looked at a classic vampire movie and thought that Dracula's cape looks not unlike a male chador, you're on the wavelength for A Girl Walks Home Alone at Night, a Sundance presentation that all by itself nearly makes up for every failed attempt of the past decade to breath new life in the vampire genre.
"The first Iranian Vampire Western" proclaims the film's tagline, echoing its creator, writer-director Ana Lily Amirpour. It's apt in that it signals a cultural and cinematic mashup that, to the best of my knowledge, hasn't been seen before. So we'll overlook that it's not entirely true: there's a vampire, yes, but it's only a western in that it features some faux Ennio Morricone music, and it was shot in California by a firsttime filmmaker who is ethnically Iranian but was born in England and raised in Miami and Los Angeles.
On the other hand, the rundown oil town outside of Bakersfield where Amirpour filmed, in low-contrast B&W, is otherworldy enough to pass for some place in Iran known as "Bad City." Everyone in it speaks Persian, and it can clearly be read on one level as a critique of Iranian patriarchy.
Bad City is a place of disconnected, troubled souls, like Arash (Arash Marandi), a James Dean type anchored here by his drug-addicted father's debts. He loses his one prized possession, a car that lends him mobility, to dad's dealer (played by Dominic Rains, star of the shot-in-Buffalo feature The Taqwacores.)
Arash thinks he's found a similarly lost soul in the traditionally garbed girl (Sheila Vand) he meets while wandering the streets after leaving a costume party. He's dressed as Dracula and tells her not to be afraid of him. Little does he know.
A Girl Walks Home Alone At Night is thin on plot but heavy on atmosphere, much it provided by music. Amirpour spent most of her 20s fronting a band and designed much of the film beginning with the songs, mixing European post-punk and new wave with underground music from Iran. It's a score that, combined with a sound design that recalls Eraserhead, could make you sit through 99 minutes of ATM surveillance footage.
The sound isn't the only thing that recalls David Lynch, whom Amirpour clearly hold in high esteem. Ditto early Jim Jarmusch (whose recent vampire film Only Lovers Left Alive is a catalogue of mistakes that she avoids.) It's smart, beguiling filmmaking that makes you look forward to more from Amirpour, even if her next project, which she has described as "a post-apocalyptic cannibal love story set in a Texas wasteland" that is "The Road Warrior meets Pretty in Pink" and  "El Topo meets Dirty Dancing," sounds like she wants to become a female Quentin Tarantino.
A Girl Walks Home Alone At Night opens on Friday at the Screening Room in Amherst, the venue that recently ran the local premiere of another unique female-generated horror film, The Babadook. Support this kind of thing and you'll get more of it.
---
The Second Best Exotic Marigold Hotel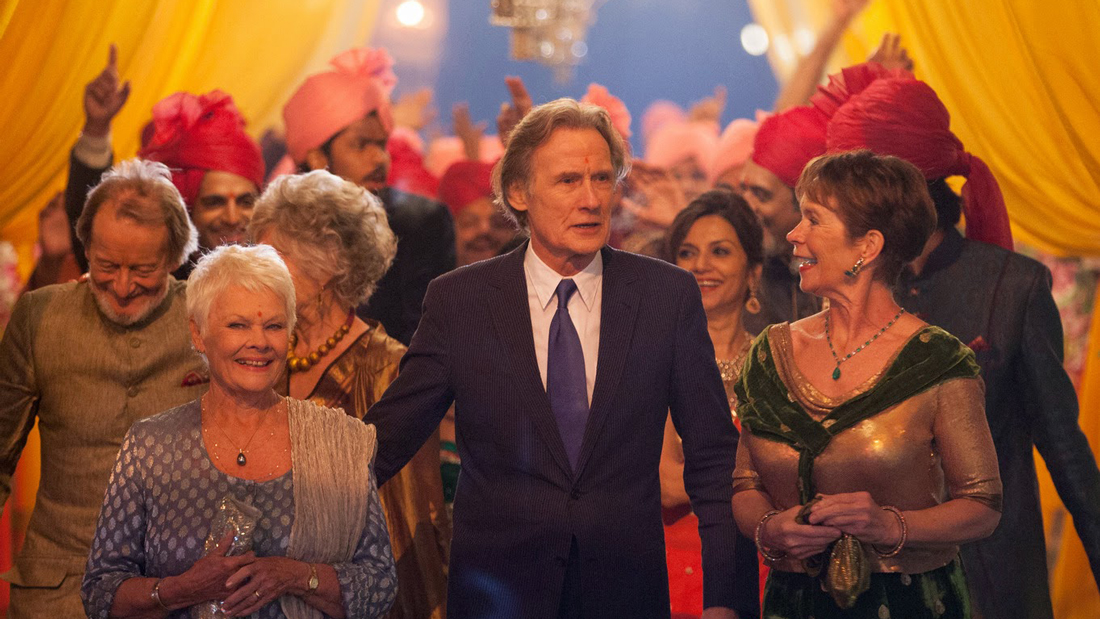 The Second Best Exotic Marigold Hotel.
There was a time when sequels who put some effort into refreshing your memory of the events of the preceding film, at least enough to bring you up to speed on what you're about to see. Not any more—filmmakers now proceed on the expectation that you have either committed the previous film to memory or that you have rewatched it in preparation.
The former is the case with The Second Best Exotic Marigold Hotel, a film clearly made in the expectation that there is a large audience that adored its predecessor. As someone who saw but barely remembers it, I was at a loss to follow a good deal of the further adventures of the old Brits who came to India for a cheap retirement but found new life. Think Cocoon without any aliens. And then think of Cocoon 2: the ratio is pretty much the same.
As haphazardly and indifferently plotted as it is, you can't go entirely wrong with a movie that lets you watch Judi Dench, Bill Nighy, Penelope Wilton, and Celia Imrie for two hours, joined by Richard Gere, David Strathairn and Tamsin Greig (of TV's "Black Books" and "Episodes"). And of course there is Maggie Smith, the Don Rickles of her milieu, exercising the tart tongue she gets to indulge on Downton Abbey (and occasionally remembering to switch her accent for what is supposed to be a working class character here.) The Second Best Exotic Marigold Hotel lives up to the presumably unintended double meaning of its title, but if you loved the first one I wouldn't try to talk you out of seeing it. It opens Friday at the Amherst and Eastern Hills Mall theaters.