Music
by
/ Mar. 4, 2015 7am EST
Who was Florent Schmitt, the star of this week's Buffalo Philharmonic Orchestra concerts Saturday at 8pm and Sunday at 2:30pm in Kleinhans Music Hall? His family, who despite their surname were French, was from the Lorraine region, an area long disputed between Germany and France. Schmitt was born on September 28, 1870 in Blâmont, in the Meurthe-et-Moselle department, the arrondissement of Nancy, roughly 250 miles east of Paris. He studied locally and, at the age of 19, entered the Paris Conservatoire where his composition teachers were Fauré (composer of a transcendent Requiem and a catchy Pavane for flute) and Massenet (many of whose operas are still performed at the Metropolitan Opera).
For purposes of comparison, he was eight years younger than Debussy and both men won the coveted Prix de Rome. While the latter directed his full attention to composition, Schmitt, besides being a composer, was also a teacher and music critic. In that role he often created controversy, and it was not uncommon for him to shout out his opinion of the music in the hall while it was being performed.
He was one of the most performed French composers during the first four decades of the 20th century, but his music fell into neglect following World War II. Since the turn of this century, however, something of a Schmitt revival has been taking place, in which BPO Music Director and Conductor JoAnn Falletta has a leading role. Why Debussy has maintained his notoriety in the 97 years since his death, while Schmitt passed into obscurity have his death in 1958, Falletta thinks, is because of a number of factors, the German side of his ancestry being one.
"He had an Impressionistic sensibility, like Debussy, but he was influenced by a much more Germanic tradition," she says. 
Musically, this period in France had many composers taking sides between German Romanticism a la Wagner (e.g. Franck, Saint-Saëns) and a more formally experimental, freely rhythmic, and enormously colorful music that found source material in folk and oriental themes provided to French composers via both the Paris Exhibition of 1889 and Stravinsky's presence in the French capital, which was the music capital of the world at the time. (Schmitt was counted, in fact, among a group of 16 musicians, writers and artists, including Falla, Ravel, and Stravinsky, who called themselves Les Apaches—yes, like the tribe of Native Americans.)
"He was a hybrid; he was singular, and I think he was very proud of that. His music is very, very lush, it's dark, and it's extremely beautifully crafted. Perhaps his French sensibility is best heard in the clarified way he writes thick textures with so much going on and yet you can hear everything. That's very rare. It is music that suits the orchestra very well, although it is very difficult, very complex music."
The music's complexity can be found in its rhythmic underpinnings. "It sounds very free and flowing, almost improvisational," says Falletta, "never rhythmic in the sense of Stravinsky. There are lots of things going on at any point, and they all have to line up exactly, and the end result is this beautiful wash of sound. But it has to be right."
Much of Schmitt's music is programmatic, taking a story or poem and producing a symphonic study that is more like an impression of the events in the text. Cleopatra figures in the two suites that the BPO plays this week, and Schmitt composed works about Salomé and Salammbô, as well.
"He seemed to be fascinated by interesting women, not necessarily paragons of virtue. The other challenge is to bring out the colors. This music is so thickly scored, we have to be sure that just the right balance is achieved at all times, so that every beautiful English horn solo can sing, and a rhythm that only happens in the violas will be heard. The whole orchestra is like a kaleidoscope of different sounds happening at once."
Rhythm and color carry through to the second half of the program, featuring acclaimed Canadian pianist Alain LeFevre soloing in Gershwin's Concerto in F. Schmitt experimented a bit with jazz. Says Falletta: "The French invented the saxophone, which we imported, and then jazz musicians embraced it and brought their sound and music back to France, who loved it. There is this special connection between French and American music" which makes the pairing of Schmitt and Gershwin so appropriate. There will be a lot to listen for this weekend in Kleinhans Music Hall.
Buffalo Philharmonic Orchestra and Alain LeFevre
Works by Florent Schmitt and George Gershwin
Saturday at 8pm and Sunday at 2:30pm
Kleinhans Music Hall
---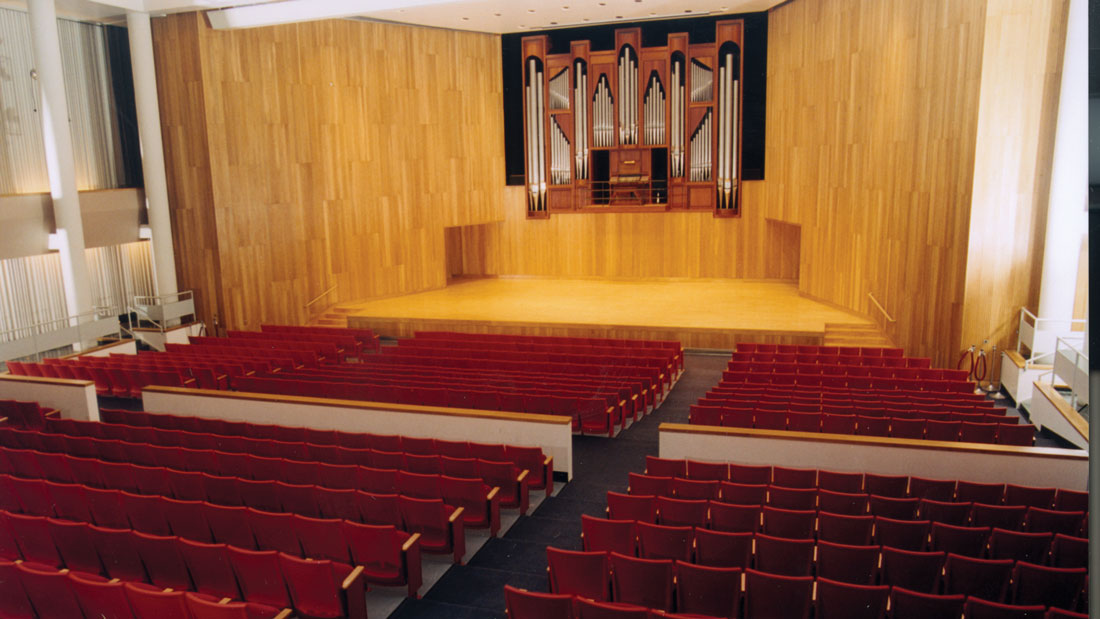 Edoardo Bellotti, Associate Professor of Organ, Harpsichord and Improvisation at the Eastman School of Music of the University of Rochester, performs at the Fisk Organ in Lippes Concert Hall at Slee Hall this Friday evening at 7:30pm. The first half of the program features pieces by Antonio Vivaldi (arranged by the Bellotti), Johann Sebastian Bach, and Franz Joseph Haydn. "The first two pieces show the increasing importance of instrumental music in the late Baroque, especially the Italian concerto," Professor Bellotti explains. "In my transcription of Vivaldi's Concerto for Flute, subtitled 'The Night,' I tried to follow the example of Bach's own transcriptions of several of Vivaldi's concertos." Bach's famous Toccata, Adagio, and Fugue seemed to the organist very much like an Italian concerto, with its fast-slow-fast three movement structure. "It is interesting to look at and hear an original transcription of Haydn's Symphony No. 53 in D Major, subtitled 'Imperial,' that was made by one of J. S. Bach's sons, Johann Christian. The organ tries to imitate not only the typical figurations of the strings, but also the colors of the orchestra. The keyboard music is enriched with new idioms, new expressiveness and new virtuosity."
After intermission, the 19th century is represented by Padre Davide da Bergamo, Camille Saint-Saëns, and Joseph Gabriel Rheinberger. "Bergamo's 'Sinfonia con il tanto applaudito inno popolare' [literally, Symphony with the much applauded popular hymn] is very similar to overtures by Rossini, Bellini, and Donizetti, transposing at the organ the same idioms, same harmonies, and even the typical Rossini 'crescendo,'" says Bellotti. "The Saint-Saëns Fantasia, Op 157 is a very 'strange' piece: a mix of different ideas coming from the symphonic and operatic languages of the time. Finally, Rheinberger's Sonata No. 4 'Tonus peregrinus' presents again the orchestral sonorities applied to the organ, but meantime shows the survival of the classic organ heritage in the late nineteenth century, represented by the Fugue placed as the third movement."
Tickets are $10 for members of the UB community and $15 for the general public.
Organ, Orchestra, Opera in the 18th and 19th Centuries
A recital by Edoardo Bellotti
Lippes Concert Hall, Slee Hall, UB North Campus
​Friday, March 6 at 7:30pm