Music
Spotlight: What Would Mingus Do?
by
/ Mar. 8, 2017 8am EST
Among the many things that make Buffalo great is the local music scene. In 2017, even local jazz is healthier than it has been in years, which really means it's off the machines and breathing on its own. A few venues are committed to jazz regularly, still more mix it into their offerings, but far too many won't acknowledge the talents of even the most mainstream players.
While the dearth of clubs, steady gigs, and media exposure relegates even the best players in town to treating their art as their avocation, you can find a stunning number of world-class musicians and composers in the Buffalo Niagara region. And these people work hard to be heard, staying engaged in numerous musical adventures while hustling for gigs at every chance. Jazz may be like the tree that falls in the unpopulated woods, but people who care about music seem to think that if there are that many trees down, something notable must be happening. That interest leads to more concert opportunities, which can only be a good thing.
A new door officially opened to jazz on February 25, as a concert in the Taylor Theater at Lockport's historic Kenan Center served as the start of a four-concert series celebrating the venue's 50th anniversary. The featured band on this foray into Niagara  County was a new iteration of one of Buffalo's standard-bearing ensembles for the past few years, What Would Mingus Do?, established and led by the "unfortunately named" (his words) saxophonist and composer Kelly Bucheger.
The band's name is a nod to Charles Mingus, the legendary bassist and composer, a larger-than-life personality whose legacy endures long after his death. Mingus was an irascible perfectionist who emphasized originality, and he used a lot of great players to present his music.
Bucheger may be a friendly and witty guy, but nobody can question his dedication to his craft. That was clear at the Kenan Center performance. It was promoted as a tribute to the late, great saxophonist Dexter Gordon, on the eve of his 94th birthday. Kathleen Rooney, a jazz-loving public relations master, produced the event as an extension of her life-long connection to the Kenan Center. It was the second time she'd brought Bucheger's band there, after two successful holiday music programs. 
The WWMD? lineup at the Kenan Center was totally new—the performance was the first time they'd all played together. With Bucheger were veteran Buffalo guitarist Greg Millar, vibraphonist Alec Dube, bassist Ed Croft, and drummer Devin Kelly. Despite the rhythm section's youth, these are jazz guys – they summon rapport by listening to each other, and it swings.
Gordon's tunes were intended as vehicles for his own saxophone. Bucheger is a different player, so he brought a cool new approach to the bandstand. He has a fat sound and a clever way of developing ideas as he deconstructs the song structures. His energy carried throughout the band. Millar stood out all night, with inventive comping and, as heard best on the tune "Soul Sister," spectacularly long, eloquent guitar runs. Dube was announced by Bucheger as "just getting over a cold, but he assures me that he is totally past pubert." His mature technique and feeling belied his youth. Croft and Kelly took a bit to find their groove, but they really locked into the music as the night went on.
After a solid tribute set, the band's creative energy peaked as they took their time exploring Bucheger's compositions in the second half. In those extended improvisations, the audience heard Bucheger in his element. "Originals tend to be more fun when you're performing, and the energy behind them is just there," Bucheger said. "It works for everybody—the players and the audience. You get to experience more of what the musicians really want to say."
More room to blow is the dream of most every jazz musician. Bucheger admits that he needs time to find his way in a solo. "I'm not the guy who can hit the ground burning," he said. "I need to just allow the music to grow."
As a shy boy in Wausau, Wisconsin, music grew early on Bucheger. His mother was a singer, pianist, and trombone player. Heading into middle school, he started on saxophone, but only by accident—a mail-ordered trumpet never showed up at his house. Bucheger's first record purchase at the local department store was also touched by fate: He went looking for a Maynard Ferguson record, "mainly because that was the loudest music I had ever heard," but all that was left in the "E-F-G" bin was a Stan Getz compilation. That was soon followed by a Sonny Rollins album, and he was hooked on sax.
"I did tons of listening. I listened to everything, much more than I actually practiced. I was like a little walking jazz discography," he recalled. "So yeah, I was weird by middle school, but I knew I could play." He practiced enough that his technique and his big ears led him to the University of Wisconsin, and eventually to the Minneapolis-St. Paul area, where he really cut his musical teeth. He thrived there as a player and a composer for several years. He excelled as a writer and critic, too. As in his music, Bucheger has a nonchalant, graceful style in his published pieces. Notably, a blog entry about his experiences with James Carter, one of the leading saxophonists in jazz, and who Bucheger encountered when Carter was a 16-year-old wunderkind, has been shared and re-printed all over the world.
After most of a decade in Minnesota, a handful of international tours and fine arts camp residencies, life brought him to Buffalo in 1993. Here, he really found his voice.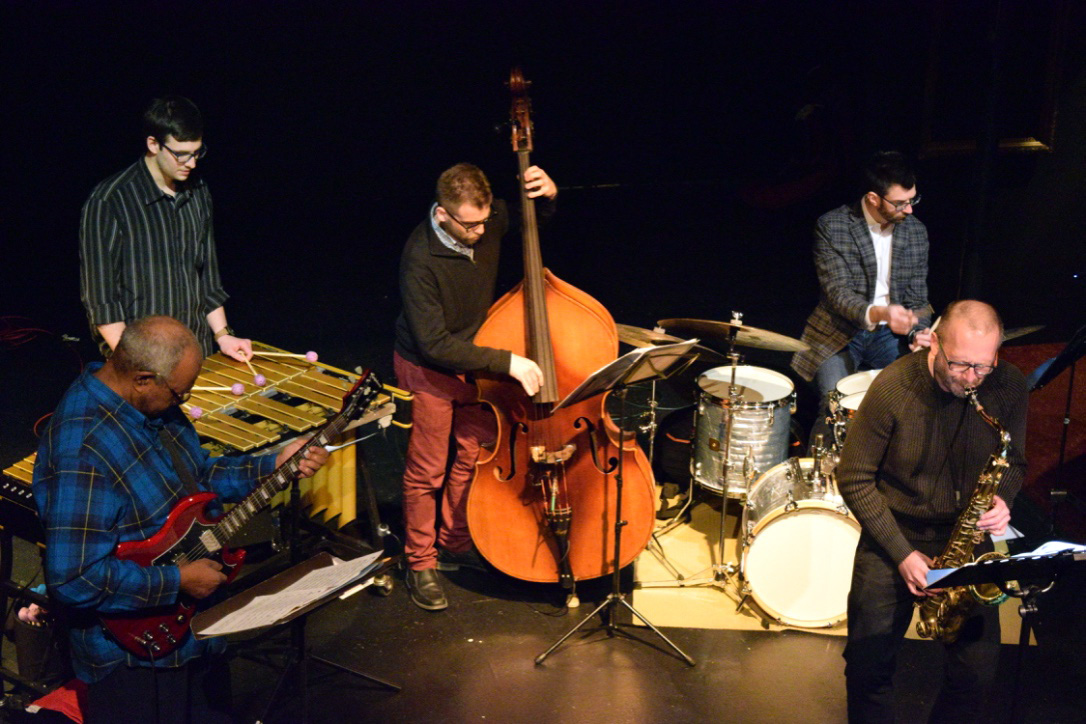 What Would Mingus Do?
 "I had done a lot of stuff, had done a lot of touring, and I had already recorded when I was in Minneapolis, where we had this really killing band (the Illicit Sextet) playing some really cool stuff. But I don't think I really got to be a good player until I came to Buffalo," Bucheger said. And yet, where Bucheger was an award-winning composer in the Twin Cities, he discovered quickly that his originals didn't resonate with Buffalo players. He was in and out of the Western New York scene for almost a dozen years, partially due to illness and a brief stint back in the Twin Cities. At some point, he came to understand that if straight swinging jazz with an edge was the local sound, he would adapt his writing and take it as far as it would go.
"When I came back to Buffalo in 2005, I really came back hungry," Bucheger said. "I just wanted to play. Guys used to have these daytime sessions back in Minneapolis, but I could never make them. When I got here, nobody was doing them. So I did them at my house, and guys started coming in and we just started to get something going."
The band, then called Harder Bop, was an open collective, with people bringing in tunes and working them out. But as people came and left, it became more of Bucheger's band. "We were using my house, and I was writing most of the tunes, so we played the way I wanted to play," he said. Players and tunes rotated and evolved. Over time, trumpeter Tim Clarke and pianist Michael McNeil—two phenomenal musicians—filled out Bucheger's core trio. They pulled in several bassists and drummers and went headfirst into about a dozen original pieces that remain staples in his band book.
In 2012, Bucheger released House of Relics, a CD featuring nine of his compositions as performed by a thoroughly rehearsed group. Along with Bucheger, Clarke, and McNeil were bassist Danny Ziemann and drummer Russ Algera, with guest appearances by baritone sax great Bruce Johnstone, a native New Zealander who toured the world before settling to live and teach in Niagara County. The production quality, the strong tunes, and the high-level interplay in the performances make this the best locally produced jazz record I've ever heard.
Despite the praise garnered locally, the record didn't gain a lot of traction. Bucheger felt burned out. He knows that his dedication to the music will never make him millions, and that's fine. "I'm not interested in playing to make money," Bucheger said. "I used to play a lot of commercial music in Minneapolis, and I hated it, especially when that crap started encroaching on my music.
"There's a danger in jazz. Too often, you have to dilute your art to find listeners, to make the money. But I'd rather play what I want for free. If you love the music, you do what you want to do, and you grow from the energy of being true to your ear. If you really believe in what you're playing, what you're doing, and you really believe in the high quality of that work, people will find you."
Bucheger is an energetic and smart bebopper, but he enjoys the freedoms of more open concepts. Bucheger is part of the innovative Buffalo Jazz Octet, an all-star compilation of Buffalo's farthest-reaching jazz musicians, which is planning a CD release of its own this spring. The independence of that group is something he believes is closer to his own heart.
"I feel like I've plumbed the depths of the Harder Bop stuff," Bucheger said. "There is so much more that can be done, and I feel like I'm finally in control of my mindset and what I want to do to move in new ways."
He will launching a new project soon, pulling from the deep pool of Buffalo's jazz corps, musicians of varying ages and stylistic foundations. Bucheger never sees himself as competing with other people or trying to encroach on gigs. He just wants to have the chance to get inside his music.
"There are times when I wish I could just write, but then I remember that I love to play the saxophone," he said. "I would love to have a solid, consistent lineup of guys, because then you can really go places when you come to know the other players and how they think and react. That brings out the best in you.
"A key part of having a thriving jazz scene is to have a thriving jazz scene," he said. "Doing new things and finding the exposure is only good for the art form, and that's my main concern."
 What Would Mingus Do? 
 harderbop.com